Look for La Presserie cold-pressed juices at select Metro stores
Eight ready-to-drink, cold-pressed juices are now available in Ottawa.
---
Toronto-based cold-pressed juice company La Presserie's delicious artisanal, cold-pressed juices are now available in Ottawa at select Metro locations. Look for fan-favourites like Pomegranate Raspberry and Pineapple Kale, as well as Apple Spinach, Pineapple Grapefruit and Beet Carrot!
To bottle the best of nature, La Presserie uses ingredients selected at the peak of ripeness, capturing the delicious and intense flavours of the harvest. Inspired by local markets and restaurants in the South of France, each small-batch recipe begins with only the highest quality fruits and vegetables, with no water, sugar, or preservatives ever being added to La Presserie products.
In addition to the offerings at Metro, La Presserie's family of freshly-frozen juices that are now available online across Ontario. The brand is the first to offer frozen cold-pressed juice options that retain superior flavour and the integrity of its nutrients for up to a year frozen or 14 days refrigerated once thawed.
The longevity of La Presserie's unpasteurized, preservative-free juices is achieved through a proprietary flash-freezing process that harnesses nature's fundamental pause button to ensure each sip is as fresh as the day it was pressed.
La Presserie juices are an outstanding choice to enjoy throughout the day or as a post-workout pick-me-up. Use as an elevated mixer for hand-crafted cocktails and mocktails and take La Presserie juices into the evening hours.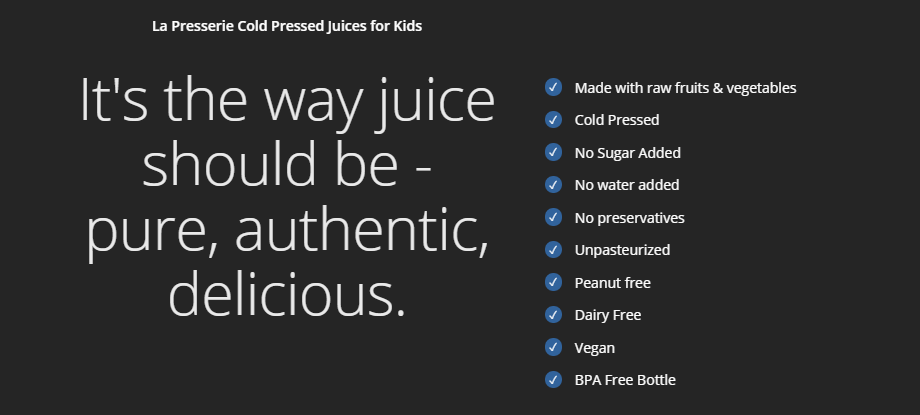 For the little ones, La Presserie offers a line of kid-tested-and parent-approved juices and smoothies with options like Apple Cucumber, Pink Lemonade (with beets) and Blue Fruit Punch (with Jicama and Spirulina) which provide great flavour while sneaking in some veggies into every bottle.