TOOLBX launches in Ottawa to help builders overcome COVID-driven challenges
ABOVE: First launched in Toronto, TOOLBX's on-demand building materials service is now available in Ottawa.
TOOLBX platform will help builders overcome procurement challenges and expedite projects at a time when they need it most.
TOOLBX recently launched in Ottawa to help builders focus on building and significantly reduce time wasted procuring materials. The company launched at a time when residential construction projects in the capital are up by 49 per cent and contractors are stretched to the limit.
"TOOLBX is an essential tech platform purposely designed for builders. It streamlines project purchasing while also getting them materials fast so they can stop wasting time on supply runs and focus on building," said Harrison da Costa, TOOLBX Ottawa City Manager. "We're helping them save time and money and that's good news for Ottawa homeowners too."
TOOLBX is an all-in-one construction material procurement platform that allows contractors order materials from an online marketplace of their favourite major and local specialty suppliers directly to their job site with same-day delivery—think Uber Eats or Skip The Dishes for construction materials. This saves time and labour costs associated with buying materials—a process that would typically take up hours or days of sourcing from multiple suppliers and involve long waits for supplies and material runs. The technology also allows builders to plan ahead and improve job site efficiency.
While this is all good news for the local construction trade industry, TOOLBX can also benefit Ottawa homeowners too as the technology can help prevent project delays created through things like construction material waits while also helping to manage rising costs by making the material procurement process far more efficient than ever before. The TOOLBX Pro offering also allows for bulk buying solutions which can help combat costs associated with rising material prices of lumber, drywall and more.
While TOOLBX primarily services contractors, the service is also available to residential users.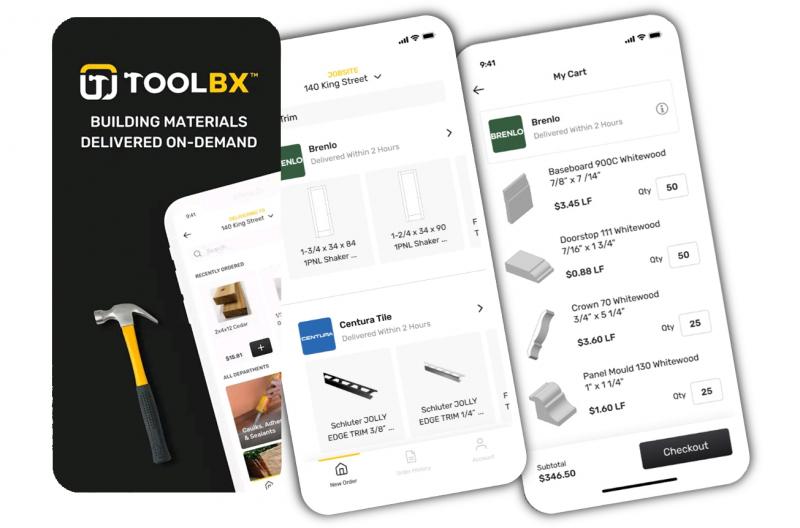 TOOLBX was founded by Erik Bornstein, a seasoned homebuilder who grew up in the construction industry and experienced the inefficiencies stemming from the broken construction material procurement process firsthand. He eventually sold his construction and development business and launched TOOLBX with a mission to help construction professionals become more efficient and profitable by digitizing the procurement process. Ottawa marks the Canadian company's growth into its second market since its launch in Toronto in 2018.
For more information visit www.toolbx.com