Tired of dishes and meal prep? Let WeCook do the cooking for you!
WeCook offers a wide range of freshly prepared, ready-to-eat meals delivered right to your door. Curated by an in-house chef, meals are locally sourced, with zero additives or preservatives and are fully customizable to meet your fitness and dietary needs. The online service allows Canadians to save time without sacrificing quality or taste with the click of a button.
Delivering throughout Ottawa and the rest of Ontario, WeCook takes care of meal prep, so that you can get out of the kitchen and back to doing what you love!
With consumers looking to reduce trips to the store, demand for WeCook's meals have skyrocketed in the past year, fulfilling well over 2.5 million meals throughout Ontario and Quebec last year.
"Our meals have gone beyond the gym and become a lifestyle solution. With the countless demands that work, parenting, and fitness require, WeCook aims to simplify your life with healthy, ready-to-eat meals made from fresh ingredients you can pronounce," claims WeCook CEO & Co-Founder Etienne Plourde.
Like many, Plourde struggled with his mental health as a young adult and discovered that team and individual sports were an excellent way to cope with stress as well as building mental and physical agility. As his passion for sports grew, he had no more time in the kitchen! Plourde, who never completed high-school or studied business, transformed his need to eat into an opportunity and teamed up with his childhood friend to create ready-to-eat meals aimed at fueling active individuals such as himself.
"Just because you drop out of school, doesn't mean you stop learning," explains Jonathan Roy, WeCook Co-Founder. When Roy travelled around the world in his early 20s, he visited Asia and Australia. This adventure opened his eyes to the mistreatment of the environment in North America. He witnessed the importance of sustainability and respect for the environment, something he never saw back home. In the founding of WeCook, Roy and Plourde decided to instill these values into their company. "We're always learning to innovate, from our meals to our production process," says Roy.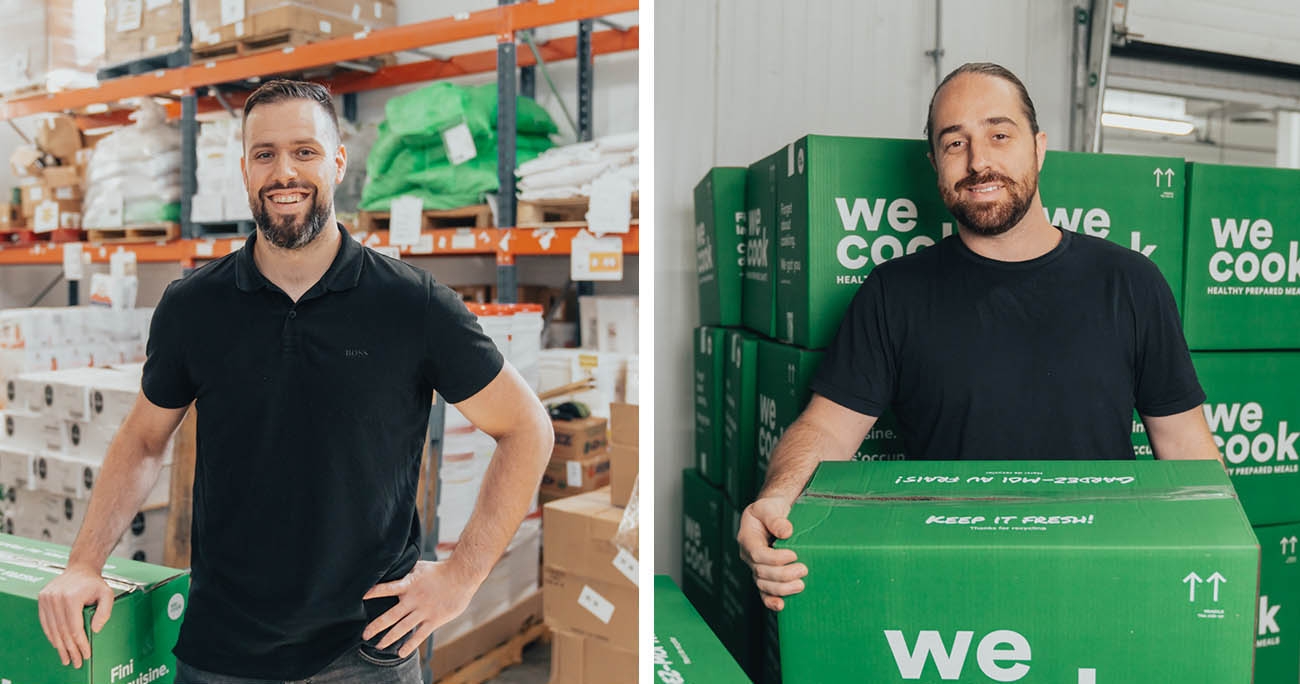 ABOVE: WeCook Co-Founders Etienne Plourde and (RIGHT) Jonathan Roy. (Photos: Charles Ouimet)
As the first two employees, the pair did all the planning, buying, cooking and deliveries themselves, and even slept on the warehouse floor in the early days. Nearly a decade later, the company has expanded to 600 employees, from gym and fitness-based clientele to a unique offering for busy families, young professionals, and health-conscious clients.
Not only are WeCook's meals designed for your health, but the environment's health as well. The shipping box, packaging and meal containers are recyclable. Even their insulated boxes are made from recycled plastic water bottles.
WeCook understands that a healthy meal looks different for everyone, and that's why they offer low carb, and extra protein options. In addition to a variety of meat, pasta and vegetarian meals, they offer healthy takes on fan favourites like Poutine. Seasoning is often served on the side so consumers can flavour the meals as they wish. Whether you're hoping to eat cleaner or save some time, WeCook has you covered with 14 new meal options offered each week, there ready-to-eat meals are ready in 2-minutes or less.
WeCook uses Modified Atmosphere Packaging, which removes oxygen from the meals and allows the product to stay fresh naturally for as long as possible, without preservatives. Should you not have time to eat your meals, they can also be placed in the freezer for up to two months.
Check out their WeCooks weekly menu online and let them do the cooking this week.
Take advantage of WeCooks's special $60-off offer: Save $30 off your first two orders.