Ancestry shed new light on Canadian war brides
ABOVE: Carly Verheyen's grandparents in a 1980s photo in front of the Queen Mary II in Long Beach, CA where it has been docked since 1967.
Between 1942 and 1948 almost 65,000 women and their children arrived at Pier 21 in Halifax, Nova Scotia, the wives of Canadian servicemen stationed in Europe during the Second World War who had married while abroad. These "war brides" came to Canada to be reunited with their spouses during WWII and once hostilities ended.
The arrival of these women and children represented the single largest continuous movement of migration to Canada and helped shape and enrich communities across the country. Yet, a Leger Marketing survey conducted on behalf of Ancestry®, the global leader in family history, has found that while six per cent of Canadians believe some of their relatives were a part of the war brides' movement, almost a third (28%) simply do not know.
Now, this quintessential part of Canadian history has become much more accessible, as for the first time, Ancestryhas made historical records pertaining to war brides easier to uncover.
ABOVE: A newly indexed passenger list from 1946 featuring Carly's grandmother, Irene Wiebe. (Image reproduced coutesy of www.nationalarchives.gov.uk and digitized by www.findmypast.com)
The UK and Ireland Outward Passenger Lists, a digitised collection on Ancestry.ca of people that left the UK and Ireland for other countries between 1890 – 1960, is a key resource for Canadians who want to find out more about a war bride in their family. These records, originally from the National Archives in Kew, London, have been available on the Ancestry site for several years, but until recently, the records within this collection pertaining to the Canadian war brides had not been digitally indexed (meaning they did not show up in search results) due to their slightly different format.
With this update from Ancestry, these records are now included in search results, meaning the stories of the war brides' journeys from Europe to Canada are much more accessible. Through these records, Canadians can easily discover where their war bride ancestor left from, the departure date, ship name and their residential addresses (where they were leaving from and going to). In addition, details such as the war bride's husband's regiment, unit, branch, rank and service number can also be found.
Carly Verheyen of Abbotsford, BC, is the granddaughter of a war bride. She shares the story of her grandmother Irene Wiebe's experience and how she was able to find her grandmother's vital immigration record online:
"My family history exploration began in 2009 when I discovered 110 love letters written by my grandmother in England to my grandfather in Canada, over a six-month time span in 1946. The letters were written during the time when my grandparents were separated, after my grandfather had to return to Canada along with his fellow soldiers after WWII, and my grandmother was waiting for the opportunity to move here to be reunited with her husband."
"I travelled to England in 2013 to retrace the steps of her letters and even searched for the record of my grandmother's journey to Canada, but the records I found were either illegible or damaged. After coming up empty handed for many years I was absolutely elated when recently I discovered the information I was looking for. Thanks to Ancestry's passenger list collection I was able to search and find the record that I've been looking for all these years which has helped me complete the story of my grandmother's journey," says Carly.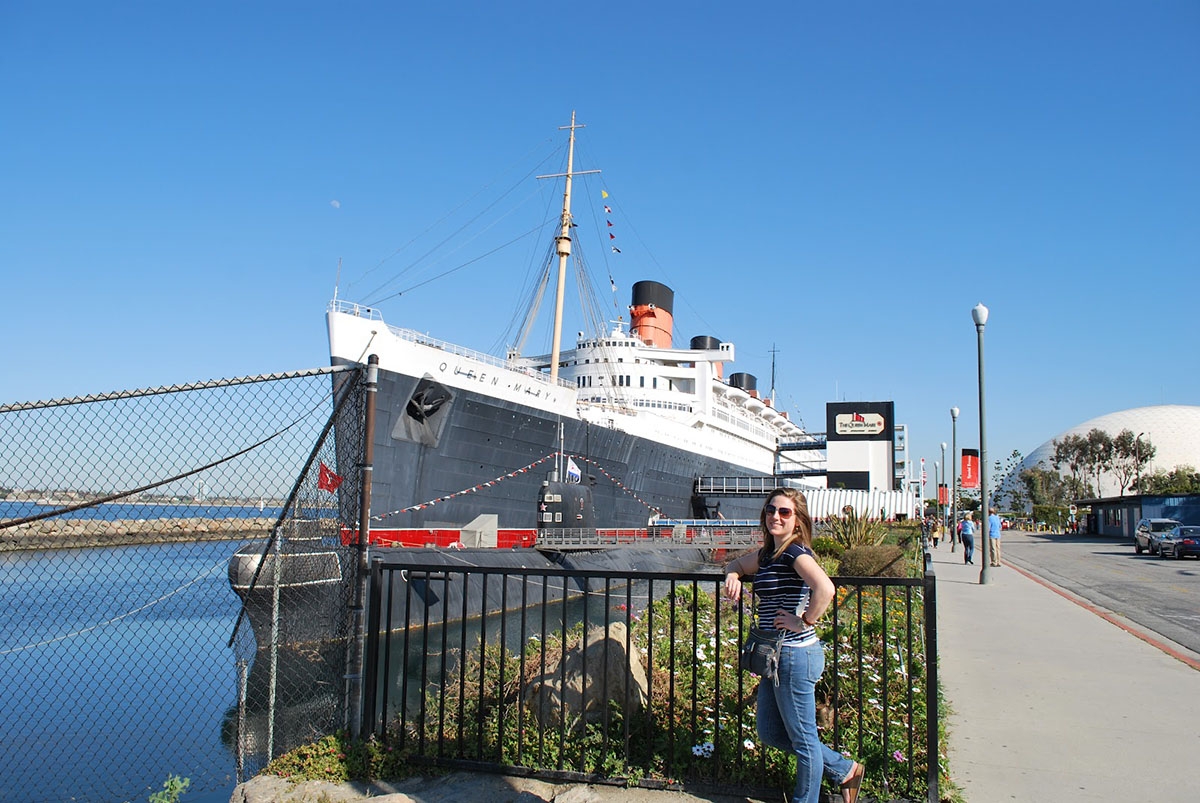 ABOVE: Carly Verheyen in California recreating her grandparents photo. She also travelled to England in search of records but ended up find the information she was looking for on Ancestry.ca.
Carrie-Ann Smith, VP Audience Engagement, Canadian Museum of Immigration at Pier 21, talks about using the new searchability function to provide war brides and their descendants with new information about their journey.
"I often welcome war brides and their descendants at the museum and it's wonderful to be able to share memorabilia, ship pictures, and stories of other women's experiences with them. However, until now, I'd never been able to give them what they want most – documentation confirming their landing details. With the update to the UK Outgoing Passenger Lists on Ancestry, this information has become much more accessible and will provide a missing piece of the puzzle for war brides and their families."
Lesley Anderson, family historian from Ancestry adds: "Knowing about an ancestor who made this journey to Canada, the role they played during the war and the life they went on to live can be a meaningful and often emotional experience. We're delighted to provide this updated search experience that will enable Canadians to learn so much more about this seminal chapter in their family history,"
To discover the collection, visit https://www.ancestry.ca/search/collections/2997/