Sacred Spa: Skincare that works and doesn't make you broke
"Skincare should be simple, affordable and effective–it shouldn't only be for the rich." That's the goal at Sacred Spa, but it's more than a business for founder Annamaria. It's about making skincare more accessible to everyone. It's about creating long-term relationships with her clients so they can experience long-term results. That's why she keeps her prices low and why her clients keep coming back.
Annamaria has worked in the skincare industry for nineteen years and received her Aesthetics Diploma in Toronto. There, she gained professional experience working for cosmetic surgeons. Her background as a certified medical aesthetician showed her the importance of certification; many people do aesthetics these days without training. But just because she has experience doesn't mean she will sell you something for the sake of a sale. Instead, she's informative, honest, and upfront.
"My philosophy is that you're going to get the truth from me, and I'm not going to gauge you. I care. I really, truly care. I try to follow up with [my clients], and I take the time. [Good] customer service, in general, is so hard to find these days, but I build a relationship with my clients."
After receiving her training, Annamaria started getting tired of Toronto. Her chance to get away arrived when she met her husband on vacation–he was from Ottawa, and they hit it off right away. On a visit to see him, she decided to scope out the local skincare industry. It was empty. Skincare simply wasn't as popular in Ottawa as in Toronto. Intrigued by the business opportunity, she met with a doctor opening a clinic in Kanata for an interview. She got the job right away and gained even more hands-on experience with state-of-the-art technology and skincare lines.
"I built my confidence there. But I really wanted to do something from home. My fear held me back." Fast forward twelve years, Annamaria overcame her fear and has been running her own home-based business for three years–two of which survived the pandemic lockdowns. She even created her own skincare line, manufactured in Toronto, called Sacred Skin.
"I'm really grateful I'm still going."
Sacred Spa offers a wide range of services and products: a botanical skincare line, waxing, permanent laser hair removal, facials, laser light therapy, skin tightening, chemical peels, microdermabrasion, and micro-needling therapy.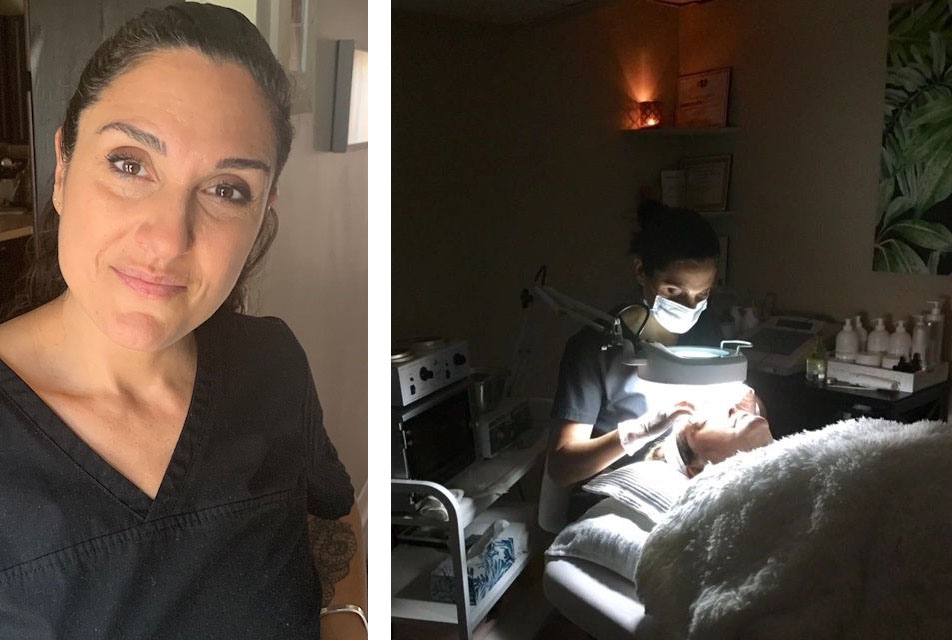 ABOVE: Annamaria's goal is to empower her clients with confidence by providing them with affordable skincare treatments and products.
Micro-needling treats everything from wrinkles to enlarged pores, acne scars, stretch marks, and fine lines. It increases cellular regeneration by disrupting the skin, causing oxygen to rush to your skin and begin renewal immediately. The internal stimulation of collagen and elastin resurrects your skin.
The Vampire Facial–termed for the shock factor–or Platelet Rich Plasma Micro-needling (PRP) is the next level. It is the most therapeutic and regenerative treatment, often used by doctors to heal osteoarthritis in the knees. Using your plasma, PRP enriches your skin and releases growth factors that stimulate and repair your cells. Most PRP micro-needling costs $600-700, but Annamaria only charges $250. "My goal is always to charge less. You need multiple treatments to get the full benefits, and that's my little way of helping people."
"Annamaria, thank you so much for helping me love my skin again," a customer reviewed. "I always suffered from all different kinds of skin problems, but Sacred Spa treatments and skincare products help me achieve amazing results."
What can you expect when you book an appointment with Sacred Spa? Annamaria explained, "Whenever someone comes in, I like to welcome them. Have a seat; let's chat for a moment. Tell me about what you've been doing, what you haven't been doing. What have you tried? What are you looking to achieve? I'll get as much info as possible.
Then I'll explain the whole treatment; what you should expect, post-care instructions, what we're doing, and what it's like. I also explain the treatment as I'm doing it. You're free to ask as many questions as you like."
When asked what she loved most about her job, she took a pause, pondering how to put her passion to words:
"Oh… it's the gratification I get from seeing somebody who is really insecure about something–acne, ageing, discolouration, hair problems–and seeing them transform and feel a bit more confident about themselves."
That is her goal: making confidence affordable and available to everyone, from teenage girls and boys combating acne to middle-aged women starting anti-ageing to women in their sixties looking for a fresh glow. By focusing her experience and skill on putting her clients first and creating an environment where you can relax, Annamaria puts skincare within reach.
"Yesterday, my client brought me flowers for nothing. Well, no, I thought–it's not for nothing. She knows I care, and she cares for me in return," she continued.
"I am helping one person in the littlest of ways, but it goes beyond just aesthetics; you can change someone's life."