Sons of Scotland bring the highlands home
Though bagpipes may not play a large role in modern pop music, the tradition behind them is still alive and well. For over a 100 years, the Sons of Scotland Pipe Band have been bringing traditional music and education in that music to Ottawa and Canada as a whole. We caught up with member Bethany Bisaillion ahead of the group's show on November 16, 2019 at the Shenkman Arts Centre for Scotland Night to talk about playing for the Queen, teaching the pipes and what keeps the music going.
OttawaLife: I know you have a family history with the bagpipes, so how did that lead you to the Sons of Scotland Pipe Band?

Bethany Bisaillion:Well my father was a self-taught piper growing up in Quebec. He rose through the ranks of the cadets to be a pipe Major. When my sisters and I we were old enough, we started in highland dancing — so I began my journey into this fifty years ago. Eventually, I was given a practice chanter to play the pipe. My little sisters are also snare drummers too. In 1998, I was asked to rejoin and help out a bit, soon I was taking on the role of pipe Major and I've done that now for over 20 years.

How did the Sons of Scotland compare to the other groups you played with?
BB:There are a lot of different groups in the Ottawa region, as many as 15 at any given time. Some do competitions, some do street parades and some do shows, but we do all three. We like to incorporate different groups as we travel through cities, so we have a wide group of friends. All the camaraderie makes it nice.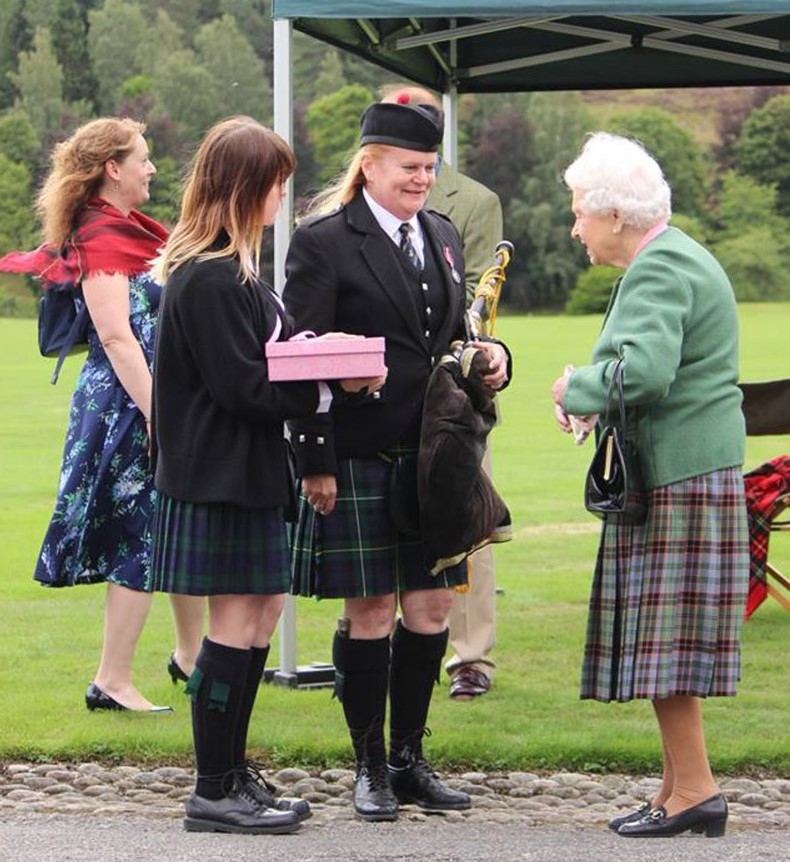 Something I was really interested to talk about was given the group's roots back to 1896, what major changes has it seen leading all the way to 2019?
BB: We were sponsored for about a 100 years by the Benevolent Association of the Sons of Scotland, they were helping people relocate from Scotland to places like Canada. We were the only pipe band they had really coast-to-coast, or at least playing under that moniker. 123 years is a long time to play together, and it wasn't until the 1980s when we noticed changes. People got matching pipe chanters, which was a huge change at the time. A lot of the changes have come recently too. We do yearly trips to Scotland, which most groups don't do either. We've been invited to China and France, so we look for opportunities to go to new places. The first time we went to New York City I got us a gig playing CBGB's, and no pipe band had even played there. We do National Tartan Day on Parliament Hill; it's really nice to see all the tartans come out. We've also played for the Queen four times now, in Scotland. That's no small feat either. The biggest group we had play for her was 208 so I've become pretty good at planning trips and finding places for people to stay.
How did you evolve to start producing so many shows beyond just your duties in the group too?
BB: We do a concert right before the Maxville Highland Games, in August. One day, one of the guys from another band asked us where we could practice. I thought *DING* concert opportunity, and we put together a few groups for a show. It's taking little ideas and saying, "This could be something." We started the show 17 years ago in Confederation Park, and we've moved it to Major's Hill. People come from all over the world to play in the park with us now. We do shows and parades, but playing in theatre for this upcoming show is a nice opportunity for us. We don't have a sponsor anymore now, so finding ways like this that are self-sustaining help.
The group also has a long history of training anyone excited to learn bagpipes or drums, so do you really admit anyone excited and how does this balance out with your 50 yearly shows?
BB: I start people on the basics of bagpipes, and when they're proficient enough they can come out to band practice. From there they can join groups if they wish. The drummers can learn much faster but the pipe players need more of a private practice at first. When you have an amateur piper trying to learn, seeing the band play can show them how the work is presented. The members, parents and family contribute too, whether it's time or a donation, so everyone gets involved along the way.
Also for our readers, what can they expect from your upcoming show at Scotland Tonight?
BB: The concert itself is a variety show, so you'll see the drums and pipes playing throughout the show. There's also highland dancing, so I'll be playing pipes while they perform a range of traditional dances. There will be some kids as young as four showing some early steps, along with the older performers who know the full range. There's also a Celtic group coming that's doing their dancing to much more modern music. And then there will be the MacCulloch Dancers who come from all over the world; they are precision dancers who step-dance, tap and combine Ottawa Valley Step with Celtic work. The Ottawa Catholic School Board choirs are boasting over 130 people on the stage together, and they've learned all this Celtic music just for the show. Everyone comes together for the finale, as well. Plus there's a door prize for a stay at the Lord Elgin!