Arts & Events
And the Oscar went to . . . a recap from the 93rd Academy Awards
And the Oscar went to . . . a recap from the 93rd Academy Awards
ABOVE: Oscar presenter and nominee, Regina King addresses the socially distanced audience at the 93rd Academy Awards.
---
The 93rd Academy Awards was a pretty good production considering that it was being held in the middle of a pandemic. Learning from the Golden Globes, it did not to rely exclusively on Zoom. And, Learning from the Screen Actors Guild, they decided not to prerecord. What they did do was follow Covid-19 guidelines and have the nominees, or as many as they could get, in attendance at Union Station, in Los Angeles.
Someone said to me: 'They are stilling having the Oscars? Were there movies this year?'
Were there movies? Absolutely! I had commented that this year Best Picture race for example was stacked. There were so many wonderful films this past year and many flew under the radar.
Now to an Academy Award show purist like myself, I wished they had a host, but the show moved along well.
This year was exciting for myself as I had the chance to cover the awards from a press perspective. To give you an idea of what that looked like, I spent the entire show in front of my computer and multiple screens, somewhat dressed up in case I had to jump on the Academy's virtual Zoom interview room. I was going between the live broadcast of the show and the press room.
After each award the winner headed into the press room and four to five questions were asked by one of the 500 journalists on the call.
The questions ranged from Tyler Perry, 'Tell us about the influence your mother had on you?' to Yuh-Jung Young, 'What does Brad Pitt smell like?'
I previously wrote an article laying out my predictions for the major awards and I was doing great . . . until the last two. Frances McDormand won Best Actress for 'Nomadland'. This was a little puzzling — I felt that out of the five performances hers ranked foutfh or fifth but hey, I'm not part of the Academy. This was honestly that year I wish they could have divided it into five.
The second was Anthony Hopkins winning for 'The Father' over Chadwick Boseman. I concede it's Hopkins best work since 'The Silence of the Lambs', but I thought the Academy would take this opportunity to posthumously honour Boseman. Unfortunately, Hopkins wasn't there to accept either in person or virtually. This morning, he posted a video to his Instagram recognizing Boseman. At 83, Hopkins is the oldest Oscar winner.
Considering Best Actor was the last award of the evening, a change as it's usually Best Picture, I found the ending to the show anticlimactic and somewhat of a disappointment.
'Your winner is Anthony Hopkins, and he isn't here . . . . Goodnight everybody!'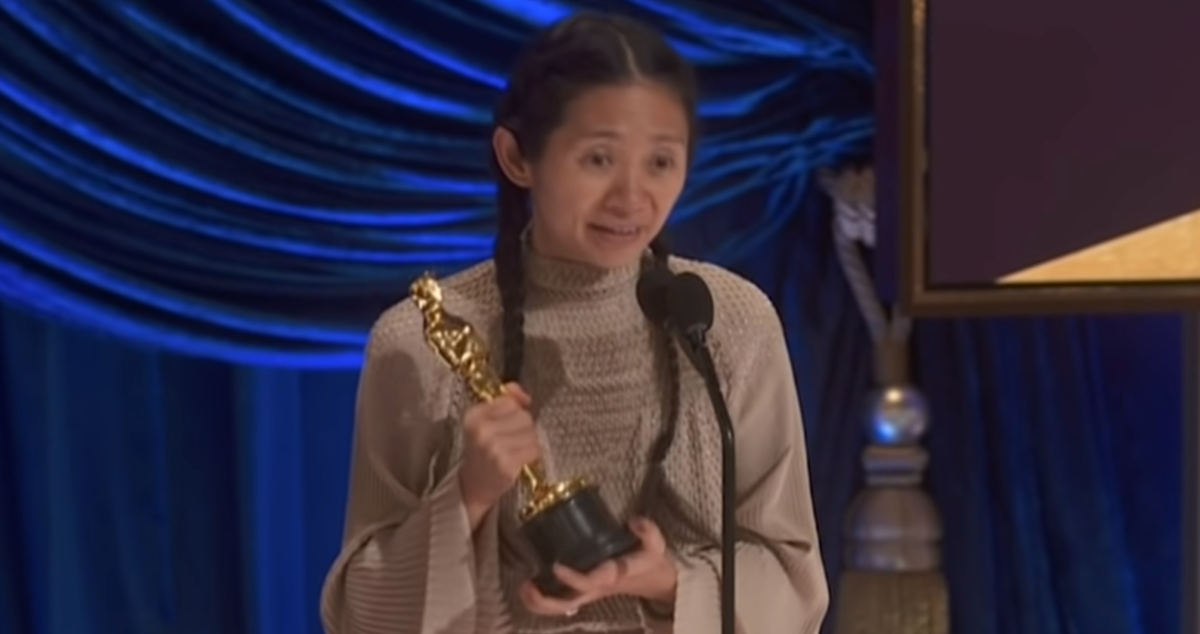 ABOVE: Chloe Zhao accepting Best Director award for her film, 'Nomadland'.
---
It was nice seeing Chloe Zhao win Best Director for 'Nomadland'. She becomes the first woman of colour and only the second woman to win Best Director. I was thrilled to see Emerald Fennell win for Best Original Screenplay for 'Promising Young Woman'. I think it's such a fantastic film and I'm glad it got some recognition.
Then there are the winners we can't really quantify but they are there. In an impromptu bit, Glenn Close blew us all away with her knowledge of a song called 'Da Butt' from an old Spike Lee film (School Daze) and if that wasn't enough, she proceeded to show us some moves that I am quite sure made her family members blush.
I'd be remiss if I didn't mention the Toronto International Film Festival as a winner. Once again, a movie that went through TIFF, 'Nomadland', wins multiple awards including Best Picture. This film won the TIFF People's Choice Award (the biggest award at that festival) reminding us how powerful that award is with the several Oscar trophies it brought home.
Overall, I thought the show was well done. I don't agree with all the awards but regardless at its core it's a celebration of an industry I am very passionate about.
It was unique seeing it from a 'behind the scenes' perspective as you could hear the audience being given instructions such as not to clap during the 'In Memoriam'.
As I put on a bow in this year's awards, I feel disappointed that I incorrectly predicted two of the awards. To rectify this, I am going to predict for you right now that 'CODA' will be nominated for Best Picture next year. Remember . . . . I'm calling it now.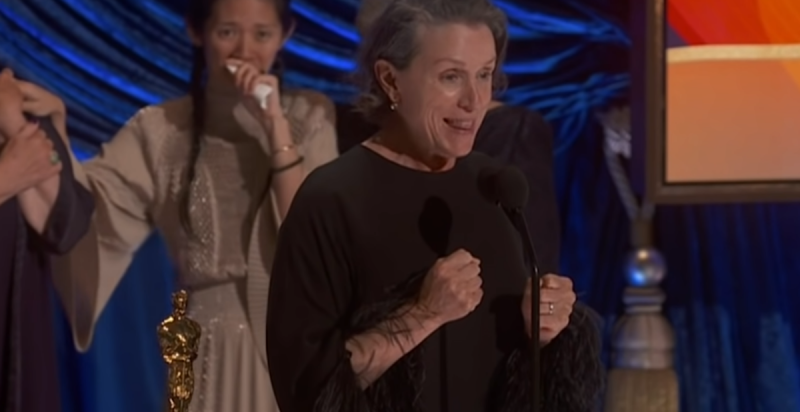 ABOVE: Frances McDormand accepts the Academy Award Best Picture.
---
The Awards
Best Adapted Screenplay – The Father
Best Original Screenplay – Promising Young Woman
Best International Film – Another Round (Denmark)
Best Actor in a Supporting Role – Daniel Kaluuya (Judas and the Black Messiah)
Best Makeup and Hairstyling – Ma Rainey's Black Bottom
Best Costume Design - Ma Rainey's Black Bottom
Best Directing – Chloe Zhao - Nomadland
Best Sound – Sound of Metal
Best Live-Action Short Film – Two Distant Strangers
Best Animated Short Film – If Anything Happens I Love You
Best Animated Feature Film - Soul
Best Documentary Short Subject - Colette
Best Documentary Feature – My Octopus Teacher
Best Visual Effects - Tenet
Best Actress in a Supporting Role – Yuh-Jung Youn
Best Production Design - Mank
Best Cinematography - Mank
Best Film Editing – Sound of Metal
Best Original Score - Soul
Best Original Song – Fight for You – Judas and the Black Messiah
Best Picture - Nomadland
Best Actress in a Leading Role – Frances McDormand (Nomadland)
Best Actor in a Leading Role – Anthony Hopkins (The Father)
Recommended Articles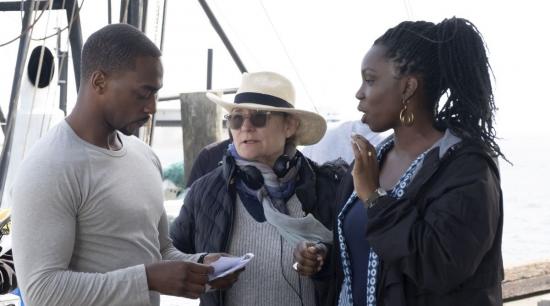 Marvel fan and film reviewer Keith Whittier chats with the Ottawa native behind The Falcon and the Winter Soldier.
Read full story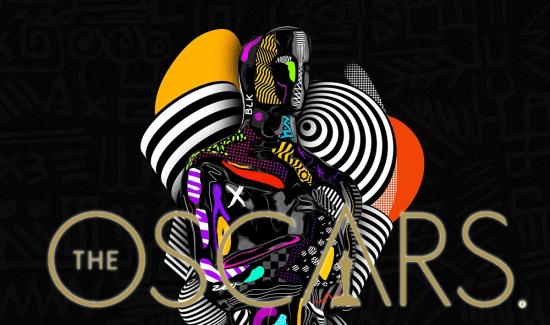 The 93rd Academy Awards is coming a few months late but anticipation for 'Hollywood's biggest night' is still at an all-time high.
Judas and The Black Messiah,Mank,Minari,Nomadland,Promising Young Woman,Sound of Metal,The Trial of the Chicago 7
Read full story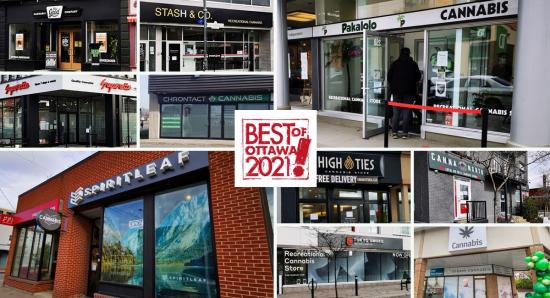 After over 20-years writing about life in Ottawa, we think we have a pretty good idea of the best of what this city has to offer. Check, share and discuss #OLMBest every week!
Read full story
Comments (0)
*Please take note that upon submitting your comment the team at OLM will need to verify it before it shows up below.