Good Reads
CBD oil for dogs Canada: top 3 CBD products for pets in 2021
CBD oil for dogs Canada: top 3 CBD products for pets in 2021
They say that dogs are a man's best friend. So, surely, you want what is best for your furry pal, especially when they are in discomfort from anxiety.
A quick dose of CBD oil might just be the fix that helps with your dog's crippling anxiety. However, finding the right product is becoming increasingly difficult ever since CBD startups began popping all over the country. Which one should you even trust?!
To add insult to the injury, the science behind CBD oil for dogs remains inconclusive. Not because there is no hope, but because this is a relatively new concept.
Some sellers may take advantage of the mystery that shrouds CBD oil and try to entice pet owners with different marketing gimmicks. Needless to say, be wary of titillating offers such as multiple flavors of CBD oil treats being sold at throwaway prices. More often than not, the CBD in these kinds of deals are derived from low-quality hemp.
Yet, there's no reason to fret – this guide has put together all the warning signs to watch out for! Even more importantly, after months of studying anecdotal evidence and extensive research, we have shortlisted the best CBD oil for dogs in Canada!
CBD For Dogs: How We Made This List?
A daunting task was at hand when it came to finding the best of this mysterious stress-reliever for pets. Usually, with other products, our first move would be to cross-check reviews and follow up on user surveys.
However, as we all know – dogs cannot talk or share their experience (wish they could, right?). So, our team settled on collecting owner's notes, interviewing veterinarians, and studying these alongside the minimal objective studies available.
After multiple interviews with veterinarians and experts on CBD trends, it was clear that this new wave of CBD pet care will not slow down. Unsurprisingly, pet owners have started stocking CBD oil for pets in medicine cabinets, and vets already have go-to prescriptions and recommendations.
From here, we began framing up a list of all the tried-and-tested CBD oil products – striking off any that have had a history of adverse effects on dogs. The remaining options were put through our very own test of quality, and the list was finally shortened to only 3 finalists.
Our considerations and quality control itself were based on what CBD experts, vets, pet caregivers, and nutritionists deemed as important factors. These included:
Pet's responses to a specific brand's product
Transparency of product details on website
Product and brand's reputation and reviews
Ingredients in the product – whether they include allergens or artificial additives
Quality control and certification
Access to dosage guide or instruction manual
The source of the hemp, and whether it is grown organically.
Third-party lab testing to check purity
Top 3 Best CBD Oil For Dogs Canada Wide: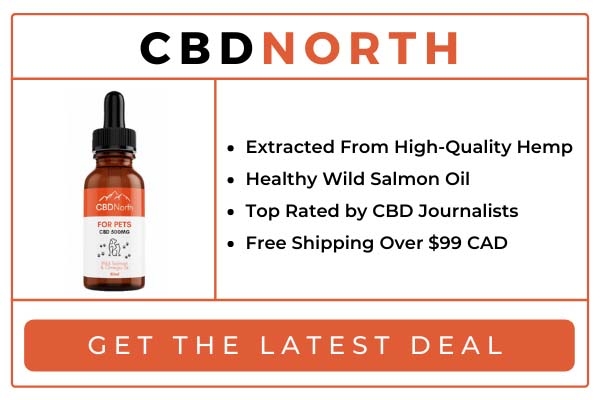 From yoga instructors and health coaches, to stay-at-home moms of four and dog-parents, CBDNorth has been receiving love from every corner of Canada.
Most of them swear by this brand of CBD oil for their joint pains, headaches, insomnia, and much more. Interestingly, this CBD oil enjoys a fan following among those with arthritis – a common illness among many elderly dogs.
So, it should not come as a surprise that our first product is targeted at those pet owners whose dogs have been diagnosed with arthritis, or suffer from chronic joint pains. And it's not just limited to mobility issues, it is also an instant treatment for canine anxiety – if the positive mood changes in otherwise anxious dogs are to be believed!
Apart from truly helping four-legged friends of Canada and their owners, CBDNorth is a truly local brand that stays close to pure goodness. Their CBD oil for dogs has been sourced organically from home-grown hemp that is pure and effective at the same time.
To turn this medicine for dogs into a tasty treat, the CBD oil has been formulated with Wild Alaskan salmon that is known for providing those healthy Omega-3 fats. No more fussy-eating and all the benefits of organic medicine – this one is a true win-win.
In case you do run into any problem, an e-mail to the caring customer service will be met with a prompt reply. Their loyal customers are full of praises and stories about their experiences with the courteous staff.
⇒ Visit the Official Website of CBDNorth
Highlights:
A. Multiple Uses
The uses of this CBD oil range from chronic issues like hip dysplasia and arthritis to sleeplessness and anxiety. One can say that the products of these brands have been tested on humans, and the same relieving effects have been observed in dogs.
Moreover, dogs are as emotional as their owners, and they are often subject to issues such as separation anxiety and hypersensitivity to noise or crowds. Or perhaps, your pet shows signs of stress and aggression before each vet visit.
Anyhow, at times like these, it may be soothing for both canine and humans involved in the activity if the dog is treated with a dose of this formula.
B. Lab-Tested
Effectiveness aside, it is crucial that any product is safe to use on your pets. And for this, word of mouth and anecdotal references are not sufficient – concrete medical evidence is far more reliable. After all, each dog's body will react differently to the same product.
Fortunately, the makers at CBDNorth have a transparent website that provides sufficient details about ingredient lists and third-party lab tests. The company has also provided a comprehensive Certificate of Analysis that guarantees objective information pertaining to its quality and results of rigorous lab tests.
Evidently, this product has been tested for microbes, pesticides, solvents, and the presence of other foreign matter. Moreover, the CBD oil has recorded a concentration of 99.46% of total CBD – which is a pretty good marker of its purity. And, to top it all off, they promote canine wellness without any THC!
C. Taste And Health In One
Ever wondered why pets enjoy the commercial snacks and treats that are sold at discounts? There is reason to believe that this is because pet food is the equivalent of junk food for humans!
Loaded with taste enhancers and artificial flavors – a huge chunk of such products lack any real nutritional value. The same goes for many newcomers in the CBD oil market that are looking to make a quick buck.
On the other hand, CBDNorth has taken the time and care to put together a CBD oil made from all-natural ingredients that are healthy and delicious at the same time.
Salmon, the main ingredient in this product, is known for being a fatty fish that is high in Omega 3's. And, as you might be aware, these healthy fats are good for the heart and for maintaining a luscious coat. Not to mention how, contrary to popular belief, dogs also enjoy eating fish just as much as cats!
Pros
Effective for physical and mental wellness
Transparent website and third-party lab results
Flavorsome all-natural ingredients
Informative dosage guide
45% discount on orders for those in need
Titled as #1 for manufacturing the best CBD oil in Canada
Cons
Free shipping only above 99$
⇒ Click here to get the best deal on CBDNorth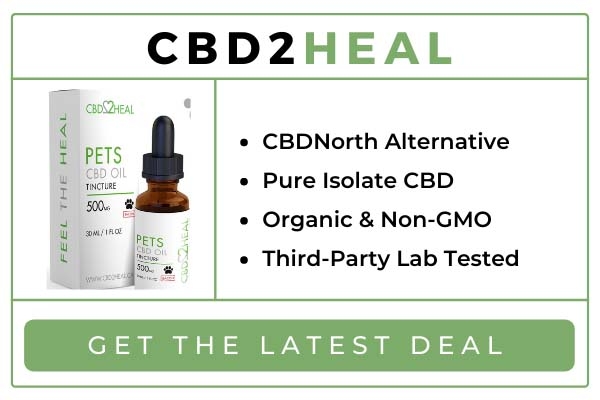 Smoky, crispy, delicious, fatty, and aromatic – bacon is everything that most dogs love to eat. No doubt then to say that the makers at CBD2HEAL made an excellent flavor choice for their CBD oil.
In fact, if you have struggled with finding a CBD oil that tastes light and fresh, you can empathize with a pet – who is probably fussier about eating. Moreover, dogs have a heightened sense of smell, and the earthy aroma of CBD oil may not indicate that it is a delicious treat.
Nevertheless, this mouthwateringly 'bacon-y' CBD oil has come out of a lab where experts and chemists in the field of CBD have fine-tuned the product to be safe for pets. A quick look at the Certificate of Analysis will show that the product is made up of 99% CBD, extracted from pure Canadian-grown hemp.
Apart from this, the company has a loyal fanbase and overwhelmingly good reviews for its fast delivery, clean packaging, reasonable prices, and free shipping. Moreover, the company offers a subscription plan that will slash down your expenditure even further.
⇒ Visit the Official Website of CBD2HEAL
Highlights:
A. Easy Access to Resources
After going through pages and pages of CBD oil manufacturers, obvious tell-tale signs of the most trustworthy brands begin to highlight themselves. One of these is website transparency and easy access to important documents such as third-party test results and dosage guides.
With that in mind, you don't have to snoop around much before putting your trust into this company. All relevant information such as test results and ingredient lists are provided in the welcoming and easy-to-navigate website.
What's more, the CBD oil itself is packed up in pre-measured doses of 150mg, 250mg, and 500mg. As expected, the store's page is informative and provides references regarding the size of dogs, and the degree of severity that each bottle can cater to.
B. Crafted By Experts
If you are still not sold by all the labels that guarantee a GMO-free and organic CBD oil for your beloved pet, then check out the makers of the product!
Actual chemists and researchers have brought together their knowledge and expertise to concoct this CBD oil. In fact, the team is led by a chemist who has had over 10 years of experience working in a research facility in Japan.
Anyhow, this product has received the approval of hundreds of vets as a safe solution for pets. Possibly what makes it a great prescription is that the formula is totally free of THC and has natural ingredients like MCT oil, which is known to maximize the health of young pups.
C. Cost-Effective
First off, this brand of CBD oil is available in 3 different doses, depending on the size of your pet. This means buyers don't have to buy more than they require – a move which is welcome in a market where manufacturers are always pushing to sell as many products as possible.
Moreover, with the subscription plan, buying their products comes at a steal – especially when compared with other competitors in the market. Suffice to say, the efforts to make this wonder treatment accessible to all dogs is truly a mission of nobility!
Free shipping all over Canada, regardless of the quantity you are purchasing, only reinforces buyers' trust in the company.
Pros
Easily accessible relevant documents
Consistent dosage
Free shipping all over Canada
Value for money
Third-party lab-tested
Cons
Information about flavoring agent not available
⇒ Click here to get the best deal on CBD2HEAL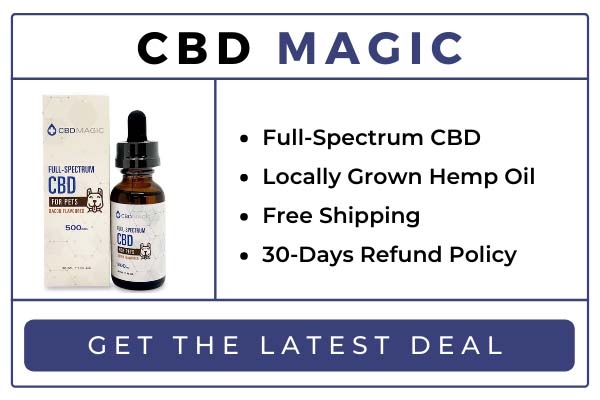 THC gets a bad rap for being a cannabinoid responsible for the sensation of "feeling high". Just like everything else, too much THC can prove to have devastating effects.
However, creating balance and adding THC in small doses can work better to relieve anxiety, sleeplessness, and other related causes of concern in dogs. In fact, the Full Spectrum CBD Oil from CBDMagic contains only 0.03% or less THC.
While this amount is almost undetectable, it works well with other cannabinoids to not only provide respite from mental stress and joint pains, but also to increase focus. And, if it doesn't work for your pet, don't hesitate to get your refund with the 30-day satisfaction guarantee!
What's more, a discounted subscription price and free shipping all over Canada make it quite the steal!
⇒ Visit the Official Website of CBD Magic
Highlights:
A. Flavored Tincture
Humans and dogs alike are not accustomed to the natural smell or flavor of CBD oils. Although it may be fragrant, it's unlike the food they are used to eating.
And, while CBDMagic is known for concocting products with aromatic peppermint to allure humans, bacon is their choice of flavor for those with paws. While peppermint spray has long been respected for its soothing and relaxing properties by us, who is to say it doesn't work the same way between dogs and bacon?
Anyhow, the smell and taste of bacon will make sure that your pup is not only willing, but actually excited for that delicious dose of CBD oil. If you wanted a soothed and zen dog with this product, then the enthusiasm might seem counterproductive. But, this doesn't last long – wait for the CBD oil itself to work its magic.
B. Third-party Lab-tested
No product should be considered a top-notch CBD oil unless it has been transferred over to a lab and evaluated by an unbiased third party.
With this product, rest assured, the makers have adhered to all safety protocols and abided by the safety regulations – the receipts for which can be accessed easily on the website. In addition to the Certificate of Analysis, the product page also provides a copy of its Pesticide Testing results.
C. Pure Organic Ingredients
Going local and organic is a healthy and sustainable exercise, and there is no doubt that the Full Spectrum CBD Oil Tincture has been formulated locally in Toronto. Moreover, it has all the pure goodness of organic ingredients such as CBD Hemp Extract, Hemp Seed Oil, and MCT oil.
While the cannabinoids work towards pain relief, MCT oil is a powerhouse ingredient that provides healthy fats and is a source of fuel and energy for your pet. All in all, kudos to the transparency with which the company operates. Especially in terms of the guileless honesty about the ingredients,
Pros
Flavorsome CBD oil for dogs
Organic ingredients
Third-party lab-tested
Free shipping
Cons
Product only available in 30ml bottle
⇒ Click here to get the best deal on CBD Magic
Buyers' Guide: Things to Consider Before Buying CBD Oil for Dogs
The pet wellness space is full of miracle stories and raving reviews about all kinds of CBD oil brands. Even just a quick Google search for "Best CBD oil For dogs Canada" pumps out thousands of results – only a portion of which may be well-researched.
Needless to say, the saturated market only increases the importance of researching by yourself and deciding whether a product is right for you. To get you started, here are a few things to ponder over before you head to checkout!
1. Cost
Remember not to compromise on cost when it comes to CBD Oil. More often than not, these products are relatively expensive, whether for humans or dogs.
With that being said, always buy from trusted brands that exclusively manufacture CBD-related products. Also, stay away from the CBD oils sold by major e-commerce platforms that may be more well-known for selling kitchenware and appliances!
At the same time, paying more does not mean you cannot get value for money. Keep your eyes peeled for any subscription plans, special offers, and discounts for those in need.
2. Certificate Of Analysis
Let's face it, no matter how transparent a website is about its manufacturing process, we are still getting a white-washed version of reality.
With this in mind, tread carefully when you are going through a company profile, and look for third-party lab tests with detailed records of ingredients and their concentration. The Certificate of Analysis is a commonly accepted document issued by Quality Assurance that tests product performance.
After this, the only important thing left to do is to check the authenticity of reports!
3. Correct Dosage
Despite what online calculators and armchair CBD experts say, no fixed measure is a one-size-fits-all. There are mainly two reasons for this – each body reacts differently to CBD oils, and each brand has a different concentration of CBD oil.
In such a case, the best thing to do is to start with a small dose. If it's the first time, don't be in a hurry to toy with the dosage. Monitor your dog for any side effects, and increase or decrease accordingly.
4. Ingredient List
It goes without saying that the best CBD oil for dogs should have organic ingredients that are preferably home-grown. Also, any brand worth investing in will have some sense of transparency about the ingredients in their products.
THC levels are also something that you should think about – anything more than 0.03% of THC concentration probably means that the CBD oil is not made of pure hemp. At the same time, absolutely no trace of THC may hamper the overall effectiveness of the product.
How does CBD oil help dogs?
Like all other mammals, dogs also have endocannabinoid systems (ECS) that regulate appetite, sleep, pain response, mood, and so on. Many receptors spread throughout the body make up the ECS.
Through the interaction between these receptors and CBD oil, brain function is enhanced and joint pains are soothed. Interestingly, dogs are equipped with more receptors than humans, which makes them more susceptible to CBD and THC.
CBD Oil For Dogs: Frequently Asked Questions
1. Can My Dog Overdose On CBD oil?
CBD oil is derived from organic hemp, which reduces the chances of lethal overdosing to practically nil. However, administering too much CBD oil to a dog may cause symptoms such as drowsiness, coordination issues, hypersensitivity, or even diarrhea.
Suffice to say, the dosage required by dogs won't be the same as that of their owners. As a precaution, start by giving small doses and monitor your pet's reaction. In case of negative side-effects, soothe your pet with kind words and soft pats. Consult a vet if the symptoms persist.
2. Is THC In CBD Oil Toxic For Dogs?
Some brands of CBD oil leave out THC from their formula – and for good reason. THC is a psychoactive compound that may cause paranoia and confusion in dogs. However, dogs can tolerate and may even be soothed by very low amounts of THC. Ideally, the THC concentration should be lesser than or equal to 0.3%.
Final Thoughts:
CBD oil is in vogue now, but it isn't a new phenomenon. This wonder product has been keeping anxiety and chronic pains at bay for decades. The only difference? All these wonderful findings are now being adapted for dogs and pet care.
Needless to say, if you trust it, then your dog might too. Perhaps the only way to really make sure is to buy our top pick – CBDNorth's CBD Oil for Dogs – and keep it for a rainy day, literally!
If your dog hates thunder and lightning, then adding a few drops of this formula to a pet treat will have them sleeping in peace through the storm. Peace out!
Recommended Articles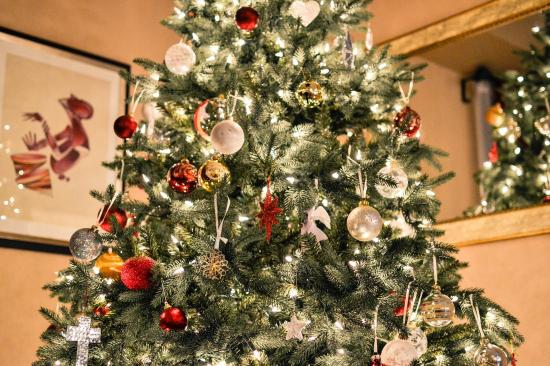 Has holiday stress got you down? You need this guide to hosting a simple, stress-free holiday.
Read full story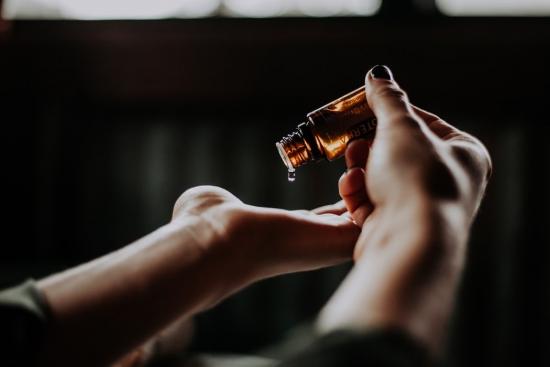 If you're looking for a boost in health, but you're not willing to take harmful prescription drugs, give one of these all-natural health trends a try.
Read full story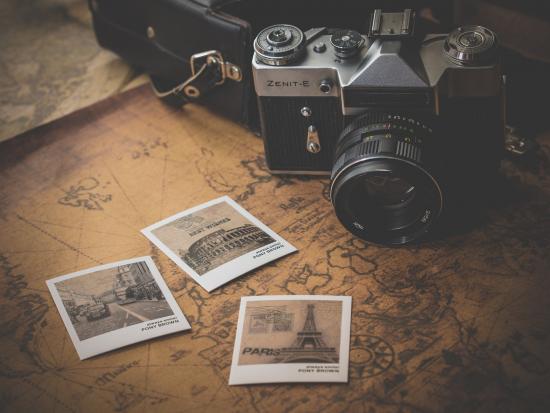 Comments (0)
*Please take note that upon submitting your comment the team at OLM will need to verify it before it shows up below.