Bluesfest by day: U.S. Girls, Alt-J and Chvrches
Photo: U.S. Girls (credit: Greg Kolz)
---
Though it was certainly a scorcher weather-wise on the first day of Bluesfest 2019, the acts were out in full force delivering blistering sets like they barely noticed. Whether it was quirky theatrics or technical spectacle, this day set off the festival on a great note.
Nao
One of the first overall sets of the fest came from the U.K.'s Nao, who worked the crowd really excitedly from her City Stage opening slot. Nao bounced to the deep grooves of her music, and swayed hard to every guitar riff and beat. Her absolutely glossy voice rode the smooth feeling of songs like "Girlfriend" for a set that was soothing and infectious from top to bottom.
Chvrches
Even early in the night, Chvrches delivered a set that could have easily headlined any night of the festival. As Lauren Mayberry shouted triumphantly through "Bur y It" and "We Sink," you could feel the sense of fun the band was having this year. Given that Chvrches have toured pretty extensively over the past few years it was also really nice to see them shake up their setlist with everything from staples like "Recover" to "Never Say Die" and "Graffiti" too. Mayberry's jumping and spinning moves around the stage matched the amazing stage set up and lighting for an experience that showed why they're invited to so many festivals year after year.
Alt-J
It's rare to feel like the lighting at a show was a character or perhaps a member of the band itself, but with Alt-J there was a character that the visuals brought to each song that truly elevated the experience. As the crowd was treated to "Something Good" and "Every Other Freckle" the band's vertical strip lights created amazing abstract shapes while simultaneously dividing the band members in a cool way.
After the crowd had been raising their arms and chanting along with the band they finally gave a shout-out to the Ottawa crowd. "We had a wonderful time in the city today. We ate Beavertails and they were f***ing great," Joe Newman mused at one point.
Each song had its own personality and colour in this way, so "3WW" could be a tempered grey and "Dissolve Me" would shift between more sharp blues. This also kept the show lively from a performance standpoint as the complexity of songs like "Deadcrush" often reduced the freedom Alt-J had to wander around the stage. Between their stoic silhouettes at the set's quiet moments or the bouncy might of "Taro" and "Breezeblocks" they always had something going on in this fan-focused show.
U.S. Girls
With multiple awards in 2018 for "Best Live Act," Meg Remy and her U.S. Girls cohorts certainly didn't disappoint. Hitting the stage in their striking outfits, the band pounded through "Velvet 4 Sale" really leaning into all the heavy brass and low-end of the song. This kind of sassy fun and anger made all their renditions of "Rage of Plastics" and "Mad as Hell" so fun to watch as Remy seemed to try to entertain the crowd and break down the conventions of performing in one go.
Samples of inspiring speeches set the tone throughout the show, inciting audiences to think about impending apocalypses or the harm we do to each other. "Rosebud" was even given an Italian intro that seemed to hover over the track's background vocals as well. As Remy started to loosen up, her band got more eccentric with her, giving the grimy "Incidental Boogie" feel really hefty. It was all the more fun to see singers teaming up against each other visually in this track, while Remy would hold hands with them a song later, and even spend verses drifting between her band members.
With a set so heavy on the great In a Poem Unlimited material, it was fun to see everyone really bring a funky mood to the usually hazy "Navy and Cream." With heads swinging, hair flying, eyes darting to crowd members and jams fading into a dense break in the middle of the set, it started to feel like we'd reached an extended break in the music. That's what made the sudden beat-drop into "Window Shades" complete with synchronized dance moves an utterly goose bump-inducing experience that had the crowd losing their minds. Remy's egalitarian performance style also saw each of her band members get an exciting solo in this part of the show.
Remy spent an entertaining amount of the time playing and looking directly at cameras, even taking the last break of the set to get her eye right up in the lens of one on the stage. With everyone on and off stage grooving out to "Pearly Gates" Remy was coaxing the crowd on while posing in weird tumbling positions with her band-mates. This kind of play got crazier on "Time" as the song hit a devolving dance jam, with Remy questioning the nature of marriage, and turning her finale into a kind of punk mix of shrieking, feedback and bizarre eye contact. Her ending itself flipped scripts by shrinking the sound a member at a time, until a sparing amount of instrumentalists fiercely shredded the set to cinders.
Setlist:
Velvet 4 Sale
Rage of Plastics
M.A.H.
Rosebud
Incidental Boogie
L-Over
Navy and Cream
(Interlude)
Window Shades
Pearly Gates
Time
Outro Jam
Recommended Articles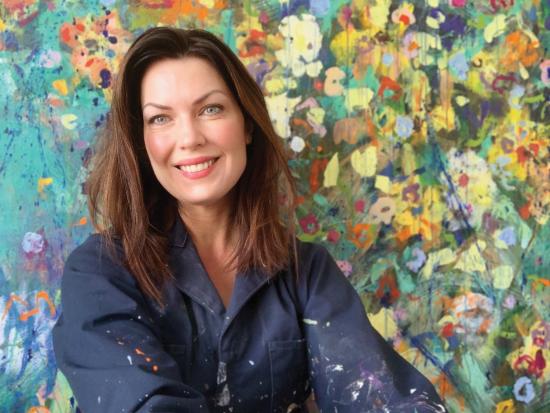 Painting has become a channel for Kirby's thoughts, emotions, and reflections on the human condition, something she explores in great depth as a nurse practitioner.
Read full story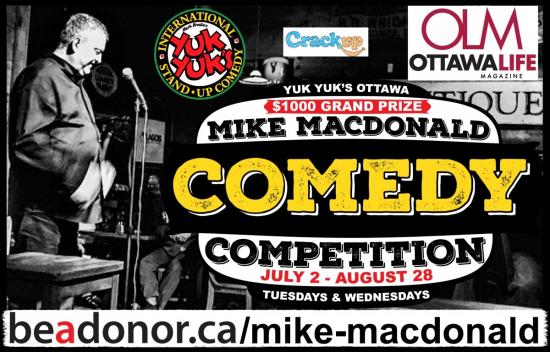 Sponsored by Crack Up and Ottawa Life Magazine, the annual Mike MacDonald Comedy Competition unites professional and amateur comedians, from all over, under one roof.
Read full story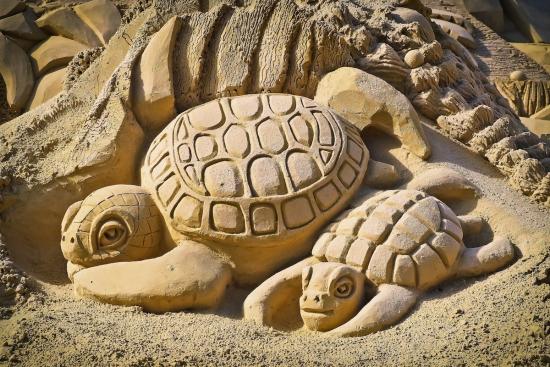 Each year, approximately 200 tonnes of sand is brought in by the truckload for the sculptors to use.
Read full story
Comments (0)
*Please take note that upon submitting your comment the team at OLM will need to verify it before it shows up below.