Brooklyn Doran Finds A New Home
Photos by Cassandra Rudolph
---
Whether with others or on her own, Kenora's Brooklyn Doran has always made her music stand out. The songwriter's unique style has evolved from personal to a looser storytelling style, mirroring her integration into the Toronto scene.
We talked with Doran ahead of her set at the Blacksheep Inn on January 14 to talk about her collaborative spirit, Toronto and why her latest music video foreshadows her future releases.
Ottawa Life: Your lyrics always seem to run the gamut from funny, sad and uplifting, sometimes all in the same song, so where are you pulling it all from, and does it ever feel too revealing?
Brooklyn Doran: With this past record that's come out and everything I've done in the past, it's been exploitative of my life. A lot of my song writing will come from a very specific place. So if I write about someone, I'll perform that song and people will think it's a beautiful song, but the person it's about will realize "Oh, everyone's looking at me, everyone knows." Moving forward, I've been so blessed and lucky to be in a great relationship, and have great family. My writing hasn't been about so much sadness or frustration as even a few years ago when I was writing my first two albums. My music is starting to take on a more narrative structure, built around fear. I'm not putting myself in the stories, but I think about my family and friends, and the places I grew up and try to write about that with more clarity. I hope the emotion is still there.
I understand you've played from solo to as many as five people on stage, how do you feel each iteration changes the performance?
Playing solo is more of a vulnerable place to be in, so those shows tend to be more vulnerable and intimate. They're more intimate in space as well, because when I play solo I'm usually in spaces that are too small for a band. A lot of the time, it ends up being based on the size of where I'm playing, so large festivals are where I'll bring a band with me, or in Toronto. When I'm touring though I'll tend to go solo or with a duo with my friend Nick who I've written a few songs with together, they might pop up on my new EP. It feels like a conversation because there's two people on stage, and I like to tell stories in between my songs to let them know what they're about. I want each show to be a completely different experience from the last because too many bands do the same sets every night.
Coming from Kenora, what finally made you decide to relocate to Toronto, and what's been the biggest change?
I actually moved to Toronto to do theatre and indigenous studies at York University, it was a double major situation. I didn't know if I would stay or not, but I dug around and found a cool folk music community, as well as people from University that I wanted to stay in contact with. I also found a dope apartment that was rent-controlled, so I felt like my life was falling into place in that city. I still love the small town and lake life, and the culture that goes with it in Kenora. There's a large indigenous community there, so we'd go to pow wows on weekends. There were also a lot of spaces, with tons of programming for women and First Nations people there. I felt really tied to nature and the lake, as well as a kind and focused community. Moving to Toronto was this huge culture shock where I felt like a stranger in a large city, but I eventually found that community there.
It's been a few years since These Paper Wings, but you just released the video for "I Found A Home," so what inspired you to release this so far from the record?
I think it 100 per cent had to do with the director Cassandra Rudolph, she's done all my press photos as well. "I Found A Home" was so important, I wrote it about a couple I met who had been together for 40 years. Having a person who's part of your life for more than half of your life, they become a part of who you are, and losing that person feels like losing a part of yourself. I wanted to do the song justice, and I wanted to do the video write, Cassandra brought me a treatment that felt perfect. It doesn't portray what you think the song would be about, it's not heteronormative couples, it's three women so you can see it as friends, romantic or a familial relationship. It was important for me to depart from just romance between a man and a woman. The work I'm doing right now is definitely centered around the woman who have inspired me in my life, so the video is definitely a step towards that.
Whether this means new music or not, what's on your plate for the next few months?
Right now I'm in a hibernation writing phase, I have a few demos but I'm still writing for the record. I don't have plans to go into the studio until I have enough songs that represent where I want the album to go. Hibernating also means touring a bunch, I have a couple side-jobs like everyone else but music is my job. Touring is really what supports my livelihood, and it's great for work shopping new ideas, so I'll be taking some songs on the road with me.
Recommended Articles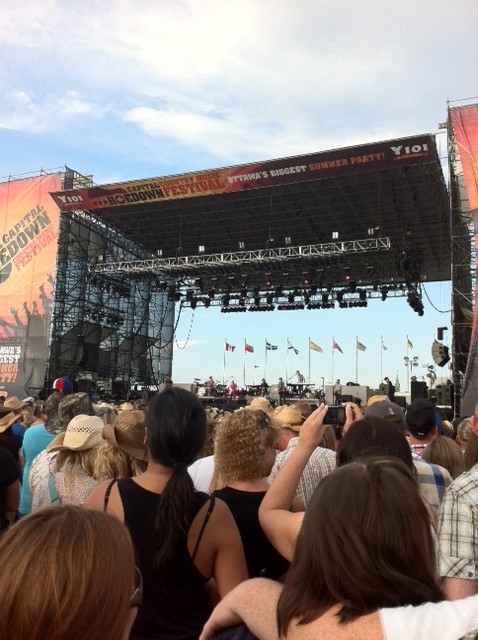 Zeus must be a country fan. Despite weather predictions of thunder showers all day on Saturday, the...
Read full story
Tim Nast's 12-date, Ottawa Valley-wide tour kicks off in October!
Read full story
Though the January weather is chilly, Ottawa Asian Fest kept things hot this weekend with their annual Winter Night Market. Held at the gorgeous Hilton Lac-Leamy in Gatineau, this three-day extravaganza had a little bit of something for the whole family.
Read full story
Comments (0)
*Please take note that upon submitting your comment the team at OLM will need to verify it before it shows up below.