Sports
Camps open league-wide, prompting questions and answers
Camps open league-wide, prompting questions and answers
Above: Ottawa's Brady Tkachuk
---
This past Sunday hockey returned across the board in the National Hockey League with the opening of training camps.
The Ottawa Senators, one of seven teams to not qualify for the playoffs last season, opened up a few days earlier on Dec. 30th.
And so it begins.
Here's some thoughts on what's happened . . . and what might happen in the coming months.
OTTAWA REFRAINS FROM NAMING CAPTAIN:
There's a lot of discussion yearly about the importance of having a captain.
To me it's negligible.
And overrated.
The captaincy was once a thing to be cherished and honoured – think guys like Jean Beliveau, Doug Gilmour or Steve Yzerman. Nowadays it's not just one guy leading the team; being the face of the team, it's a gang of them.
Case in point is Ottawa who are going with three alternates in Thomas Chabot, Brady Tkachuk and newcomer Erik Gudbranson.
Eventually it'll likely be Tkachuk wearing the C, till then, relax.
Coach DJ Smith to Postmedia: "It's real tall order for a young guy to be a captain in a rebuild situation. You're constantly being asked the questions and you may not have the answers, you haven't been through it. It's not fair for a 21-, 22-, 23-year-old kid to have to answer those questions. That's why I think you see a lot of times these guys who are captains have been through it and have been through the experience.
"They've been through a rebuild, been through winning and losing, and they know what's possibly coming next. It's unfair to rush that on a guy and that's where we're at."
Even in Toronto where John Tavares is the captain, he gets plenty of support from skaters like Auston Matthews, Morgan Rielly, Jake Muzzin and newly acquired Joe Thornton.
WHO WILL BE A SURPRISE BREAKOUT PLAYER FOR THE SENATORS:
Well now, there are loads of choices aren't there?
A few pop into this mind.
Drake Batherson has proven all he can at the AHL level and showed flashes of potential last season at the NHL level. Not sure if he would qualify as a surprise since he already seemingly is on target.
Josh Norris and Logan Brown are also potential breakouts, but again, would they be surprises?
Two who float under the proverbial radar are defenceman Christian Wolanin and winger Alex Formenton.
The latter owns first-class speed and found an offensive game last year in pro hockey (Belleville).
Wolanin, meantime, has been sitting in the weeds waiting for an opportunity (injuries too). He possesses all the skills and therefore jumps to mind.
FAST OUT OF THE GATE THIS SEASON IS ESSENTIAL:
Yes we're off and running . . . better slap on a good pair of Nikes.
In a 56-game season, a slow start would be killer.
Adding to the crunch is the majority of teams have less than 10 days to prepare for a hectic schedule.
"It's not like a normal season," Anaheim Ducks GM Bob Murray said to NHL.com. "This is a sprint. The earlier you can get in front, the better."
NO KUCHEROV, BIG PROBLEM IN THE BAY:
He's arguably one of the top three players in the league, unfortunately for fans of Tampa, they won't be seeing it this season. Nikita Kucherov is done for the season (hip surgery).
The former Art Ross Trophy winner could be back in time for the post-season, but you have to wonder what kind of shape he would be in.
There's a lot of juggling of balls in Tampa.
Financial constraints have the Bolts tight to the cap.
The good news? The return of sniper Steven Stamkos.
LAFRENIERE CHECKS IN:
The NY Rangers make no bones about it, first-overall pick Alexis Lafreniere is here to stay for the full 56-game schedule.
With Lafreniere – one of those many most-revered 'generational talents' – ready to roll, it gives the Madison Square Garden faithful two of the hottest up-and-comers to ogle on the forward lines. Second-overall pick (in 2019) Kaapo Kakko is expected to surge in his second season.
New York should be scary-good in the next few years.
WHAT TO EXPECT FROM THE GERMAN 'WUNDERKIND':
Meantime, Senator fans have their own plum ready to blossom. (Can a plum really blossom??)
If Tim Stuetzle holds up the pace we saw him showcase at the world juniors, his impact should be seen immediately.
The only question surrounding Stuetzle seems to be whether he plays wing or centre. Otherwise, consider him a slam dunk.
Recommended Articles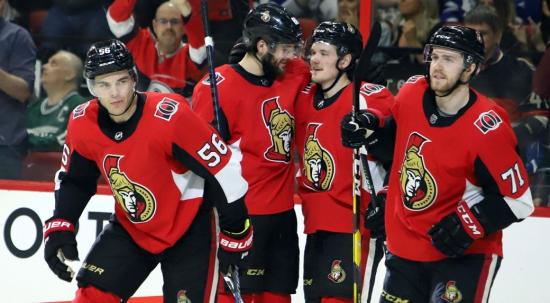 Quickly putting together the math, it will be roughly nine-and-a-half months since the organization last stepped on to the ice as a unit.
Read full story
It's almost Christmas, and you know what that means… World Juniors!
Read full story
In contrast to the ethics-challenged ROGC board members, The Barrow Gang Buskers formed a band to bring good vibes to Ottawa residents while raising money for charity.
Read full story
Comments (0)
*Please take note that upon submitting your comment the team at OLM will need to verify it before it shows up below.