Capital Comedy Review: Summer Comedy Competition Finals
Photo: Chris Borris and The Honourable Catherine McKenna present Michael Lifshitz with trophy
---
The 2019 Yuk Yuk's Mike MacDonald Summer Comedy Competition came to a close last week with a brilliant final on Wednesday the 28th. This year Yuk Yuk's partnered with sponsors Ottawa Life Magazine and Crackup Comedy Festival and in partnership with Be a Donor, Mike MacDonald's charity of choice.
The competition is, of course, named after Mike as he was one of the greatest comics ever to come out of Canada; probably the greatest country in the world for the production of standup comics. From Ottawa, Mike led a charge of a huge number of professional comedians including a number of international stars to come out of Yuk Yuk's Ottawa. So it was that upon his passing St. Patrick's Day five years later, we named the competition after him with his family's permission. Mike was a tremendous influence on me and anyone else who had the privilege to know him.
Following his liver transplant on St. Patrick's Day 2013, Mike came all the way back from completely starting over in comedy. In the five years after his transplant, Ottawa comedy got to see Mike's return to being the best in the business. Mike had a profound impact on Ottawa's comedy and we're proud to have had the time we got with him.
The first twelve weeks of the MMSCC were the preliminary rounds, and while it is true that there are more than ninety six comics in the city, these have a wide range of skill levels. So the early round featured some good and some bad in terms of comedy skills, all of which is still amusing to watch. Competitions in summer are important, as to many comics they represent the only opportunity to perform in one of the clubs, meaning results often don't matter as much as the opportunity to continue to hone one's craft.
That said, thirty six comics performed well enough to continue on to the semi-final round. By this point, the shows are of a very good quality with few exceptions. In the semi-final rounds two comics from each show moved on to the finals on the 28th. Two other comics move on to the wild card show on the 27th. The semi-finals wrapped up, bringing us to the Wild Card Show last Tuesday. Previous winner of the same competition, Greg Schroder hosted the wild card show. Greg is a talented headliner and he did a great job hosting. At this point there are sixteen comics left and one comic on the Wild Card Show moves on to the finals the next day. On the show we had Clint Gibbons, Mike Bombay, Abdullah Usman, Mark Hatfield, Peter Saran, Dan Allaire, Lorenzo Patino and Tim Riel, with me doing a feature spot at the end.
This was a heck of a show. All of these comics belonged there and frankly none would have been out of place on the finals show the next evening, Everyone was really good. I went up at the end and encountered a crowd mostly comprised of people from Cornwall, there to support their boy Dan Allaire. I had just performed in Alexandria to a bunch of people from Cornwall a few nights previous. I get along with Cornwall people I guess. Maybe South Keys isn't so different. Anyway at the end of the evening Dan Allaire was the winner and we had our lineup set for the next night.
Which brings us to the finals of the MMSCC. We had fabulous judges Dylan Black (Boom 99.7, Rogers 22), Dan Donovan (Ottawa Life Magazine), Bonnie, JP and Amanda representing Mike's family, Tina and Joel Proulx (Be a Donor, Ottawa Gift of Life) and Catherine McKenna (MP Ottawa Centre, Minister of Environment and Climate Change). I was excited to host, and Nick Burden, winner of last year's competition was the feature.
We had nine finalists, Abdul, Jesse Reynolds, Christina Muehlberger, Aaron Hill, Dan Allaire, Kyle Mesdag, Adam Adjokatcher, Michael Lifshitz, and Rory Gardiner. I had fun off the top, first acknowledging all of the many judges and making the audience clap over and over, finally telling a few jokes and kicking off the show by bringing up Abdul. Jesse Reynolds followed by Christina Muehlberger and I was doing okay until I announced Dan Allaire was the next act coming to the stage, when I really should have said Aaron Hill. It's an important evening for all of the contestants and I felt bad about my error, sorry Aaron, but I quickly apologized and introduced Aaron.
Dan Allaire was indeed next and then, halfway through the lineup it was time to tell a few jokes. I particularly enjoyed telling my joke about how Trudeau is hot and Harper was not. It's a bit of a shallow joke, to be sure but the only time I enjoyed telling it more was when Conservative MP Pierre Poilievre was in an audience. Kyle Mesdag was next, then Adam Adjokatcher and everyone was doing very well. I had no idea who was going to win.
Michael Lifshitz was next. I've performed with Michael many times at a bunch of different venues. Michael has been a finalist in the Yuk's summer competition for the last bunch of years. In 2014 on his competition day, Michael's specially Michael equipped van was stolen, which is a unique challenge to face before a set, and he placed second on the show, losing by half a point to the eventual winner, Jimmy Cassidy. Michael is one of the kindest and most certainly hardest working comics in the city. I brought him on to stage once saying he puts more effort into getting on stage than I've put into anything for years and the audience gasped like I was being rude but Michael and I both knew that I was just being honest and describing reality.
Michael had a great set, and was followed by Rory Gardiner who also did very well. I brought up the feature act, Nick Burden and the judges handed in their scoring sheets. I went and stood over by the box office waiting to find out who won. I like this tension, it's interesting. Jeremy Hotz stopped in to watch the show and he was pacing, eventually exclaiming "If Michael doesn't win, this is bullshit!"
Michael won. I went back on stage and thanked everyone who'd helped with the competition to date, and all of the judges and then I called The Honourable Catherine McKenna to stage to announce the winner. Michael came up and I was very pleased that we then presented him the trophy. Congratulations Michael! And congratulations to all the other finalists. Everyone was very strong and clearly Ottawa has a very bright future continuing to develop top comedic talent.
The next couple of nights I spent visiting friends from out of town (hi Sean and Cindy) and then celebrating my wife's birthday (happy birthday Erin!) but I was back in the club Saturday where I got to perform an opener spot for the very funny Sebastien Bourgault! Trevor Thompson was an excellent host, bringing up the very funny Peter Saran, then me. Tim Riel did a great job featuring and Sebastien Bourgault was great, performing through some adversity with a rowdy crowd, and that put a nice cap on a very interesting week in Ottawa comedy.
Recommended Articles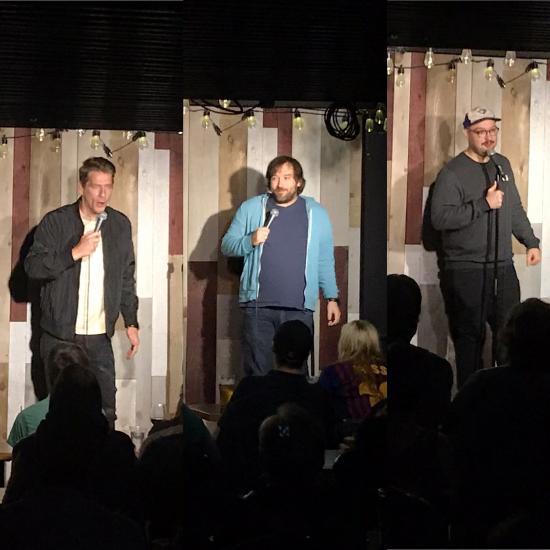 Launching Pad is the newer iteration of local talent shows at the club.
Read full story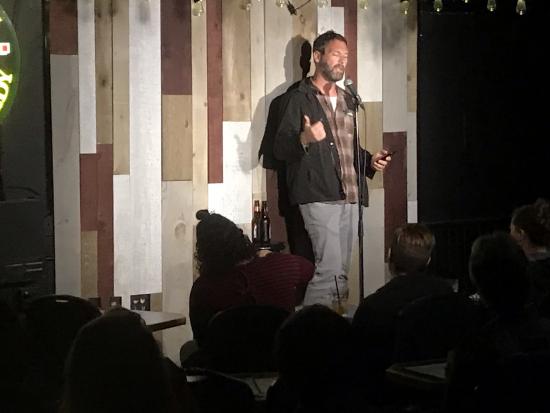 Jon, in case you don't know, is one of the funniest people to come out of Ottawa.
Read full story
Ottawa is basically a world superpower city for the production of stand up comics.
Read full story
Comments (0)
*Please take note that upon submitting your comment the team at OLM will need to verify it before it shows up below.