Artist Cathy Mark portrays nature in all its beauty
Cathy Mark is a Scarborough-born artist who works with metal. Her work evokes feelings of the movement found in Canada's wonderful landscapes and is reminiscent of the Group of Seven painters from almost a century ago.
Mark is very appreciative that she has been able to successfully continue to work on her art during the COVID-19 crisis. "In the initial lockdown I wasn't that busy because all the galleries were closed, so used that time to explore other things," says Mark. "I was doing some stone carving, I got two solid months of carving stone and I really enjoy that. When the galleries reopened after the initial lockdown things picked up and became quite busy again."
Mark says that that the pandemic has changed many things. "People are spending more time at home and I sense priorities are shifting. They are buying art that has meaning for them or that can beautify or bring comfort into their homes and lives. Ironically, for myself and other artists, an unintended consequence of COVID is that it seems to have made people more reflective and maybe more appreciative, to enjoy simple things like appreciating art in its many forms. The upside of this for artists is that we have been able to bring some joy into people's lives during this terrible pandemic."
Mark's artistic pursuits brought her to a vocational arts high school followed by David Thompson University in British Columbia for Fine Arts. After finishing a design course in London, Ontario, she began work as a design consultant. Then, she went on a studio tour that would change her career. "I have always worked in the art field. I was in a studio tour and I was placed with a blacksmith, so I just started using his equipment and it just went from there."
"I really like working with the metal. I like the physicality of it. I like hammering, it's just something I enjoy doing."
Cathy works from her home studio on the north shore of Lake Scugog. The stones and burl wood and unique wood pieces she incorporates into her works are mostly collected from her 200-acre farm. "My husband does all the wood pieces, he carves the wood out for me," says Mark. "He helps collect rocks and he splits the rocks for me. He bought me a jackhammer for my birthday, but I can't even lift it, so he has to use it for me," she laughs.
Her works often capture the way evergreen tree branches bend in the wind. The beauty and brilliance of her work her eye for detail in shaping the branches by seemingly capturing them in motion. "I'm known for the trees," Mark says. "People have responded to her unique tree sculptures and their popularity in galleries has kept her remarkably busy this past year.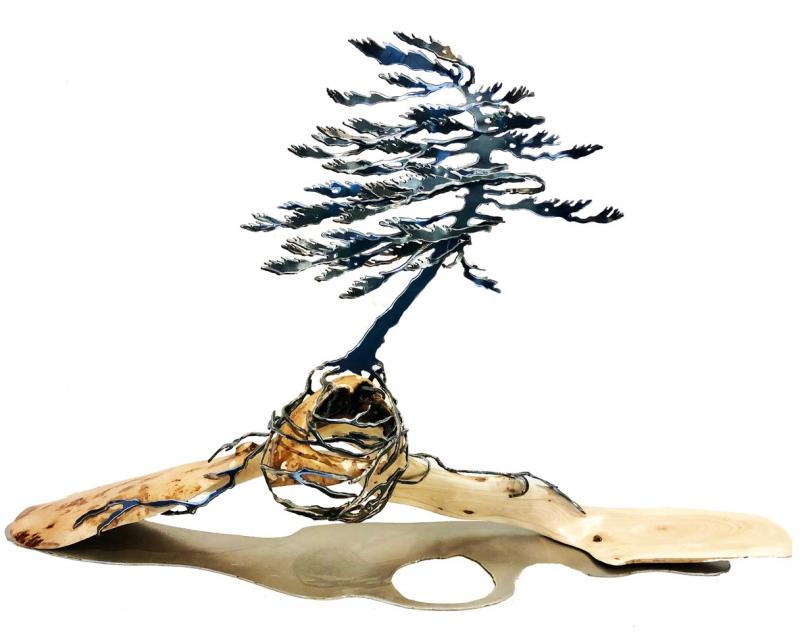 The stainless steel "branches" of the tree catch the light where they bend, giving the viewer a dynamic sense of where the branches turn, no matter where they stand. "I think it's an iconic image representing Ontario mainly," Mark says, referring to the ubiquitous white pines that dot this province and which inspire her trees. "If you go out to BC you don't see that type of tree, they're more straight up and down with the spruce, whereas we just have that really rugged look in Georgian Bay and in Muskoka."
The whitish sheen that sits on metals where their sides have been ground down evokes a gentle snow, and loops and openings in the metal representing the water give a sense of a placid lake with gentle waves, with the metal darkening towards the centre where the trees would be providing shade from the sun. The effect resembles a stylish black-and-white photograph, but with the detail of three dimensions.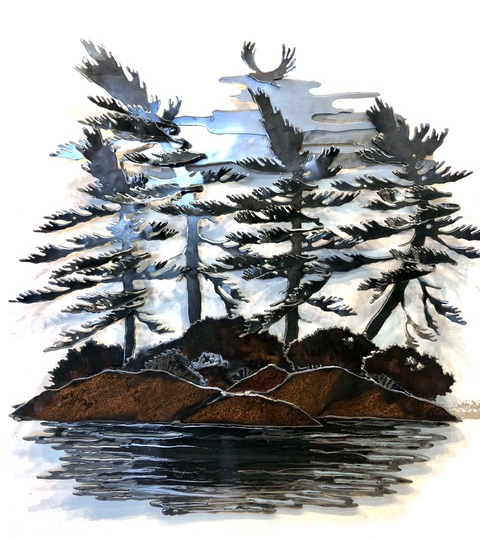 Cathy was commissioned created this wall piece for a family whose matriarch successfully completed cancer treatment.
---
Creating her pieces, sometimes by request, has given Mark the opportunity to move others. "I recently did a wall piece for a couple and they were giving it to their friends as a housewarming gift," says Mark. "It was a couple and they had two children, so they wanted four trees in the picture, and it was a lake scene with rocks and beautiful water. The mother had just gone through cancer treatment and she was cancer-free, so they wanted a bird flying above the trees. I created that for them and shipped it off to them and when they gave it to the couple, they said that everyone was crying, and it was beautiful. It was nice to make something that meant so much for those people."
Cathy has been creating in the art and design world for 30 years, and her work is available in galleries across Ontario. It seems like an arrangement that works for everyone—tourists and visitors want to see unique works from local artists, and to immerse themselves in nature, and galleries and stores want to sell them that experience. Her work is collected worldwide. In Ottawa, Made in Canada Gifts is the place to find her work.
It's easy to see the appeal—her buyers can feel that they're taking a bit of Ontario with them, often literally. "This is my husband's family farm, we're seventh generation on this land," Mark says. "It was all his ancestors who collected all the rocks out of the fields and put them in the fencerows, and now we're taking them out of the fencerows and using them for art. And the wood as well is mainly from the property, all the wood we use is old pieces that we found. We have about 60 acres of bush here."
The natural cycles on a farm are a chance for inspiration. "When we go to plant fields, you have to collect the rocks because rocks come up every year out of the soil from the frost," Mark says. "Every year there's wagonloads of new rocks that come out of the field. It's kind of exciting, it's like a present!"
The Mark family have a mixed farm, with a variety of livestock such as goats, sheep, and cattle, alongside cash crops like soybeans. Amusingly, their animals can hamper the artistic process. "The goats are outside the door all the time. I had a list of all the pieces I had to make this week and when I went out, the goat had eaten my list!"
Between the rock harvests and the interactive farm animals, Cathy Mark's work represents an Ontario experience as much in reality as they do at first sight.
---
Visit Cathy Mark's website cathymark.ca to see more of her freestanding art, wall pieces, and soapstone sculptures.
Follow her on Twitter @cathymark_metal. Find her on Facebook at Cathy Mark and on Instagram at cathymark.
Recommended Articles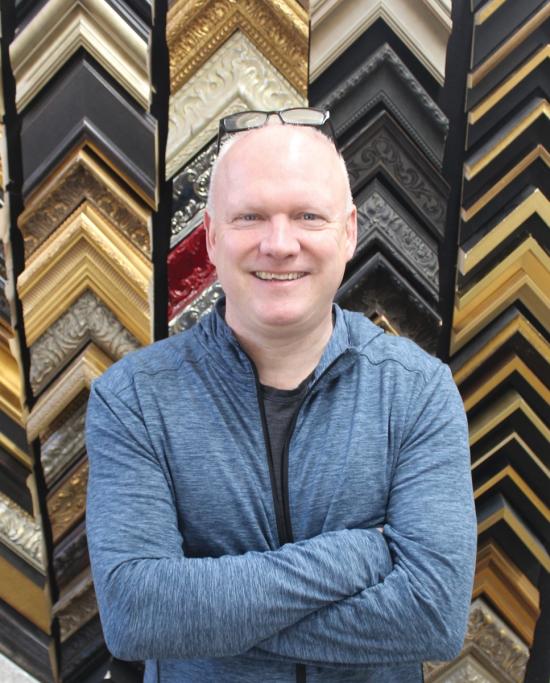 Meet Patrick Gordon who's framing shop is your go-to destination for all your framing needs. From pre-made to custom options, and conservation solutions, he does it all!
Read full story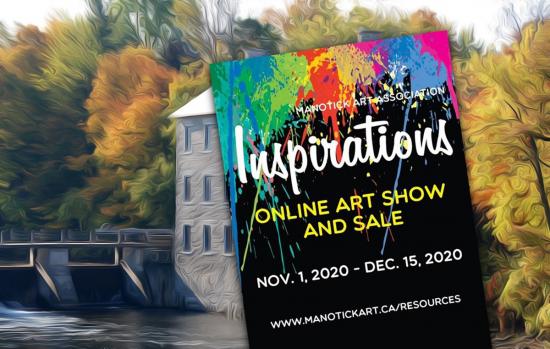 In-person gatherings remain off the table but the annual MAA art show and sale in under way virtually.
Read full story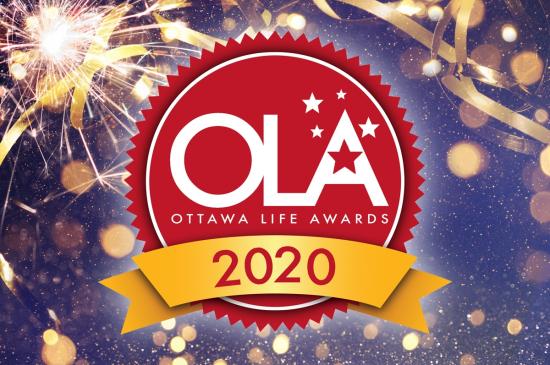 Comments (0)
*Please take note that upon submitting your comment the team at OLM will need to verify it before it shows up below.