Arts & Events
Chantal Kreviazuk and Raine Maida talk about their emotional new documentary
Chantal Kreviazuk and Raine Maida talk about their emotional new documentary
Photo credit: Crave
---
Spoiler alert: I adore Chantal Kreviazuk. I think she is a wonderful representative of what is great about Canada. She is kind, she is generous and did I mention this Order of Canada recipient is an extremely talented musician!
Several years ago, before I was associated with this magazine I asked her for an interview and she accepted. I was told I had ten minutes, thirty minutes later I had conducted one of the best interviews of my career and gotten to know someone I respect, that much better.
What blew me away about that experience was that she didn't have to say yes. Having her rep tell me that they were impressed with how prepared I was provided the icing on the cake.
I tell you this because while she is a celebrity there is no sort of ego about her, whatsoever. You'd be challenged to find someone as down to earth.
Now just when you thought her household couldn't get more awesome let me introduce you to her husband, Raine Maida. The frontman for Our Lady Peace, whose voice borders on hypnotic. He is also an Order of Canada recipient and multiple award winner. I've had the opportunity of seeing them perform many times and while no concert was like the last, they have all been extremely entertaining. They have a way of connecting with their audiences which can be very rare in a live performance.
As they are about to celebrate their 20th wedding anniversary later this year, what better way to commemorate the occasion with a documentary.
Several years ago these two talents came together under the name 'Moon vs. Sun' and introduced us to some of their new music including a phenomenal single called 'I Love It When You Make Me Beg'. After seeing them in a pre-Canada Day concert in 2017, I kept waiting and waiting for their album to be released. The wait was worth it as their new album 'I'm Going to Break Your Heart' was released earlier this year and their new documentary under the same name was just released on Crave TV and iTunes.
This film, which is beautifully shot, takes us into the writing process of this talented couple but also is a reminder that regardless of celebrity or stature, we are people and our relationships can go through difficulties. The movie did not have the feeling of some sort of 'reality tv' episode but it felt very real and I strongly recommend it.
I recently had the opportunity to speak to Chantal and Raine.
Ottawa Life Magazine: What prompted the decision to make this film?
Raine Maida: We have been trying to write a record together for five or six years and we wrote a song a long time ago called 'I Love It When You Make Me Beg' and just felt that in a few months we would have an album and we would start Moon vs Sun, but it never happened. We didn't write one song. And basically a friend of ours felt if we commited to filming this we couldn't back out of it. We knew we needed to get away from LA, and touring and just isolate ourselves. We went to that little island with a small crew. That was the reasoning to finally do it.
OLM: Neither of you in my opinion to seem be ego driven. What was the process like having cameras follow you around? Was that aspect difficult?
Raine: No, because we gave specific parameters. We went to that island for a couple of weeks and a few days in LA. We didn't have cameras follow us around for a year. It wasn't like a reality show or a typical documentary. We knew we needed to have these short windows of time. It's really about the music. It's condensed to 14 days of filming and back in the day that's how albums were made. I'm really happy that we are able to show that process of sequestering yourself, being alone, dig in and get creative.
OLM: One of things that makes this movie great is how real it feels. At times, respectfully, it's a little awkward to watch. And I say awkward in the sense of seeing two people you respect who are having disagreements. It's a very personal aspect of the relationship. Something audiences aren't usually brought in on. Tell me about that part of the process and how you feel when you watch that back?
Chantal Kreviazuk: I just love that it's true. I am more and more obsessed with digging in the dirt. I think going to the dark place is where things grow, right? Ultimately, it's this giant rosebush in waiting. It wasn't easy at the time. The older I get the more I realize that thinking hurts. Learning hurts. Growth hurts.
OLM: You both are used to putting yourselves out there with your music. Now you're being exposed in a different way. Would you say the experience is different since it's on film as opposed to through a song?
Raine: I love the idea of giving people an inside to the process of this because it's really special to us. It's not just another album, it's the first time we've done something together but also the way we write together. We don't just sit down and write some great song, it takes work. Sometimes it's easy and sometimes it comes from a real struggle and you are battling over arrangements or parts or lyrics and that's the beauty of art. It doesn't bug me to show that at all. And the process with us in terms of the relationship stuff, sometimes that's how the songs are born. You can't really have one without the other with the two of us because we are married.
OLM: I think this is something people need to see as, a lot of times people want to present that they have this perfect relationship. I think it's nice when 'Canada's Royal Couple' shows that they are great times and times you may disagree.
Raine: For me it comes down to mental health. We want our creative lives, our lives as partners and as parents to be..
Chantal: …Healthy!
Raine: Showing us in the session with our marriage coach, there is nothing to be embarrassed about that.
Chantal: Why not bring in an expert. Everyone can walk away from our film, if they so desire, with a couple of options for tools to move forward that worked for us. When we are not using those tools, it's not as good. And when we are using them, we connect.
Raine: You know Nick Nurse (Head coach of the Toronto Raptors) was watching tape on the Bucks every night and that's why the Raptors were doing well. For us we watch tape and we put in work with our coach and we are all better off.
OLM: Chantal, I remember when I interviewed you a few years ago you joked and said while you were on tour that 'every mother deserves a tour'. Would you agree with me that every couple should see this film?
Chantal: Of course I do. If you want my personal belief, I think very few people are just blessed and gifted and know how to read there partner and be respectful and act out peaceful conflict resolution constantly. Come on, that's not real. Very few people are born with that. That's not what I come from and that's not what Raine comes from. We are trying to figure it out.
OLM: We live in a world where success seems to be sales, views and likes and things of that nature. How do you measure success with a project like this? I would say that it's already successful in that you completed it, you have a fantastic album that has come from it. This is something you can go back and watch and your kids, your family, other couples, other families can be inspired by. From my point of view this already a rousing success. But obviously this is very personal to you, how do you measure success with a project like this?
Raine: I think it's what you said. The fact that it took us seven years to do it and that we actually finished it. Writing the songs was actually pretty easy once we started. But it was a long process, editing the documentary. It was such a long process and the fact that it's done and that's out on Crave. The fact that it's evidence of something that's been completed and that's pretty powerful.
OLM: Time for some Rapid Fire Questions. I have two questions for each of you. Raine, I'll start with you. There is a scene in the movie where you refuse to kiss your wife on the top of a hill. At that part did you just lose your mind?
Raine: No, it was just so damn cold there. The film doesn't really show how cold it was on the top of that hill.
OLM: Chantal, over to you. You went to a Toronto Raptors game and they won. Have you worked out a deal with the Raptors to become their spokesperson and their good luck charm so you can go to more games?
Chantal: I'm trying to be humble about it but you know…..I know…….we know.
OLM: Raine back to you. Obviously, great success with Our Lady Peace, great success on your own.you given thought to a Our Lady Peace, Raine Maida, Moon vs Sun, Chantal Kreviazuk tour?
Raine: Um, no!
Chantal: I'm going to add and say I'm not a Yoko Ono
OLM: Chantal, when are you guys coming back to Ottawa?
Chantal: We did a show last fall so it will be be in the fall
OLM: Lots of love to you guys and all the best. Thanks for the time today.
Raine: Thanks for the support
Chantal: Thank you
Recommended Articles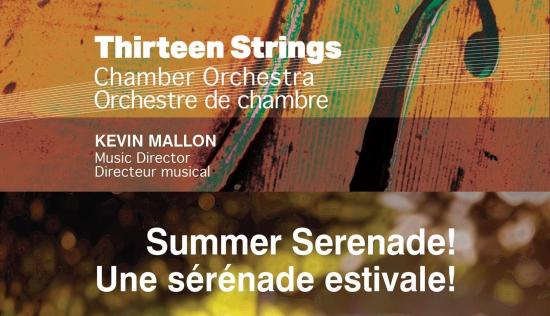 Sometimes unpredictable things happen and it is then necessary to change a concert program! Originally planning to present a concert titled "Day and Night", Thirteen Strings instead felt compelled to serenade their public with a brand new program.
Read full story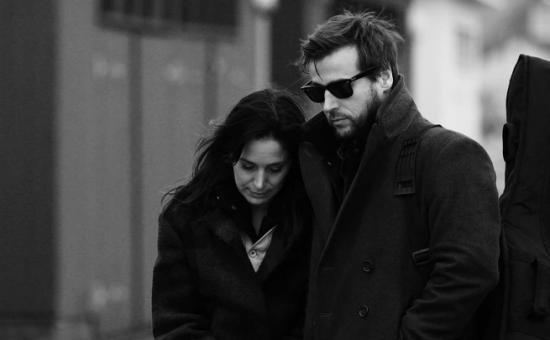 Singer-songwriter Chantal Kreviazuk and Our Lady Peace frontman Raine Maida take the NAC stage in a collaborative performance.
Read full story
The Ottawa arts community has a lot to celebrate as Ottawa Art Gallery (OAG) Director & CEO Alexandra Badzak received the Victor Tolgesy Arts Award earlier this month!
Read full story
Comments (0)
*Please take note that upon submitting your comment the team at OLM will need to verify it before it shows up below.