Arts & Events
Chariots of Choir: An Evening With The Ottawa Choral Society and Seventeen Voyces
Chariots of Choir: An Evening With The Ottawa Choral Society and Seventeen Voyces
All photos by Andre Gagne. 
It's been called one of the most electrifying sequences ever filmed but, also, the most dangerous. You are looking upon a Hollywood recreation of Circus Maximus, the ancient Roman stadium. The flags are dropped and, in a cloud of dust, chariots streak across the screen carried by dozens of horses picking up speed with each passing lap as they thunder around the track. You can almost feel the rumble in your seats. The hero furiously leads his white stallions towards the finish line while his villainous adversary gains speed, turning his whip on the hero in a desperate attempt to win at any cost. Those watching from the pews ofDominion-Chalmers United Church are on the edge of their seats to watch the hero prevail as he overtakes the pack and bolts across the finish.
The film is pioneering director Fred Niblo's 1925 biblical epic Ben-Hur: A Tale of the Christ. It was the most expensive film of the silent era. Based on the novel by Civil War General Lew Wallace, it tells the story of a wealthy Jewish Prince torn from his family by a former friend and sentenced to slave labour, his eventual escape and rise from imprisonment during the time of Christ. The film was a virtual showcase for what the medium could accomplish. It incorporates early uses of colour photography, stunning glass painting effects, hanging miniature shots, hundreds of extras and even a whopping 48 cameras to film a sea battle sequence, a record that still stands to this day.
Yet, as thrilling and grandiose as all that was, originally the film had no score to match the epic proportions of the visuals. Conductor and founding director of Seventeen Voyces, Kevin Reeves, set out to change that with a bit of help from composer Carl Orff and a 120-voice choir on March 4th.
"I've been a cinephile for as long as I can remember, and have always admired silent film for its succinctness — the telling of stories with imagery only;  as Hitchcock would call it - pure cinema," says Reeves. "Through Seventeen Voyces and the brilliant organist Matthew Larkin, we've produced about a dozen silent film concerts spotlighting organ and choral music.  As a result of these successes the Ottawa Choral Society asked if I might collaborate with them on a larger scale.  Immediately, I thought of Ben-Hur combined with (Orff's) Carmina Burana because both are huge works of art in every sense of the word."
Seventeen Voyces formed at a local pub in 1997, after Reeves realized that there were no chamber choirs in Ottawa at that time.
"I wanted to continue learning as a conductor and cut back on the singing...or was it the drinking?" jokes Reeves. "I called upon 17 friends and they all said yes, so it was an easy birth."
[wzslider autoplay="true" height="600" transition="'slide'"]
However, for a film as enormous as Ben-Hur, 17 voices alone simply where not going to cut it. In comes The Ottawa Choral Society (OCS). The OCS has roots that date back 75 years with an inaugural concert that raised funding for war charities in 1940. The 100-voice choir set out to present choral masterworks, often collaborating with the Ottawa Symphony Orchestra. They have toured Italy, Spain, Germany and the UK over the years and continue to flourish with regular sell-out performances. Notable alumni include mezzo-soprano Julie Nesrallah and world-renowned baritone Gerald Finley.
"You know, every performance is a work of art and we fall in love with the music every time we come to it no matter how many times we've done it," says OCS Marketing Director Maggie McCoy, adding that the choir auditions new members each year and, with a major recruitment initiative planned for the 2016-17 season, they plan to increase those voices to 130-140.
Watching the film with these voices singing from what could very well be the heavens is an experience not to be missed. For Ben-Hur, the choir was positioned in the balcony of Dominion-Chalmers in view of the large screen playing the film. On cue, the choir would be illuminated, rise and sing succinctly matching the action on screen. This was not an easy task for music not composed for the medium. However, this was all just part of the challenge that excited Reeves when putting the project together.
"More often than not it comes down to a Eureka moment," he says. "Sometimes you wrack your brains thinking of appropriate choral music and when you finally hit upon something that works it's almost hard to believe no one has thought of it before.  In this case, it really feels as though MGM hired Orff to write a soundtrack for 'Ben-Hur.'  But 'Carmina' was written a good decade after the film was made."
When hearing the OCS sing "O Fortuna" to the climactic chariot race you hear what Reeves means.  Though originally based on 24 poems from a medieval manuscript written in 1230, Orff's 1930s cantata provides a seamless stich into the cinema framework of the silent epic. Less intense moments were beautifully accentuated by soloists Susan Brown (soprano), Daniel Taylor (counter-tenor) and Bradley Christensen (baritone). Still, Reeves felt more voices were needed and the Children's choirs of St. Matthew's Church were also brought in.
"These performances draw people from all walks of life who are fairly well-educated.  Many people are drawn to them simply out of curiosity because it's something different and kind of hip in a geeky way," says Reeves. "I also find that kids and young teens are completely transfixed by these productions.  The acting techniques of course are strange and otherworldly, but add the live music and people are completely entranced by how visceral it all becomes."
Reeves cites films like Murnau's Faust, DeMille's original silent Ten Commandments and 1924s Peter Pan as potential future projects for Seventeen Voyces. They will next be presenting Tales of Shakespeare on June 3 with actor Peter James Haworth. The OCS will be celebrating their 75th Anniversary with a performance of Mendelssohn's oratorio Elijah on June 17. The performance will included two-time Grammy winner Maestro Duain Wolfe, Metropolitan Opera star Russell Braun and the National Arts Centre Orchestra. Tickets are on sale now.
Recommended Articles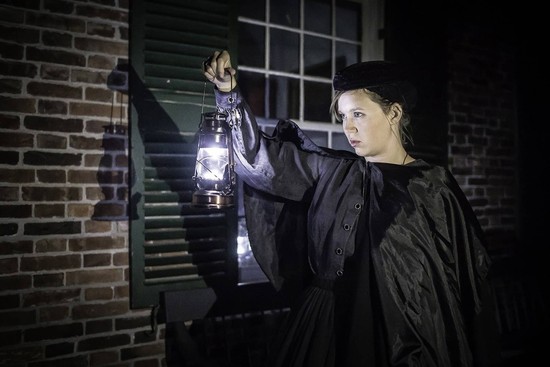 Photos supplied by the Ottawa Haunted Walk. There's something scary on the streets of Ottawa this...
Read full story
Edith Betkowski and Dominik Sokolowski in front of the artist's Heart painting. Photo by Eric Murphy...
Read full story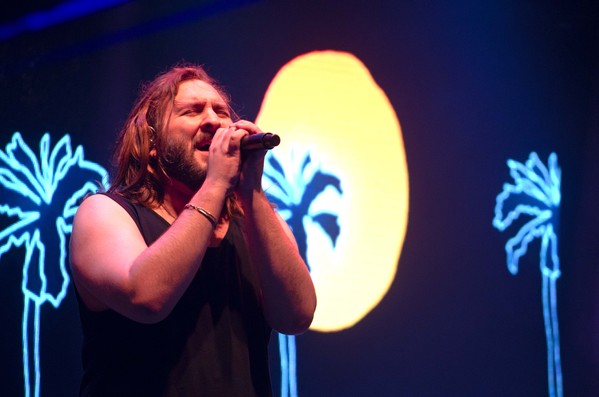 Despite relentless cold and ice sculptures in virtually every direction, it was hard to feel cold Friday as Coleman Hell brought the heat to Winterlude's opening ceremonies at Confederation Park.
Read full story
Comments (0)
*Please take note that upon submitting your comment the team at OLM will need to verify it before it shows up below.