Clink & Drink Pink with Huff Rosé Wines
Summer is here! The great weather and the onset of outdoor festivals truly mean that it's blue sky & rosé wine time.  Our One Dozen Rosés is back by popular demand and you can read all about the aromas & tastes of each bottle you will receive in your assorted case of rosé wine.
Each month, our Rosé Report will take the guess work out of what taste awaits in many bottles of rosés.  Watch this space for the full report throughout the summer at www.savvycompany.ca/rose-report.  Each week we will highlight a couple of must try Ontario rosés that are enjoyed when you open a bottle of our One Dozen Rosés.
Come summer, it's so easy to be a big fan of rosé.  Chilled and off-dry, it pairs beautiful with whatever you bring home from the farmer's market.  That's why we're all so excited about our latest venture.  No more waiting in hot, sticky lines at the LCBO!
Bring on summer! Order One Dozen Rosé now >>

Featuring rosé wines from Huff Estates…
Huff's winemaker Frederic Picard is true to his French roots when making wines at Huff Estates.  Raised amongst the vineyards and wineries in Burgundy France, this man has wine running through his veins.  Both of the selected wines from Huff are great examples of how Frederic lends his winemaking talent (nurtured in France, South Africa & other parts of the world) to craft elegant wines in Prince Edward County. Get your wine glasses ready!
___________________________________________________________________________________________________
Huff Estates Cuvée Janine Sparkling
$25.00 (regular $30)
Prince Edward County
Savvy Sommelier Tasting Notes: Everything about this wine exudes fun – the colour, the refreshing dry tastes and all of the possibilities for food pairings.  Made with 100% Pinot Noir grapes, the wine is made using the classic French Méthode Champagnoise that is aptly named for the winemaking technique for Champagne. The second fermentation (that creates the bubbles) happens in each individual bottle.
A vibrant cranberry coloured bubbly with a lovely nose of red fruit, a touch of mineral and a hint of sweet citrus (pink grapefruit or blood orange). Very dry and medium bodied, it's juicy and refreshing with tastes of red cherries, berries and tangy cranberries that play through garnished by a lively touch of white pepper on the finish.
Food Pairing Suggestions:  Put in your fridge for any occasion (we do!) – a beautiful sunset, friends dropping by or why not begin a long weekend with the popping of its cork!  Below we share with you a stunning looking (and delicious) Gorgonzola and Strawberry Canapé that is easy to make. Chill & enjoy every sip of this sparkling wine.
___________________________________________________________________________________________________
$19.00
Prince Edward County
This is one of Huff's signature wines. Rosé lovers clamour for it every year.
Sommeliers Tasting Notes: Lively, this refreshing wine is bone dry with a light pink hue that resembles classic Rosé wines from Tavel, France. In two words: pink grapefruit.  Added to that, light floral notes with citrus (think lime and mandarin) to create a well-crafted refreshing balance. Made with 100% Cabernet Franc grapes grown in The County, there is the regional characteristic minerality & crisp acidity that makes this a class act wine. Now that you've been tipped off about this wine, you'll be on the lookout for it each year. Always a solid wine.
Food Pairing suggestions: Serve chilled on its own to unwind, with sushi or pack for a picnic.  Below we have included the Smoked Salmon Sushi Pizza recipe to make for your next picnic.
___________________________________________________________________________________________________
~ Recipes to Enjoy with your Rosés ~
With Cuvée Janine…?Gorgonzola & Strawberry Canapés
From Food & Drink Magazine – Summer 2009
(recipe & photo credits)
Makes 24 canapés
Crisp, golden toasts are ideal for the bold, herb flavour of the Gorgonzola. A fruity and colourful topping of strawberries or grapes makes this an enjoyable fresh canapé, perfect for summer entertaining.
Ingredients
6 slices bakery white sandwich bread
2 Tbsp (25 mL) unsalted butter, melted
Freshly ground black pepper
6 oz (175 g) Gorgonzola cheese, softened
3 Tbsp (45 mL) whipping cream
2 Tbsp (25 mL) chopped fresh basil
1 tsp (5 mL) chopped fresh thyme
¼ cup (50 mL) chopped toasted walnuts or pecans
12 small strawberries, sliced or 6 each seedless red and green grapes, quartered
Method
Preheat oven to 425°F (220°C).
Trim crusts off bread and cut each slice into 4 squares. Brush with butter and place on baking sheet. Sprinkle with pepper.
Bake for about 10 minutes or until golden. Let cool completely.
Using electric hand mixer, beat Gorgonzola, cream, basil and thyme together until very smooth. Spread evenly on toasts. Sprinkle each with walnuts. Top each toast with strawberry slices or 1 of each grape quarters.
___________________________________________________________________________________________________
With Huff Rosé…?Smoked Salmon Sushi Pizza

From Bonnie Stern's Kitchen, www.bonniestern.com (recipe & photo credits)
Serves 16 to 25 pieces
Ingredients
2 cups (500 mL) short grain sushi rice
2 ¼ cups (550 mL) cold water
¼ cup (50 mL) seasoned rice vinegar
36 very thin slices English cucumber
¼ lb (125 g) lox or smoked salmon, thinly sliced
2 Tbsp (25 mL) honey mustard or 1 tbsp (15 mL) prepared wasabi
¼ cup (50 mL) light mayo or yogurt
1 sheet toasted nori (about 8×7 inches/20×18 cm)
¼ cup (50 mL) chopped fresh chives or green onions
1 Tbsp (15 mL) toasted sesame seeds
Method
Rinse rice in several changes of water until water runs clear Drain well. In a medium heavy pot, combine rice and cold water. Allow to rest for 15-30 minutes.
Bring rice to a boil, covered, on medium-high heat. Boil for 1 minute. Reduce heat to low and cook for another 10 minutes. Do not lift lid at any time during cooking and resting.
Transfer rice to large bowl and gently toss with vinegar. If rice tastes perfect, add a bit more vinegar (vinegar taste will dissipate as rice cools). Cover rice with damp towel if not using right away.
Line an 8 inch (1.5 mL) square baking dish with plastic wrap. Arrange cucumber slices, overlapping slightly, on bottom. Arrange smoked salmon slices on top of cucumber. Combine mustard and mayonnaise/yogurt and spread over salmon.
Gently and carefully spread half the sushi rice on top of the salmon. Dip your fingers into a bowl of water and gently pat down the rice. Place square of nori on top of rice. Pat on remaining rice. Cover with plastic wrap and weigh down with several heavy cans of food. Refrigerate for a few hours.
To serve, unwrap and invert onto a square serving platter. Sprinkle with chives and sesame seeds. Cut into small squares.
Watch this spot for more delicious Rosé wines & tasty dishes to accompany them.
Enjoy…and Clink & Drink Pink!
Recommended Articles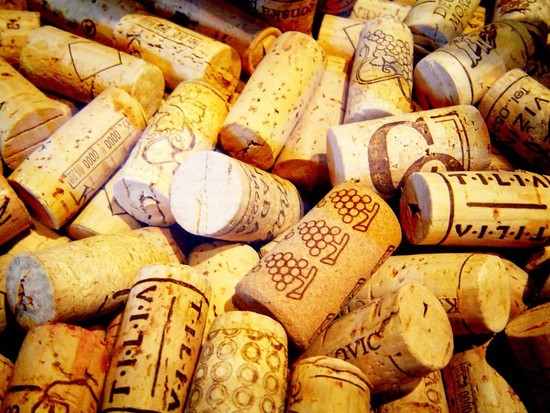 This week is all about the TURKEY! So pull out your pen & paper (or your phone) and get ready to...
Read full story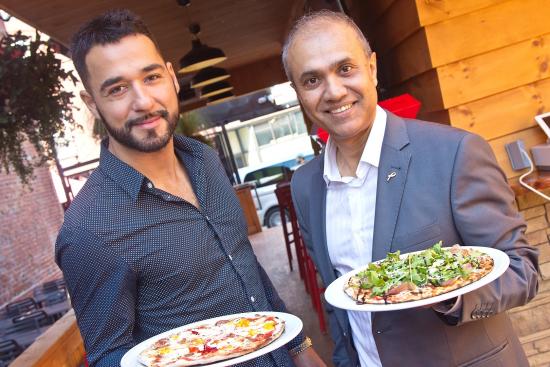 Check out Ottawa's first (and thus far only) outdoor pizzaria.
Read full story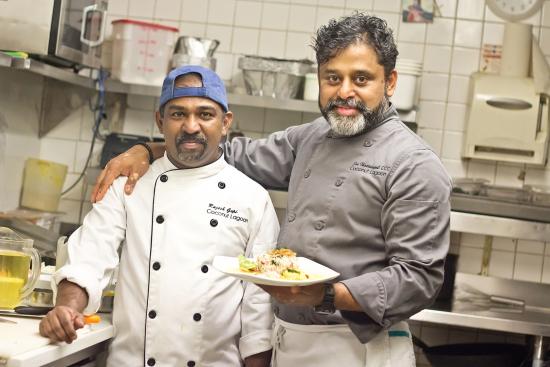 Coconut Lagoon knows what's up when it comes to South Indian food.
Read full story
Comments (0)
*Please take note that upon submitting your comment the team at OLM will need to verify it before it shows up below.