Capital Comedy Review: Competitions, Kyle Brownrigg and Big Comedy Parade
Photo: 2016 Alterna Crackup Comedy Festival (from left: Gerry Dee, Jessica Holmes, Tazz Norris, Tim Steeves, Patrick McKenna, Chris Borris, Kyle Brownrigg and Harry Doupe)
---
In case you haven't heard, Ottawa is basically a world superpower city for the production of stand up comics. Many of the best in the business came from our city, including the likes of Norm MacDonald, Mike MacDonald, Tom Green, Jon Dore and Jeremy Hotz to name a few international stars of the comedy business. In addition to global stars of comedy, Ottawa has produced a huge number of professional stand up comedians. Taking into account the city's population, Ottawa produces talent on a par with the best comedy cities - Toronto, New York and Los Angeles.
As well as having a glorious history of developing talent, Ottawa also boasts a lively and thriving comedy scene in the present day. Two clubs that are almost always busy, and a plethora of independent comedy shows sprinkled throughout the city ensure that some fine comedy is available any night of the week. With that in mind I thought it would be worthwhile to take a more granular look at Ottawa comedy, so that said, welcome to my weekly Capital Comedy Review.
Obviously I can only speak to what I see, and so, full disclosure, as the General Manager of Yuk Yuk's Ottawa I will pay a disproportionate amount of attention to this club, but I would encourage all to check out the different venues. That said, Yuk Yuk's is super proud of our history in this city, and of the many brilliant comics to come out of this place.
For thirty-five years, these comics began their journey on amateur nights, almost without exception. We run an annual Summer Comedy Competition that has seen past winners like Alex Wood and Adrian Cronk go on to become successful touring headliners. This past week marked the end of our preliminary rounds and the ninety six comics who started out have been whittled down to thirty two. Local favourite Don Kelly did a fantastic job hosted the Tuesday and Wednesday shows and I had the pleasure of featuring.
The Mike MacDonald Summer Comedy Competition continues every Tuesday and Wednesday through August at Yuk Yuk's. Come out and support. Meanwhile this week also featured the Absolute Comedy Prove You're a Comic competition wrapped up with Abdullah Usman winning over on Preston. Congratulations Abdullah!
The weekend at Yuk Yuk's featured some of my favourite comics. Sebastien Bourgault emceed the shows. Sebastien is from Montreal and only learned to speak English a few years ago. Since then, Sebastien has become a successful touring headliner in English. Extremely likeable, Sebastien is very good at getting the crowd energized, and this weekend was no exception. We had Mike Payne opening the shows with a short set, and he was very funny, leading nicely into the weekend's co-headliners Manolis Zontanos and Kyle Brownrigg.
Manolis is a twenty year veteran of standup comedy from Hamilton and he is very likeable and funny. He has appeared on the Comedy Network, MTV Canada and the holy grail of global comedy the Just for Laughs festival. He tore up all the shows this weekend with his interesting perspective on life poking fun at day to day challenges as well as some hilarious stories about his family.
Ottawa's own Kyle Brownrigg was the second co-feature and personally one of my favourite comics in the world. I started performing shortly after Kyle about six years ago, and I've had the unique pleasure of watching him grow from a very funny amateur to the most recent winner of the Canadian Comedy Award for Best Breakout Artist. Kyle was present on the biggest night of my comedy career, as we were co-winners of the first ever Crackup Comedy Competition and got to open for Gerry Dee and a number of other brilliant Canadian Comics in front of twenty five hundred people at TD Place.
Since then, Kyle has moved to Toronto and performed at the Halifax Comedy Festival on multiple occasions. He's released a comedy album and is fresh off his own appearance at Just for Laughs. Kyle is brilliant. To come up with forty minutes of professional standup comedy material is quite a feat. At the end of his set Kyle pointed out that for this weekend he was doing all new material, and by audience reaction you would never be able to tell. This is super impressive and makes Kyle one of the most prolific comics working today in my opinion.
The coolest thing about working for a club that has directly produced so much world class talent is that most of the comics come home once in a while. And when they do, they will frequently drop into the club to do a set. Such was the case with Jeremy Hotz this past Saturday who stopped by. When Jeremy wants to do a set, Jeremy does a set. So Saturday's audience had the very good fortune of watching one of the best in the business perform. Jeremy is incredible. He has two shows coming up at the club Thursday August 22 and if they're not sold out by the time you read this, they will be soon. Don't miss your chance to watch a master in a small venue.
I unfortunately missed Jeremy dropping in on Saturday night, but for a good cause. I had a show away from the club with my little crew Big Comedy Parade. We are a variety show featuring standup comedy, musical comedy and magic. Saturday night we were down a magician, but we had a super fun time at The Jolly Taxpayer in Barrhaven. The Jolly Taxpayer has for a few months now been running an all professional weekly comedy show featuring Yuk Yuk's best acts. This is impressive. Every Saturday night the people of Barrhaven are treated to some of the best comics in Canada right in their neighbourhood.
Steve Love, Ashley Krawchenko, Mitch Muirhead and I were performing. This show was special to Mitch as it was his first professional road show, so he had some nerves going in. When he arrived and I suggested he host the show, his anxiety increased significantly as hosting was not quite in his comfort zone. Mitch did an amazing hosting job that night. With very strong crowd work he kept the show moving in the right direction. Steve was brought up first and won the crowd over with eerily accurate impressions put in a hilarious context. Ashley was very funny and charming and I closed it out. All in all a very good show. Feedback from the audience was very positive and Mitch was pleased.
Sunday night Big Comedy Parade returned home to Yuk Yuk's Ottawa where we have a show on the second Sunday of every month. Steve Love hosted this one and he's very good. Ashley Krawchenko took the stage first ending her set with a little sing along that the audience enjoyed. This is where things got a little bit different from the night before. We had a few guests jump on the show. Captain Jack Sparrow was next with his trademark marine puns which some of the audience were not 'on board' with. Next up was guest Jesse Reynolds who quickly had everyone roaring with laughter. He was followed by Bobby and Bonny discussing sexual health ultimately ending with an enactment of a live birth.
I performed after these two and was surprised to find that it can be difficult to tell jokes immediately following an enactment of a live birth, but I eventually won the stunned crowd over and closed strong to nice applause. I realize this Sunday show may be hard to imagine, as indeed it was hard to describe, but I would suggest it is worth checking out sometime. Big Comedy Parade is to me one of the most exciting things going on in Canadian comedy and I'm very proud to be part of it.
Following the Sunday show we all stuck around to record our first ever Big Comedy Parade podcast which will be out soon...look for that. We had fun recording it so I imagine it will be fun to listen to. Wrapping up the podcast also put a wrap on my week in Ottawa comedy.
Looking forward, we have some incredible shows coming up at the club. The competition is moving into the semi-final stage. There are a lot of talented comics in town and they're looking to make you laugh the rest of the Tuesdays and Wednesdays in August. Next weekend, August 15 - 17, Yuk Yuk's is proud to present our annual Pride show hosted by Jesse Reynolds and featuring Bibi Bilodeau, Adrienne Fish and headliner Heidi Foss. As mentioned, Jeremy Hotz has two shows Thursday of the week after. Do yourself a favour and check out a comedy show. If not one of these then anywhere. Go see what makes Ottawa a world class city for the production of stand up comics. Maybe, just maybe, you'll catch the next superstar early in their career.
Recommended Articles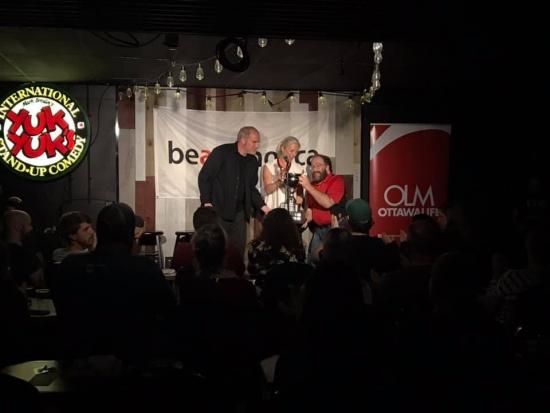 The 2019 Yuk Yuk's Mike MacDonald Summer Comedy Competition came to a close last week with a brilliant final.
Read full story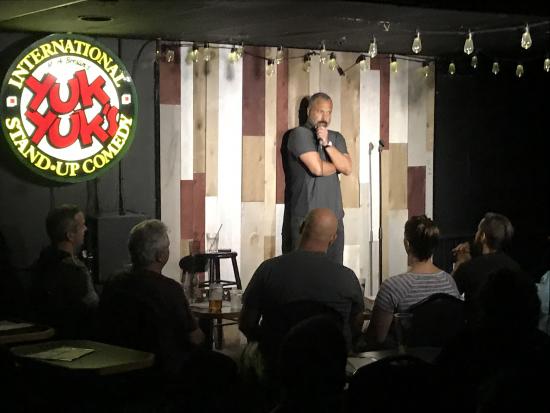 Ahmed Ahmed is a super talented comic with a very admirable acting resume.
Read full story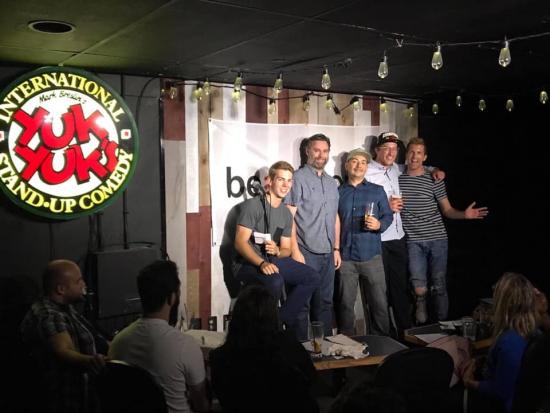 Tonight, Yuk Yuk's will crown the winner of the Mike MacDonald Summer Comedy Competition.
Read full story
Comments (0)
*Please take note that upon submitting your comment the team at OLM will need to verify it before it shows up below.