Sports
The Sens get a bounce, and "Hoggy" bounces back
The Sens get a bounce, and "Hoggy" bounces back
After beating the Montreal Canadiens and snapping a nine-game winless streak two weeks ago, the Ottawa Senators lost their next four games, and almost lost every game last week. Almost.
Enter Brady Tkachuk.
The Senators began the week with two losses to the Edmonton Oilers, followed by a loss to the Winnipeg Jets on Thursday. Their last game of the week came on Saturday afternoon as part of Hockey Day in Canada, once again against the Jets.
With eight seconds left in the game and the score tied 1-1, Tkachuk beautifully deflected a rising Mike Reilly point shot to score, giving Ottawa a 2-1 lead and the win.
SENS WIN!

A Brady Tkachuk goal with 8.2 seconds remaining wins it! 2-1 final. #GoSensGopic.twitter.com/Z7vCXWWOPF

— Everyday.Sens (@EverydaySens) February 13, 2021
Despite the losses, the Sens have played well lately. The win was well-deserved.
"As a group, we felt like the last five or maybe six games we've really been into it and we played the right way," said assistant captain Thomas Chabot after the game. "This one feels great. Whenever you're going through slumps, anytime you get a win it just makes everyone feel better about their own game."
Tkachuk was quick to point out that he was not the game's hero.
"All the credit goes to Hoggy here," he said. "He played unbelievable for us,"
"Hoggy" is backup goalie Marcus Hogberg who made 30 saves and kept the high-flying Jets' offence to just one goal in what might've been the most important game of his career so far.
Hogberg wasn't even the preferred starter that afternoon. Had it not been for an upper-body injury to Matt Murray, who knows when he would've played next.
His previous start came on Tuesday for the second half of a back-to-back against the Oilers. Ottawa scored early and dominated the play, but Hogberg was off his game and allowed three soft goals on only 13 shots before being pulled.
This one had eyes. #LetsGoOilerspic.twitter.com/ZMlfWbe5pG

— Edmonton Oilers (@EdmontonOilers) February 10, 2021
Even before that lacklustre performance, Senators head coach D.J. Smith alluded that some goaltending changes could be on the horizon. To bounce back the way he did on Saturday night may have saved him from a trip back down to the minors.
"For a couple games I felt like my shoulder has been tight, I think I was just too aggressive and wanting to play good," said Hogberg of his struggles before Saturday.
"I just relax and focus on what I can do out there and just stay in the moment and try to stay calm," he said of how he found his game on Saturday.
It should be mentioned that even in games where goaltending let them down, the Senators have had trouble putting the puck past opposing netminders despite generating a lot of shots.
Hogberg played poorly on Tuesday, there's no questioning that, but the Senators' offence only managed to score two goals on 42 shots. On Thursday night, Ottawa scored one goal on 42 shots.
It's tough to win games that way, no matter how the goalie plays.
Ottawa ranks third in the NHL in shots per game (31.9) but third last in goals per game (2.13) to make for a league-worst, and historically bad, 6.7 shooting percentage.
The defence was initially the most jarring problem, but that area has improved. Then, concerns shifted towards goaltending – Murray and Hogberg have since put together some good performances. If the offence can start producing at a higher rate – which it should, given the number of chances generated each game –wins will likely become less sporadic.
Overall, the Sens are trending in the right direction and contending to win in most games, which couldn't be said a few weeks ago.
Matt Murray injury:
With all that being said, one good Hogberg performance isn't enough to say he's figured things out. Murray, on the other hand, was really rounding into form, but he left Thursday night's game after the second period and didn't come back. Senators' fans better pray he gets back soon if they want this trend in the right direction to continue, luckily D.J. Smith says it's nothing long-term.
Sens trade for familiar face:
Ryan Dzingel is coming back to Ottawa. The Senators acquired the left-winger from Carolina on Saturday in exchange for Cedric Paquette and Alex Galchenyuk. Dzingel played 247 games and earned 126 points after being drafted by the team in 2011. He helped Ottawa make the conference finals in 2017 before being traded to the Columbus Blue Jackets at the 2019 trade deadline.
Dzingel should add speed to a lineup that needs it and provide a good locker room presence as a familiar face for many of the players. He was added to the NHL's COVID Protocol List and will quarantine 14 days before joining the team.
His absence, as well as the departures of Paquette and Galchenyuk, should open the door for more young players to get a chance in the NHL.
COVID update:
COVID-19 continues to cause trouble in the NHL. Last week, 12 games were postponed, and 25 players are currently on the COVID Protocol List.
The Canadian Division had its first scare on Thursday night when Oilers forward Jesse Puljujarvi was added to the COVID List. The NHL delayed the Oilers game versus the Montreal Canadiens for one hour so teams could undergo further testing. Puljujarvi is now off the COVID list.
Ottawa's Artem Zub was also held out of a game on Thursday night due to an inconclusive test result. He returned Saturday after several negative tests.
The week ahead:
Monday, Feb. 15 at Toronto (7:00 PM E.T.)
Wednesday, Feb. 17 at Toronto (7:00 PM E.T.)
Thursday, Feb. 18 at Toronto (7:00 PM E.T.)
Sunday, Feb. 21 vs Montreal (7:00 PM E.T.)
It's rivalry week for Ottawa. Another four-game week and this one kicks off against the league-leading Toronto Maple Leafs. Leafs centre Auston Matthews leads all players with 11 goals this season – he has 14 goals in 17 games versus the Senators in his career. Did I mention that Sens fans should pray for Murray to get back in net soon?
To end the week, the Senators return home from a five-game road trip and host the Montreal Canadiens.
Of Ottawa's three wins, two came against the Leafs and Habs. The Sens seem to get up for those rivalry ties.
Photo: Via NHL.com
Recommended Articles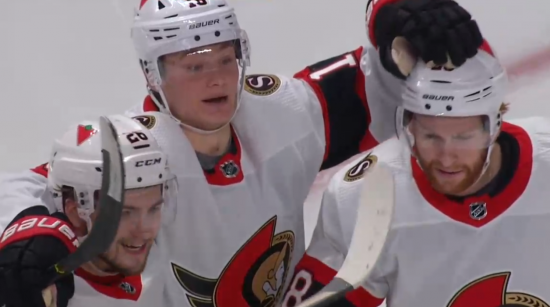 On Tuesday night, it looked like the week would tell the same old story for the Ottawa Senators.
Read full story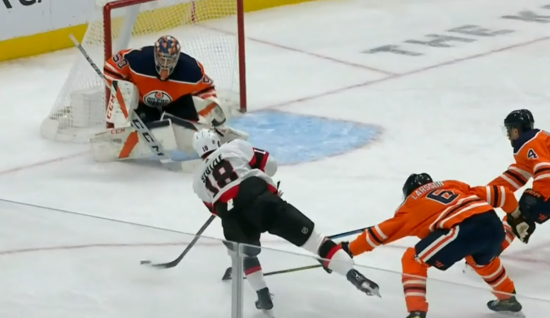 Well, where do I start? It's going to be a long season for the Ottawa Senators.
Read full story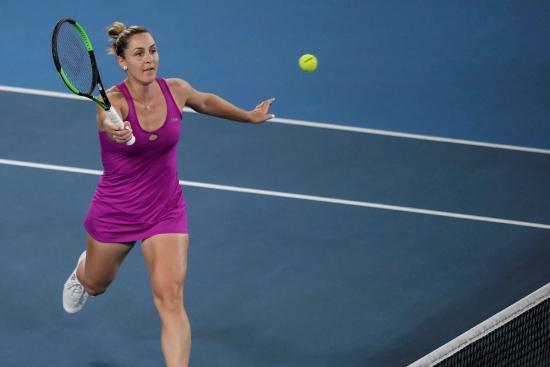 Dabrowski became the first Canadian female grand-slam champion in 2017 when she and teammate Rohan Bopanna won the French Open in mixed-doubles.
Read full story
Comments (0)
*Please take note that upon submitting your comment the team at OLM will need to verify it before it shows up below.