Arts & Events
Don't Fence Sit! Smash It to Splinters at MEGAPHONO 2017!
Don't Fence Sit! Smash It to Splinters at MEGAPHONO 2017!
180. Just sit on that number for a second. Ruminate. Now, how many Ottawa based albums can you name that came out over the last few years? Five? Ten? How about 180? At least that's how many were released in 2015 with a collective of others last year. It's a growing city music scene here that shows little sign of slowing the pace. New venues are opening, new acts are emerging and new sounds are out there to discover but, according to Connecting Ottawa Music, a report presented last February, the city has lacked the infrastructure to get behind local musicians, publishers and labels.
The report was a pipe bomb that'd been lying dormant waiting for somebody to ignite the fuse. One might think that opening the always unpredictable MEGAPHONO festival last year on such a somber note might have been a bit of a downer but, in reality, it was the eye opening kick in the ass Jon Bartlett's festival needed to give this town when it comes to promoting and supporting local talent.
Despite this, festival director Bartlett expressed then how it was "an exciting time to be working in music in Ottawa." To him, and those who get out and dive into the diverse scene, the city is in the middle of a musical boom.
One year later, MEGAPHONO is entering into a third go round as a local fest that strives to blaze that spotlight onto the music of Ottawa, Gatineau and Eastern Ontario by not only staging multiple performances at local venues but, also, bringing in industry professionals looking for the next big band or, at the very least, hear the noise this city can make when given the right microphone.
When mentioning such a sweet cacophony, Ottawa punkers New Swears may just make the loudest crash, bash and smash in town. The glasses behind the bar are going to rattle (a few may break) when these boys hit the stage and it didn't take long for them to be heard. The band, who put the exclamation point on MEGAPHONO 2016 in their usual brand of insanity, scored a contract with Dine Alone Records.
That's just the success Bartlett was looking for. Each year the festival seems to extend it's reach. The 2017 edition will see over 35 international music buyers hitting O-town from North America and Europe as well as daytime talks and skill-building workshops set to educate musicians on getting their music out to a larger audience.
Never has the music buffet of local offerings been more delectable then the first week of February. 20 venues will see 60 local and regional artists perform in genres ranging from bluegrass to chamber music.
If you're on the fence don't just jump off that thing. Wreck the fence! Obliterate it, smash it to splinters, make instruments out of the pieces, because the party is on the other side.
Here are some of our top picks for MEGAPHONO 2017:
Malak
Wednesday, February 1 – 9PM
Petit Chicago
US born but raised in Egypt, "one of the most powerful and beautiful voices in town" now calls Ottawa home. We're lucky to have her as Malak has been stunning audiences with her gorgeous melding of electronic pop and orchestral music clutched within a spine-tingling vocal range. The newcomer's voice weaves stealthily around her audience like a wisp of perfume, unseen but very much there. It's like roses for the ears. Those roses still have thorns, however, and Malak's sound has a bite to it that reminds you that sweet can still be so beautifully savage.
Bry Webb
Thursday, February 2 – 10:00PM
St. Alban's
Probably best known to most as the front man to underground rockers The Constantines, Webb stripped down for his solo offerings that seem to just drift on the air, minimalist compositions that attach themselves to the room like portraits of lives never lived but, still, eerily familiar. Webb's songs shift as life will, changing as time goes by, seconds turn to years. You may not hear the same version twice. Feist has said seeing Webb perform is "more poetry than play-by-play…and it culminates into something you feel more than think about."
Reverb Syndicate
Thursday, February 2 – 10:45PM
Atomic Rooster
This band may very well have descended from the outer reaches of the solar system with a galactic wish to re-imagine surf rock and spy movie music into the new age. Though there's no concrete evidence of the band's alien nature, their second release was the space themed Sputnick A-Go-Go, a tubular rocket ship of sound. Spaghetti westerns, shades of the Ventures and battles with the evil Commodore 64 all factor somehow into this groove. If that's not out of this world I don't know what is!
New Swears
Thursday, February 2 – Midnight
Barrymore's
#Garagepunk #powerpop #insaneliveshow #earbleedingawesomesauce
Old Man Grant
Friday, February 3 – 3:30PM
Elmdale Tavern
Now, I know what you are thinking, some dude with a banjo sitting on a porch rocking chair with a dying hound dog wheezing at his feet. Right? Wrong-oh! Old Man Grant is a trio that is not old, doesn't include a hound dog dying or otherwise and perhaps at least one rocking chair somewhere in the basement! The rhymes will move you as you're hooked on the line of emotional storytelling. Beautiful bluegrass, fantastic folk and blues bop is their trade and they bring it to you ears with a three part harmony that is a captivating slice of local musical pie.
Mike Dubue's Chamber Feast
Friday, February 3 – 7:30PM
St. Alban's
Mike Dubue is a musical shape shifter. I've seen him perform with his band the Hiltrons and I've seen him perform compositions for silent movie classics like Nosferatu but I ain't never seen him change into a feast of skewered chamber music with the madman of klezmer hip hop Josh "Socalled" Dolgin. This night will feature strings, harpsichord and video projection for what may be the gem in this festival's chest of wonderment. The Warhol Dervish string quartet will perform new music by Dubue who's compositions are always beyond the realms of human intrigue, collapsing in on you as you wonder just what you are listening to and leaving you in a beautiful heap of sound. Pemi Paull and Thomas Annand are also on the undercard.
Her Harbour
Friday, February 3 – 10:15PM
The Gallery Recording Studio
Life could be a dream, yes, but life could also be the soothing sounds of Her Harbour. Like the ocean, what you hear can welcome calm, cool waters but these waves and ripples reflect a midnight sky. There's a darkness to descend into. Down, down, down a moonlit staircase. Though you don't know where you are going you are compelled to continue. It's a walk you don't mind taking with your eyes closed, allowing the full push of the music to cradle you in an embrace that doesn't necessarily make you feel safe but, even so, you can imagine yourself nowhere else. The ghostly songs of Her Harbour won't drag you into the dark. You'll walk into it smiling.
Recommended Articles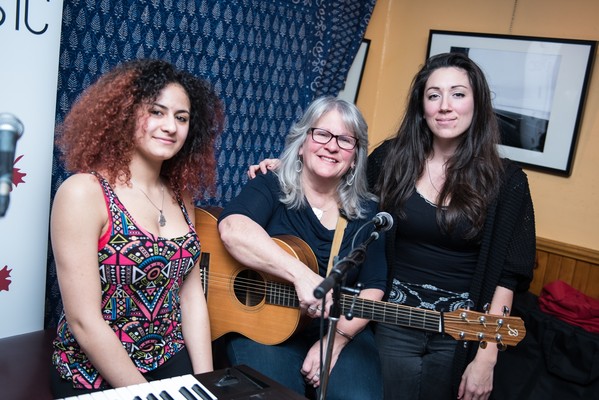 The newcomer adjusts her microphone as a veteran of the Ottawa music scene looks on. Perhaps she is wondering to herself what this new voice will sound like.
Read full story
All photos by Andre Gagne.  "What a great time to be alive," says Amanda Lowe as she strums a f...
Read full story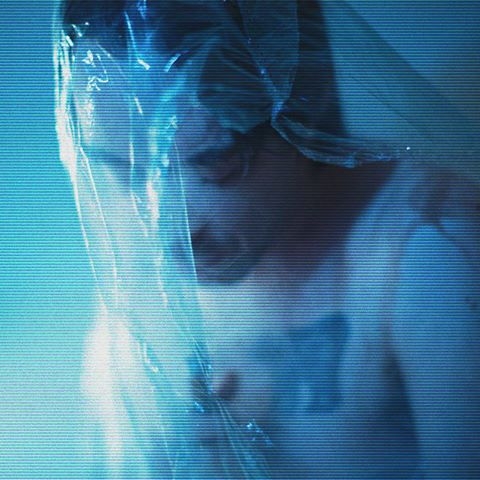 Talking with Dan Boeckner, you get the sense that he'd really be at home surrounded by robots in a...
Read full story
Comments (0)
*Please take note that upon submitting your comment the team at OLM will need to verify it before it shows up below.