Arts & Events
26 Years of Impact: Enriched Bread Artists Annual Open House
26 Years of Impact: Enriched Bread Artists Annual Open House
Photo credit: Rémi Thériault
---
The Enriched Bread Artists
(EBA) is Ottawa's largest non-profit artist-run cooperative. Their
26th
Annual Open Studio is happening on Thursday, October
18th
, celebrating another anniversary of bringing cutting-edge contemporary art to local, national and international audiences.
Located in the historic Gladstone Avenue location, EBA used to be a bread factory in the 1920s - something they paid an homage to for their 25th anniversary, themed around the word 'cake'.
Today, the two floors of EBA houses 22 artists, with each creative developing their own projects. During the Open Studio, guests can talk directly with artists, take part in presentations. Special events include 'Painters in Conversation' on October 20th, with artists Dan Sharp, Natasha Mazurka and Gillian King discussing their work and practice.
One of this year's participating artists, and long-standing EBA member is Christos Pantieras. When we asked him what guests can expect from this year's Open Studio, Christos said, "They can expect some new faces, and some familiar faces. Returning this year is Carl Stewart who is an alumnus of EBA, and someone brand new is Sharon VanStarkenburg. Sharon has just completed her MFA from the University of Ottawa, and hosted her thesis show at EBA. We're happy to welcome her as a full-fledged member."
"We always aim for the community to engage with the art," Christos continued. "It's a unique opportunity to be able to interact directly with the artist and explore their spaces. This is like being invited into someone's home; it's very personal space, and we welcome you with open arms to come in and explore and have conversations with us."
EBA has artists at all stage of their careers, from emerging to established. Much like EBA itself, its artists have impact both locally, nationally and internationally.
"Our role has truly changed from where it started to where it is today," Christos said. "It first opened as the only visual arts co-op of its kind. It was conceptualized by a group of emerging artists who put a lot of sweat, muscle and tears into getting this place off the ground. We really owe a lot to those pioneers."
Over two decades, EBA has hosted workshops and exhibitions, various artists' talks and short-term project spaces for people to rent space as required.
"It's become more multi-purpose without losing sight of the fact that it's a studio first and foremost for artists," Christos pointed out. "I know that we've been looked at as a model for new co-ops in the city and other regions. I hope that EBA has been a huge impact for them in some shape or form."
So what has EBA's impact been on Christos himself? "With a few absences due to education pursuits, I've been a member at EBA for 18 years. Initially I was drawn to the energy of its newness. I was still in university, and I remember going [to EBA] and it was just hopping. I really wanted to be a part of that. The only choice at that time for someone that was just graduating and wanted to continue making art was to look at EBA as an exciting choice. That's what inspired me."
Today, Christos has a physical studio space at EBA. "Every artist has that one person that they can go to for feedback and to bounce ideas off of. I'm happy to say I've been lucky enough to have that [at EBA]. It's also opened doors for professional opportunities - over the years, myself and other people have had curators visit our space during the Open Studios. That has resulted in significant exhibition opportunities for me. Having that occur because someone happened to walk through your space, unsolicited, is extremely valuable. Also, I need a big space to work! I'm glad that I can make a mess in my space!"
Anniversaries are a perfect time to reflect on the years before. We asked Christos for some favourite EBA memories - one of which included a live chicken in an art installation.
"It's great to have an open studio every year, but it's just that much more special when it's a milestone anniversary," Christos said. "The most significant one for me was actually last year, for our 25th anniversary. I was one of the leads for our project, and it was an all-out party themed around the word 'Cake', which addresses the heritage of our building, too. We had received a grant from the Ottawa 2017 Committee and ended up producing a large-scale outdoor projection on the side of our building for 2 weeks. Every artist that participated produced cake-themed work. This was one of those rare occasions when everyone is working on the same theme, but everyone interpreted it in their own way. It was fantastic!"
For the 2018 Open Studio, Christos will be exhibiting a series of sculptures, all brand new and created this year. "They're all thematically linked to the hidden narratives of online dating and hookup profiles."
Art lovers alike, mark October 18th in your calendars - you don't want to miss this one.
---
The EBA Open Studio Vernissage is on Thursday, October 18th, 6PM - 9PM.
For the full list of participating artists, and for more information on EBA, the Open Studio, more events and weekend hours, visit enrichedbreadartists.com
For more information on Christos Pantieras, visit christospantieras.com
Recommended Articles
This Saturday, Onyeka's Ravens will attempt to win their fifth consecutive Panda Game and give themselves the edge over the Gee-Gees in the OUA standings.
Read full story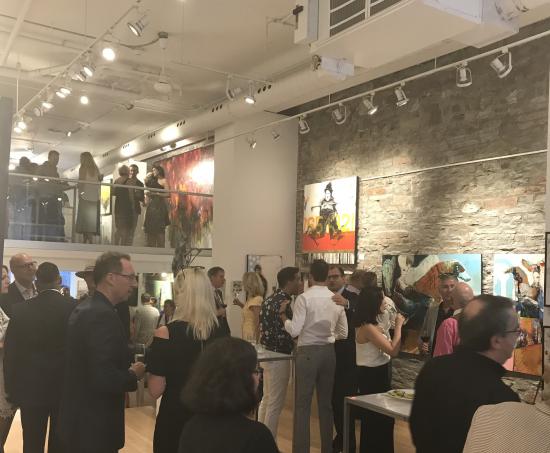 Gallery owner/director Edith Betkowski is thrilled to welcome the public to the Gallery's new, larger digs on the prestigious Sussex Drive.
Read full story
All eyes and ears were on Jeremy Dutcher after he defeated nine other acts and won the $50,000 2018 Polaris Music Prize. Here's the lowdown on an amazing night.
Read full story
Comments (0)
*Please take note that upon submitting your comment the team at OLM will need to verify it before it shows up below.