Elaina Martin: How the West Was Fun
Ottawa Life's Festival City Series is back! We'll provide a unique look at some of your favourite events.
We'll go beyond the music with artist interviews, volunteer profiles, concert reviews and spotlights on
the tastes, sights and sounds of the festival season.

Your city! Your festivals!
Like a good sunscreen, Ottawa Life has you covered.
---
Photos by Andre Gagne

When it comes to summing up the popular festival she created 14-years ago, Elaina Martin likes to keep it simple: "It means community."
She'll be the first to say how it "ain't no party like a Westfest party". For three days in June, Martin's communal festival vision flourishes now in Mechanicsville's Laroche Park. Families lay out a picnic, children giddily run about, people shop at the unique artisan tents or take in the culture at the Indigenous Pavilion and, of course, there's music culled from an ever growing crop of local talent. And it's all free.
The inclusiveness of the event is paramount to Martin. As an openly gay woman, a lot of her early days were spent overcoming sexual violence and intolerance. Fights would leave her battered but never fully broken. The self-proclaimed "loud and proud queer woman" left that "hurtful, homophobic and widely uneducated" life behind her 26-years ago and hasn't looked back.
"They took my teeth and broke my bones. I needed to leave. I know I'd have died there," she says.
A skilled producer, Martin would settle in Ottawa becoming instrumental in bringing artists like Cyndi Lauper, the Indigo Girls and Ani DiFranco to the city. She also put together two Rock City Women's Festivals out in Wakefield. Music is what puts her in motion, not surprising considering she started her career as a musician herself.
"Music is, was and will always be my saviour. It healed me, I've watched it heal others, it is medicine," Martin says, reflecting back on her days fronting a country band and "wild times" as a weekly act inside the Silhouette Lounge of the Centretown Pub, one of Ottawa's first gay bars.
The gig eventually led to Elaina and The Chain, a band she formed with a local piano player. The duo performed four nights a week for nearly three years and opened for acts like Jann Arden. The sudden passing of her partner, one she calls her brother, saw Martin closing the book on her musical aspirations.
"He died and I put my mic down. I just couldn't pick it back up after that day. Now, I have the worst stage fright imaginable. It's all quite surreal," she says, adding that, despite coming out of retirement for a few songs at the recent Westfest All-Stars show, her focus now remains on her producing work.
Westfest, she says, was just a natural progression of everything she had been doing before. The music, the want to unite community and the production skills all came together in 2004 with Jane Siberry headlining the inaugural event. The next year the one day festival became two and then three. Headliners over the years include such names as Kathleen Edwards, A Tribe Called Red and Buffy Sainte-Marie.
Soon a single stage wasn't enough and the event became an all-out street party. The fifth anniversary saw over 100,000 people attend showing a much needed revamp was in order. In 2011 the festival moved into an expanded space behind the Real Canadian Superstore. Each year, it was getting bigger than Martin and her team of volunteers ever dreamed it would which was simultaneously wonderful and problematic.
Martin saw the festival moving away from its roots and when the Westboro BIA opted out of financial support in 2015, she viewed this as a blessing in disguise.
"I am finally programming the festival I have always wanted to, with no restrictions, no other opinions of people who are not skilled in the music and art world," says Martin on the festival's move off the street and into the park last year.
"It's more open than ever. The mandate is strong and the people came. I knew they would. That first day last year I walked away and cried a little tear, I'll admit, of great joy and non-defeat!"
Westfest returns to Laroche Park with a 100% Free, 100 % Canadian line-up of 150 artists (including over 10 Indigenous performers) June 2-4.
Recommended Articles
The official opening of the new Canada Science and Technology Museum is less than a month away.
Read full story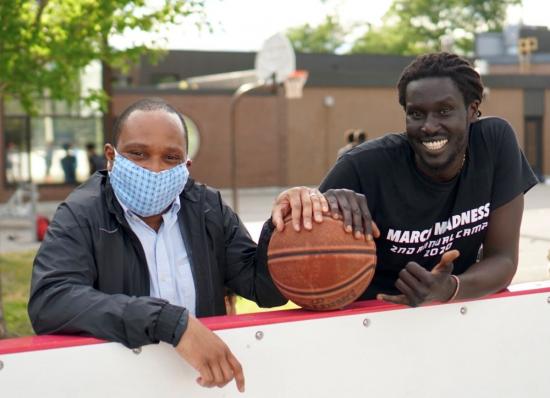 Manock Lual has a goal to provide 500 backpacks filled with school supplies, a reusable mask and a brand-new tee shirt to the local youth who are in need of support.
Read full story
For those that came together for the two-hour meeting s inside Tom Brown Arena last night, it was evident early on that July 13, 2017 was still fresh in everybody's minds.
Read full story
Comments (0)
*Please take note that upon submitting your comment the team at OLM will need to verify it before it shows up below.