This winter escape to a Spa near Ottawa
This winter escape to a Spa near Ottawa
by Aaron Ark
The hustle and bustle of the holidays are upon us. Whether you are looking to escape for a romantic day away with your partner or a weekend retreat to de-stress, we have six great spas for you to choose from.
Is there anything better than a hot spring in the middle of winter?
Imagine relaxing in a hot tub outside or soaking in a steaming hot spring while watching the snow gently falling, drinking wine with a few friends, turning your body and mind to nature, leaving your worries behind.
Close your eyes and you can almost feel the quiet of the mountains and forests. The only sounds are the flowing water and the whistling wind . . . Ah, life can be this good!
Here are a few of the best spas near Ottawa. Take a tour and while you do, think of the hot springs, the baths, and consider booking a winter escape!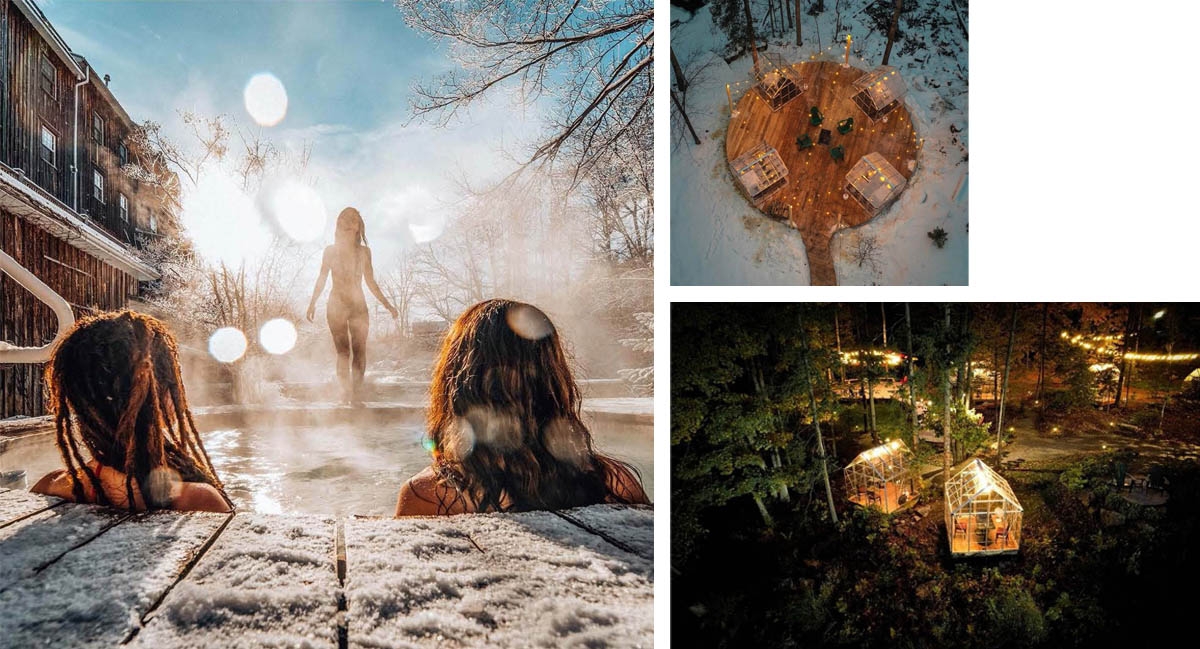 1. Moulin Wakefield Mill Hotel & Spa
Address: 60 Chemin Mill, Wakefield, QC • Distance from Ottawa: 30 minutes
For an intimate Christmas, New Year, or for a romantic date, head to the Moulin Wakefield Mill. Just north of Ottawa, this spa resort will definitely fulfill your fantasy!
Moulin Wakefield Mill Hotel & Spa has several glass cabins in an old-growth forest decorated with warm lights under the starlight. The atmosphere here couldn't be more romantic!
Make sure to reserve a massage. To complete the relaxation, sip a glass of champagne.
Photo: Wakefieldmill

2. Le Nordik Spa-Nature
Address: 16 Chemin Nordik, Chelsea, QC • Distance from Ottawa: 25 minutes
Located in the Gatineaus, Le Nordik and is a paradise for all. The spa is intimate, sophisticated, and very charming. There are various cabins and baths surrounded by foothills and forests. The Scandinavian-style spa includes a small waterfall. Complete your relaxation by staying the night and enjoying the starry night sky.
There's nothing like enjoying a hot tub on a snowy day as the flakes gently fall on your hair, eyebrows, and eyelashes.
Photos: Not Without My Passport, (Bottom left) Ottawa Tourism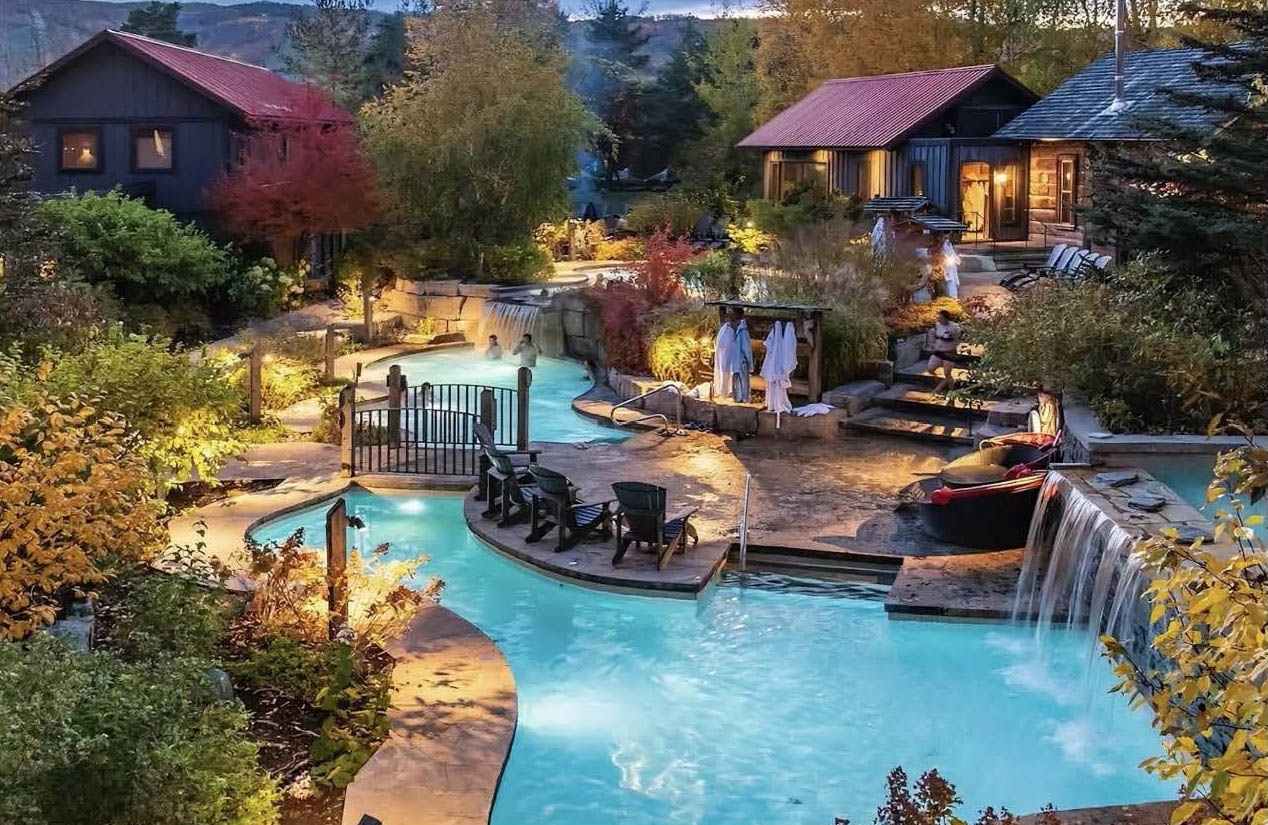 3. Le Scandinave Spa
Address: 4280 Montée Ryan, Mont Tremblant, QC • Distance from Ottawa: 2 hours
You must be familiar with the beauty of Mont Tremblant, Quebec. During winter this premier outdoor adventure destination not only turns into a ski resort but also a spa town.
Le Scandinave Spa is ranked among the top 12 organic spas in the world by Organic Spa Magazine. It was the first and is the largest Nordic natural spa in Canada with all different kinds of spas: hot, warm and cold. Step into the steam room, then experience the cold and biting river showers. Then take a break in the comfortable lounge or relax by the open fire.
There are various designer cabins and paths with spotlights for those who like to take pictures. Relaxing after dinner with a freshly made cocktail, looking out the window at the drifting snow, and listening to the crackling of wood in the fireplace is nothing short of poetic.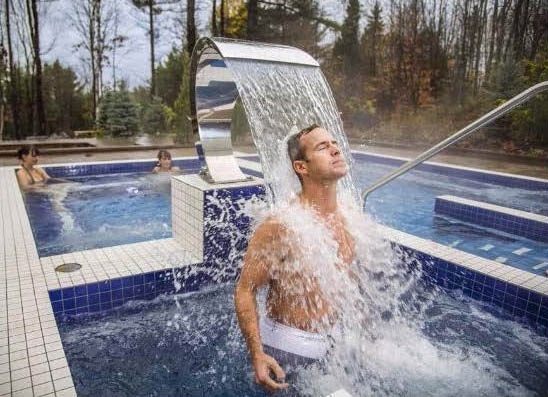 4. Amerispa Spa Nordique Cantley
Address: 5 Ste-Elisabeth road Cantley, QC • Distance from Ottawa: 40 minutes by car
Surrounded by maple and birch trees, even the air smells peaceful at Amerispa Spa Nordique Cantley. Outside, there are beautiful massage pools and even a massage waterfall. Your stress and worry will wash away in the flow of the hot or cold water—the perfect place to relax.
After a soak in an open-air tub, leave all your problems behind as a skillful masseuse rubs you with eucalyptus oil. The result is pure peace and relaxation.
Photo: Amerispa Spa Nordique Cantley

5. Polar Bear's Club
Address: 930 Boulevard des Laurentides, Piedmont, QC • Distance from Ottawa: 2 hours and 20 minutes by car
Escape for an afternoon or the whole weekend at the Polar Bear's Club in the Saint Saveur Valley of Piedmont, Quebec.
This year-round open-air spa located in the mountains of the Laurentians allows you to feel not only the flowing water and cold, fresh air of the mountains, but the romantic atmosphere and super dreamy winter scenery will have you feeling like a VIP.
Surrounded by nature as you soak in the outdoor hot spring, you will feel your stress melt away. The sound of the stream flowing by only adds to the charm. No exaggeration, the setting of this close-to-home spa is a winter wonderland.
Photo: polarbearsclub (RIGHT) Groupon

6. Grail Springs
Address: 2004 Bay Lake Rd, Bancroft, ON • Distance: 3 hours by car
If you are a true spa fan then you can't go wrong with Grail Springs in Bancroft, the mineral spa capital of Ontario.
Soak up the warmth of the sun, take a yoga or spa session, and then at night, take a moonlit walk through the 100-acres of woodlands to see why it's called "The Forest of Beauty". Later in the evening, soak in the open-air mineral hot tub while looking up at the stars—a peaceful treat.
Photo: WagJag
Header image: Scandinave
Recommended Articles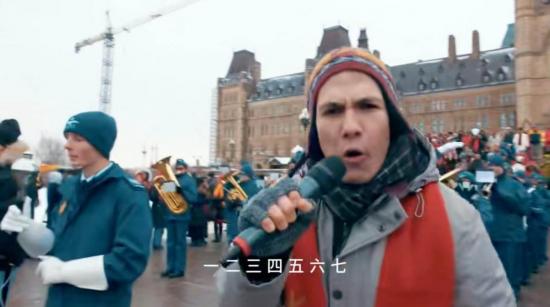 Those who have been to Bilibili recently probably know that a video titled "You'll Hardly Believe This is the Cultural Output of 2016" has quietly made it to the top of the home page!
Read full story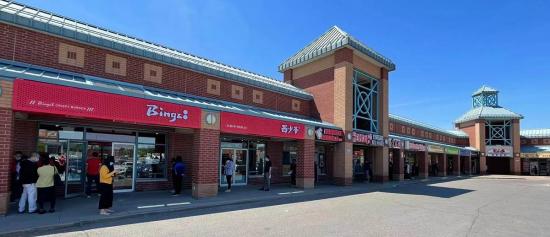 Bingz Crispy Burger is riding high on the wave in Canada, a country famous for its incredibly diverse food offerings.
Read full story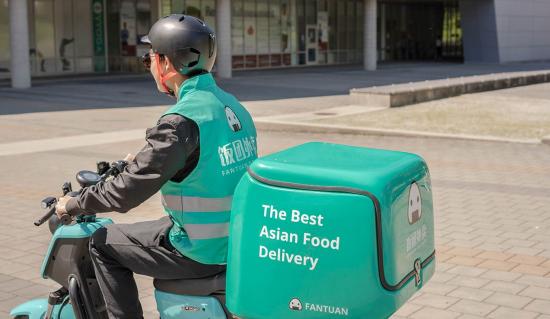 Fantuan provides its partner businesses with invaluable distribution and customer resources, plus access to intelligent data collection and analysis that helps them improve their profit margins.
Read full story
Comments (0)
*Please take note that upon submitting your comment the team at OLM will need to verify it before it shows up below.