Sports
Few passing grades as Senator season passes
Few passing grades as Senator season passes
Photo courtesy of NHLI via Getty Images
---
"Well, at the very least we had – at the very least – umm, Brady Tkachuk!"
Offers Glass-Half-Full-Guy.
"That's like doing back-flips cause you got one of the six numbers in 6/49 right!" Counters Glass-Half-Empty Guy.
That kind of season, eh Ottawa?
For what it's worth, here are the final grades for the major players (no, we're not handing out grades to guys who didn't play a regular role in the capital) that skated on the last-place team in the league.
I mean, next year has to be a tonne better right?
Let's start between the pipes.
GOALTENDERS:
Craig Anderson (B): This is certainly a high B grade. As written here on many an occasion throughout this season, without Anderson the Senators fall from contention would have been a lot worse. Just imagine.
Anders Nilsson (B): Did a very capable job after coming over via trade. Technically there are issues with Nilsson's game (poor puck control among them). He's a free agent come this summer and it will be interesting to gauge Ottawa's interest given their signing of Joey Daccord and with a couple of prospects in the wings.
DEFENCEMEN:
Mark Borowiecki (C-): Whipping-boy-No.1 for the Ottawa faithful, the local product is what he is – physical but very limited skill-wise. In too many situations Borowiecki was thrust into situations where he was over-matched.
Cody Ceci (C-): Whipping-boy-No.2 for the fan base, Ceci clearly needs a new address.
Thomas Chabot (A): A breakout season for the 22-year-old. An effortless skater who sees the ice extremely well. Defence needs a little work here, however, you can't really complain can you?
Dylan DeMelo (C): A very average player who does everything, well, average.
Ben Harpur (B-): Confidence is key for Harpur and he found a good chunk this season morphing into Ottawa's (minor) role as tough guy. A third-pairing blueliner who has trouble reading plays at times.
Christian Jaros (B+): A personal favourite over here. Jaros (I think) is going to be a beauty. A nice mix of skating ability and physicality.
Christian Wolanin (B-): Still learning the defensive side of the game and at age 24, needs to discover it soon. Solid skills.
FORWARDS:
Mikkel Boedker (C-): Boedker was an average player while with San Joe last season. This year that stock took a tumble. That's fairly significant.
Anthony Duclair (B): A veritable throw-in to the Ryan Dzingel to Columbus trade, Duclair's provided a bit of a spark. A superb skater, he remains a question mark thanks to questionable hockey sense. Duclair is a restricted free agent come July 1.
Magnus Paajarvi (C+): Signed last summer to a free agent contract with Ottawa, the former first-round pick goes back to the trough again this summer. He's serviceable.
J-G Pageau (B): A sold effort is always at hand with one of Ottawa's favourite sons. Pageau surprised many with an early return from serious injury, but like most here, didn't make much of a difference in the long run.
Bobby Ryan (B): Yeah he's got the hefty contract but at least Ryan comes to play on most nights with a concerted attempt. Forty-two points is nothing to sneeze at. That -29 though is ugly.
Zack Smith (D): The eyebrows might raise a bit if Smith has much of a life left here in Ottawa. The game (now speed) has passed him by. Zoom.
Brady Tkachuk (A): Nothing not to like about his freshman year. Tkachuk has a nose for the net and for trouble as well. As much as we admire the crap-after-the-whistle-game employed, the 19-year-old might want to tone it down a touch next season as he has proven to be Ottawa's most valuable forward and they need him on the ice.
Chris Tierney (B): Hardly notice him when he's out there but Tierney's done a good job for the Senators. His 48 points leads all Ottawa forwards.
Colin White (B): Another young 'un this team can hang its hat on in the future. White's game took a leap and a bound in 2018-19.
COACHING:
(C- overall): Some in the Ottawa media have lobbied for Marc Crawford's return. I'm not one of them. Bring in a teacher; a young coach with a fresh outlook, is the call from this corner. Crawford's been okay down the stretch but let's remember that this team was well, well out of the playoff scene when he stepped in for Guy Boucher. Meaning: Zero pressure.
MANAGEMENT:
(C): With the Erik Karlsson summer trade in the rear-view mirror, general manager Pierre Dorion's season can be categorized anywhere from an A (for some) to an F (for others). I think he falls somewhere in the middle. Firstly, Dorion was a big flunk on the media relations scale. Like it or not this is a large consideration when acting as an NHL GM. Dorion failed to connect at all with the fan base (perhaps taking his lead from the owner). In a city that's starving for positive marketing, Dorion supplied zip. On the player front Dorion dropped the ball on Mark Stone who should have been the face of the franchise for the next 10 seasons. Instead, the inability to sign Stone long-term was a huge misstep and the situation was poorly read from the get-go. However, Dorion did get a lot of juice out of back-to-back deals that sent Matt Duchene and (particularly) Ryan Dzingel to Columbus. College signees Joey Daccord and Max Veronneau will be something to keep an eye on.
Recommended Articles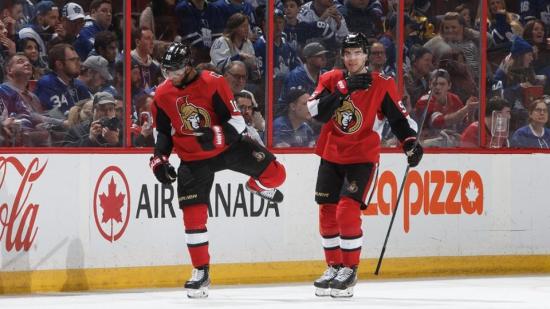 While the Senators were joshing it up on their bench 10 yards away, the Leafs were an unsmiling, grim-faced group.
Read full story
For the first time in years, the Ottawa 67's and their fan base not only have hope heading into the playoffs but high expectations.
Read full story
Local Canadian pro cyclist talks championships and challenges as he races towards finish lines across the globe, with his Everest being a gold medal at Tokyo 2020.
Read full story
Comments (0)
*Please take note that upon submitting your comment the team at OLM will need to verify it before it shows up below.