Sports
Figuring out Senators' near future is going to be a puzzle
Figuring out Senators' near future is going to be a puzzle
The possibilities are endless.
This is the reality of the world where Ottawa Senators' general manager Pierre Dorion exists.
The next few weeks – and months – are rich with ifs, ands, buts, maybes and maybe nots.
In Ottawa the only sure thing is there's no sure thing.
Here's what we know at the very least: Dorion will likely be the busiest general manager in hockey during the next while.
Will his phone be ringing?
Undoubtedly.
Will his frequent flyer miles be frequent?
Yep.
Will the lead up to the NHL's trade deadline be raucous, active and hustling?
You betcha.
Will the subsequent lead up to the NHL entry draft slow things down in Dorion's world?
Not possible.
Will the subsequent x2 lead up to next season's start be any different?
Nope.
If you like to keep heavily occupied at work, you'd absolutely love Pierre Dorion's job.
So, let's have a closer look.
The trade deadline looms. Mark Feb. 24th on your calendar. Maybe you want to take a sick day for this one because it's probably going to be hectic.
Dorion needs to decide what to do with his legion of unrestricted and restricted free agents. Topping that hefty list is centre J-G Pageau and defenceman Mark Borowiecki.
Reports indicate that contract discussions between Ottawa and those two haven't even begun.
That wouldn't appear to be a positive thing if you're a fan of keeping either Borowiecki or Pageau, for obvious reasons.
They'll both draw plenty of interest as we get closer to the 24th. Also gaining traction would be fellow Senators Dylan DeMelo and Tyler Ennis. Both have enjoyed strong seasons and could fetch some gold on the market.
Once that trade deadline passes, Dorion will be right back at it shaping the 'new' look of his NHL club and deciding who, among the many, many prospects, would be best served finishing the season in AHL Belleville.
This is where things get really interesting.
No question youngsters like Drake Batherson (when he was there), Josh Norris, Erik Brannstrom, Alex Formenton, Rudy Balcers and Logan Brown have flourished in the American league. The real juggling act will come this summer and fall when Dorion and coach D.J. Smith determine who – if any, or all? – can make a staying and significant impact in 2020-21.
This is the realm of the unknown; the 'what ifs' and 'maybes.'
Speculation runs rampant here in Ottawa. I guess it's pretty much all you can do at this point.
The ball is in Pierre Dorion's court, for what looks like, a very long time.
News, notes and notions: Give credit where it's due and Sheldon Keefe's Toronto Maple Leafs continue to roll after a bit of a struggle leading into the all-star break. There's a lot to like – the emergence of William Nylander being one. Still, I'd be a bit unsettled heading into (potentially) the playoffs with this group. The Leafs don't seem capable of playing 'playoff' hockey. Tight defence is not a strong suit . . . Nice little tribute by the fans to Alex Ovechkin this past week while his Caps were in Ottawa (he scored twice). Is it me or does Ovie look like he just keeps getting better with age? . . . For fans who despise aggressive hockey and the odd scrap, I'm just betting you didn't tune in to watch the Battle of Alberta this week, did you? . . . I don't disagree with this one: The Habs send down Jesperi Kotkaniemi. The former third-overall selection needs some serious seasoning. Kotkaniemi will be a very good player, eventually . . . If Montreal had it to do over again, do they pick Brady Tkachuk instead of Kotkaniemi? Tkachuk would bring certain tangible physical talents that his fellow first rounder doesn't possess. Check back in in 10 years.
Senators – the week ahead:
Tuesday, Feb. 4: Anaheim at Ottawa (7:30 pm)
Thursday, Feb. 6: Colorado at Ottawa (7:30 pm)
Saturday, Feb. 8: Ottawa at Winnipeg (2 pm)
PHOTO:Courtesy NHL1 via Ghetty Images
Recommended Articles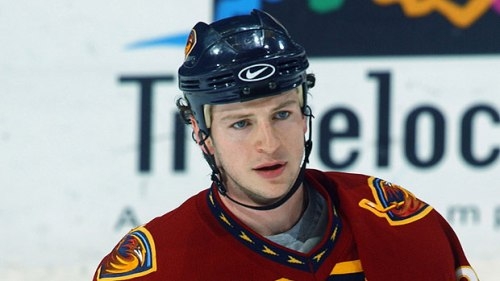 In just a few weeks, he would have been turning 42. The greatest kid who I ever had the pleasure of covering during my career as a junior hockey writer.
Read full story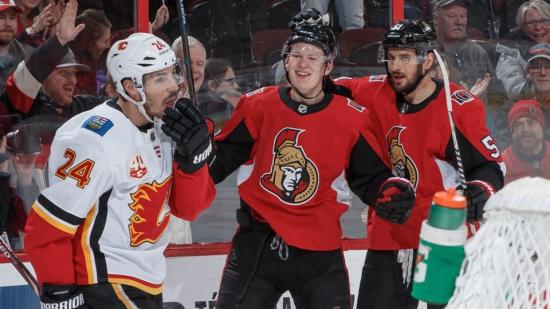 The Ottawa Senators' bye week is upon us. They won't hit the ice again until Jan. 27th when they host the New Jersey Devils.
Read full story
Comments (0)
*Please take note that upon submitting your comment the team at OLM will need to verify it before it shows up below.