Arts & Events
Arcade Fire's Richard Reed Parry returns to Ottawa with a new solo album
Arcade Fire's Richard Reed Parry returns to Ottawa with a new solo album
Photo credit: Joe Barker
---
An accomplished multi-instrumentalist and a core member of one of Canada's most successful bands, Arcade Fire, Richard Reed Parry is stepping into slower burning embers on his upcoming solo album, Quiet River of Dust Vol. 1. The record is an ethereal walk through the rich layers of a musical mind much like the layers of mulch, leaves and moss on a forest floor. The often grand yet mostly gentle songs and compositions on the album are simultaneously inspired by Japanese death poems and his late father's interest in folk music of the British Isles.
You can see Richard Reed Parry and his bandmates, some of whom originate from the Ottawa area on Monday, November 26th at St. Alban's Church (454 King Edward Avenue at Daly).
Ottawa Life caught up with Richard recently. Here is an excerpt from that interview.
Ottawa Life: You are a core member of the Grammy-winning, Arcade Fire, who've had a rigorous touring schedule over several years, yet you have contributed to numerous projects and released solo material during that time. You've worked with bands like Bell Orchestre, The National, Islands and Little Scream, to name a few. I have to ask how you find time to get involved in all these projects?
Richard Reed Parry: I honestly don't know but I say yes to a lot of things. But my new record, Quiet River of Dust Vol 1, is the opposite of all that. It's all music that I write when I'm left entirely to my own devices, have a lot of time and space and quietude and no band mates to argue with!
Songs on Quiet River of Dust Vol 1 don't necessarily sound like something you would bring to the Arcade Fire rehearsal room. Is this project an antithesis or an antidote to your work with them?
Yes, in a way. It's not music that is commissioned so it has no deadlines. It's a personal project that has been in the works for several years. It started after our first tour of Japan in February 2008 when I stayed in the country and spent some time in solitude. I've always loved spending quiet time alone in natural environments – it's really like breathing for me to go out and walk along a river, swim in a lake or be in the woods. It is essential for me to keep my wellsprings filled. The serene environment allows me to semi-consciously explore new ideas; ideas that only come out when I have time. They arise from a place of free thinking with no strict plan. It is therapeutic in a lot of ways. The zone where the music comes from and which it occupies once it's done is a musical place that I like to live.
I understand some songs were inspired by Japanese death poems and the folk music of the British Isles. Can you tell me more about that?
After our tour, I spent some down time in Japan's peaceful natural settings hiking, meditating and exploring without a real plan. I returned a few times and one time I hiked near a river marked as "Sai No Kawara", which means River of Death. It's a place where people go to mourn for their loved ones. Among Zen monks and poets, there exists a long tradition of writing a poem on your death bed to express your final moments on earth as you transition from this life into the next. Many are in Haiku form. I was fascinated by the concept of the cycle of life, generations gone before and the passing of tradition from one to the next that facilitate the continuation of folk culture and songs.
What is your message with this new collection of songs? Volume 1 was released on September 21, the first day of fall and Volume 2 will be released on the 2019 spring equinox (March 20).
The timing is symbolic for sure as the music is intrinsically connected to nature and finding ones place in it. It's full of references to life cycles, birth and death, transient forms of beings morphing into each other, and being at one with nature. And so I wanted to release one album as the year winds down to its death and release the other as a new year is born. Some of this stems from my upbringing in a folky pagan environment. Well maybe not truly pagan, but my family who followed esoteric traditions were seasonal celebrators.
You are a multi-instrumentalist, often switching between guitar, double bass, drums, celesta, keyboards, and accordion. Which is your favorite and which do you generally use to compose?
The bulk of my songs get composed on classical acoustic guitar but my favorite instrument to play is the double-bass. It's always music first for me. It often takes me a very long time to get a handle on words so the music always comes first. In fact, some compositions on the album have no lyrics.
You grew up in Ottawa. How has Ottawa been supportive of your work or influenced your music or philosophy about music?
On Monday, when we come to Ottawa, we will be a five-piece band, Jordy Walker, Cory Fox, Stef Schneider, Laurel Sprengelmeyer, aka Little Scream, two of whom are from Ottawa. Jordy, Cory and I went to Canterbury High School here. That was such an amazing experience. I honestly don't know where I'd be now without that school. I've returned to the school, in fact, I played there a few years ago with Arcade Fire [in 2007]. It was a way of giving back to the school that helped shape me during those formative years. I spoke with teachers who have returned to work there well after they've retired. It is such a special place where they strive for a richer quality of life, more literate and artistic. Ottawa is very fortunate to have this institution in its midst.
What is the oddest thing about being in such a successful band? Is it a bizarre experience or do you struggle with that success?
I don't struggle with the success in and of itself. I see it happenstance in many ways. I don't take any self-importance from it nor do I think it is without impact. What we as a band do together is really special and unique. I feel it is remarkable that we've had the level of success in the time that we've had it. It is very easy to get swayed by public opinion. But when it's coming at you from all directions, people telling you that you are doing something great, it can be a little confusing or overwhelming. I think it's important to always stay true to your deeper quieter voice rather than to a ravenous public. After all, the most important part of music is about the community where individuals can thrive in a healthy creative environment.
Recommended Articles
Through his charisma and efforts, Hunter has left an impression on those who know him personally and through his work. He is a natural storyteller, eager to share insights and engage everyone in a room.
Read full story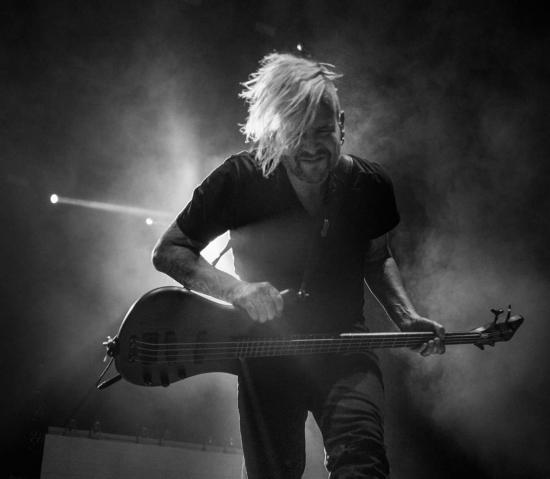 OLM's Jason Wilkinson sits down with an old friend and former band-mate Dave Benedict of the band Default to chat about the resurgence of rock and the Default reunion tour.
Read full story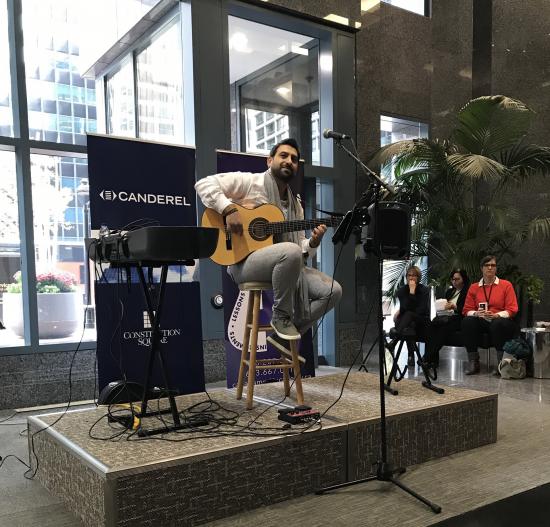 The Canada Music Academy and Canderel are working together to promote and celebrate music in Canada through a series of pop-up concerts.
Read full story
Comments (0)
*Please take note that upon submitting your comment the team at OLM will need to verify it before it shows up below.