Turn Meal Time Into HANG Time at Sky Lounge
Ottawa Life's Festival City Series is back! We'll provide a unique look at some of your favourite events.
We'll go beyond the music with artist interviews, volunteer profiles, concert reviews and spotlights on
the tastes, sights and sounds of the festival season.

Your city! Your festivals and events!
Like a good sunscreen, Ottawa Life has you covered.
---

Photos by Nicole Suzanne
It seems à propos that they serve cocktails and delicious appetizers as we anxiously (and some nervously) wait to be seated at our 22 person table. The table is like most communal restaurant chef tables: a prep area in the middle where you can watch a team of chefs pour you wine, plate your gourmet meal and even do a little dancing. However, the one key difference, which is what is making everyone so excited, is that these dining chairs are more jump seats; necessary when you're going to be having your dinner 150 feet in the air dangling from a crane.
One of the more unique events celebrating Canada's 150th is Sky Lounge Ottawa, where you can enjoy a cocktail party or dinner high above downtown Ottawa with breathtaking views of the Rideau Canal, Parliament and the Gatineau hills with food and drink showcasing some of Canada's best.
Thankfully, I'm here for the dinner, where Chef Stephen Lasalle and his team from one of Ottawa's best new restaurants, Feast + Revel, prepare a three-course meal paired with Niagara wines.
Once you're comfortably strapped into your seat, the countdown to liftoff begins and the nervous energy of the diners quickly dissipates into excitement once the high tempo music begins and you start taking in this entirely unique perspective of Ottawa.
Once you reach the top, the music stops so that the team can theatrically remove the cloches in front of you to reveal the first course of sockeye salmon cured with Labrador tea on a Montreal style bagel crostini.
Next comes the main course with Feast + Revel's "elevated" (get it?) poutine with Alberta braised beef on duck fat fondant potatoe (yes, I spelled it with an "e", we are in Canada after all!) and, what I happily ended up having all over my face, whipped cheese curd foam. However, I also have it on good authority that the vegetarian option of a beet pasta was equally delicious.
The dessert, which is classically Canadian, was a maple scented butter tart. You can see from my photo that I fall on the same side of Lasalle on the raisins vs no raisins butter tart debate. Although the fact that they were spiced Canadian whiskey soaked raisins made it hard to stick entirely to my principles.
But Nicole, I'm afraid of heights!
I feel like I would hate this! Trust me. The revelry and high energy of the event will comfort your fears. Not only do you feel totally solid in your seat, the liberal pouring of the wine, the music, the party atmosphere and the beautiful view should put any Acrophobic at ease. The meal is followed by the wearing of party hats, tooting party horns and the entertainment of watching your hosts dance and sometimes sing, or, in the case of my particular sortie, putting on a heartfelt and hilariously choreographed rendition of "My Heart Will Go On" by Celine Dion as we were slowly lowered to the ground.
All told, the dinner lasted about an hour "in-flight" (there is also a cocktail option which is twenty minutes of hang time). That meant that my only real concern, about being up there and having to use the washroom, was completely unfounded.
Once you're back on solid ground, after-dinner drinks are served from Beau's Brewery, Jackson Triggs wine and Top Shelf Distillery in a nicely appointed lounge area under a tent outside City Hall.
If you have friends visiting from out of town or you're a local that just wants a completely new vantage point of Ottawa, the cocktail experience is well worth taking advantage of. If your pockets run deeper and you love good food, spring for the dinner experience. It runs nightly from 5pm until midnight until July 22nd.
Don't let this opportunity fly by! (Sorry, I had to!).
Recommended Articles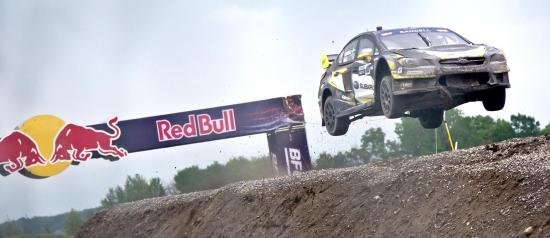 Red Bull may not really give you wings but it sure looked like it this past weekend when, for the first time in its seven-year history, Red Bull Global Rallycross took off in Ottawa.
Read full story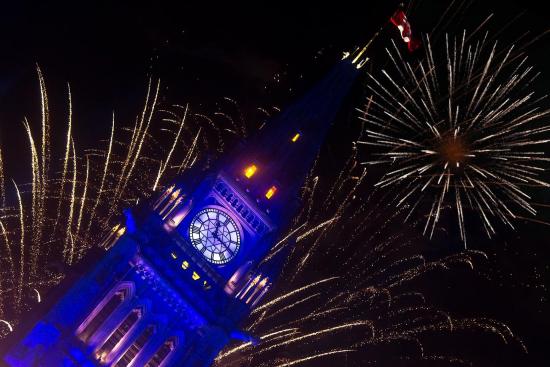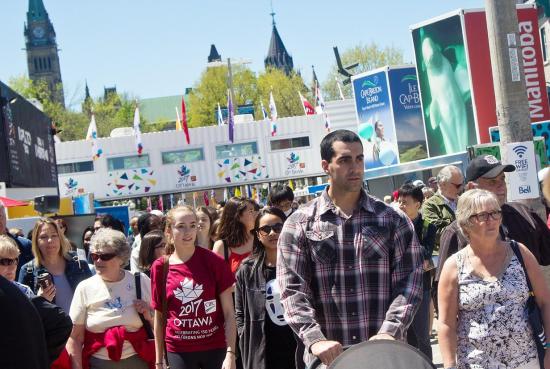 Crowds eagerly awaited his and Mayor Jim Watson's cutting of the ribbon to allow access to what is being called one of the centrepieces of Ottawa 2017's massive year of celebratory programing and events during Canada's 150th.
Read full story
Comments (0)
*Please take note that upon submitting your comment the team at OLM will need to verify it before it shows up below.