Business
Flora Hall Brewing: So much more than a friendly local brewpub.
Flora Hall Brewing: So much more than a friendly local brewpub.
ABOVE: Owner Dave Longbottom believes that part of what makes his business special is creating an atmosphere where people get together and socialize.
Tucked just off the corner of Bank and Flora street, Flora Brewing Hall is a modern gastropub, and a brew hall mixed together to create a unique brewpub unlike any other in the city.
Owner Dave Longbottom spent his early career travelling around the world. He says that he was always looking for a unique spot to unwind at the end of the day. After leaving the engineering business, he decided to open his own place where people could decompress: "Having a brewery makes it more interesting somehow for me because I was always building product companies, and this is like that but in the hospitality industry."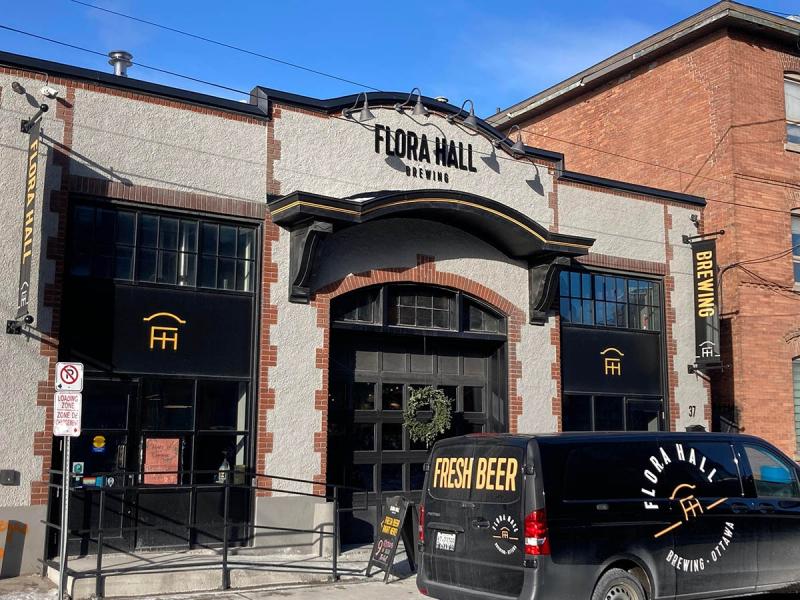 The Hall, stunningly designed on the inside, has a modern look, with murals and contemporary art. Yet, the building maintains the charm from its historical roots as an automotive repair shop opened in 1927. The top floor bar features the original wood floors, and the old garage doors have been upgraded but remain in the same place.
Far from your average sports bar, there is only one television in the whole building, and it is not on when the locals start piling in. Longbottom believes that part of what makes his business special is creating an atmosphere where people get together and socialize.
Having lived in England, Longbottom says that the country influenced and shaped his taste for beer. "I lived in a town that had a brewery in it, so the beer was super fresh. I picked up a taste for English-style ales. If you look at the top of our beer board, the top beer is Ordinary English Bitter; it's a three-and-a-half percent malty, delicious beer that's full of body and flavour."
When asked how he comes up with the ideas for beers like Flora's Banana Split Porter, Longbottom responded, "Rod is the head brewer and has been since the beginning. He and his partners conceive of the beer."
Longbottom says that one of the perks of working in such a localized setting is that the customers know the brewers and give insight into what they like. This feedback helps the brewing team make products that the regulars want to drink. Longbottom says he makes sure his beloved English Bitter is always on the menu, along with a few other core beers, but the brewing team has carte blanche to make what they want and be inventive.
The Brew Hall isn't just a place to grab a drink, though; the food is far from your average pub grub. The menu is full of dishes inspired by different cuisines: Oxtail Ravioli, African Spiced Duck, and South American chorizo and calamari stew—all of which are currently on the takeout menu.
The food served in-house lends to the friendly atmosphere. Longbottom says, "it's not a starter, main, or dessert place, it's very much a grazing place, that's the input I give to the chef. But, in terms of the food, the chef has complete freedom to make whatever he wants". He adds that "the whole team comes from different ethnicities, and that lends itself to food that reflects Ottawa."
Longbottom adds that the beer and food are symbiotic and that although the chefs make what they want, they often use the beers in the dishes themselves.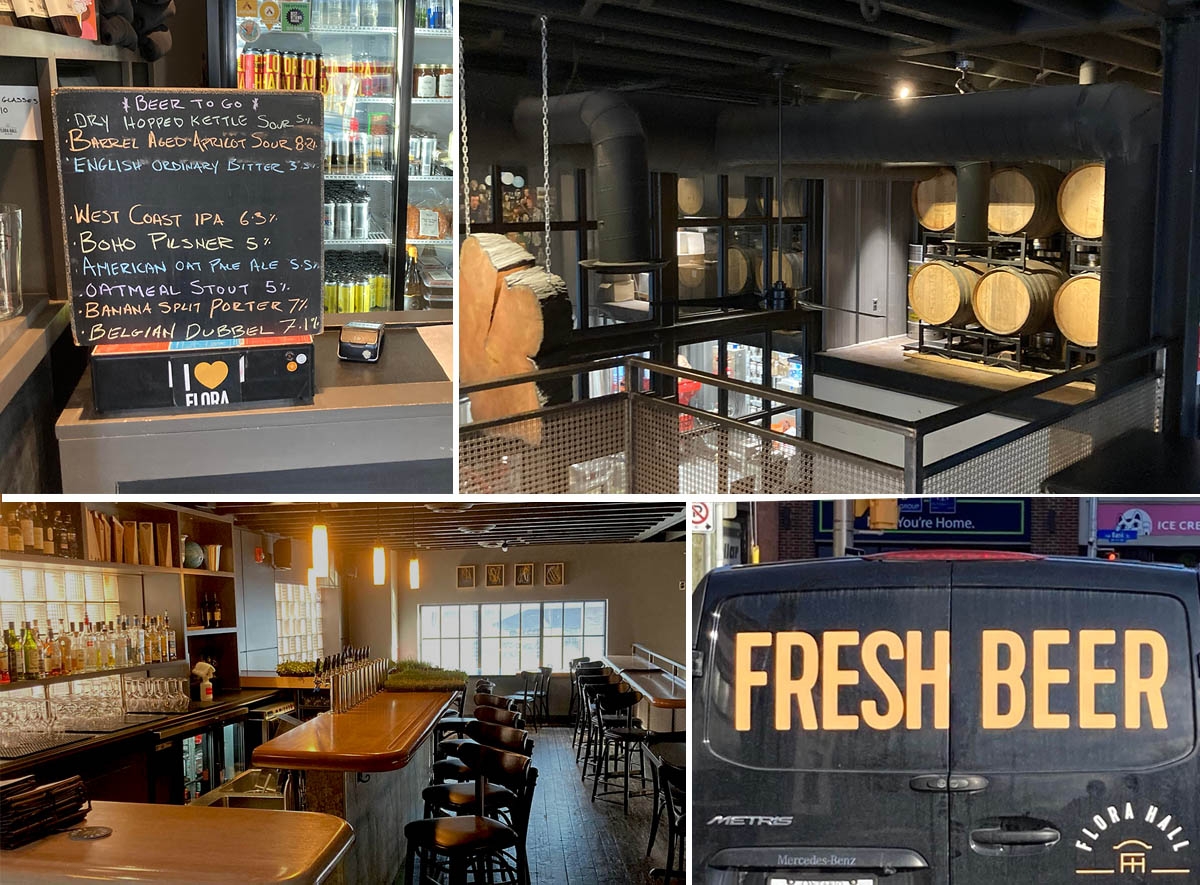 In keeping with their goal of serving fresh beer, Flora Hall beer is not available at the LCBO or the Beer Store. Longbottom explains, "we have a lot of super hoppy, juicy IPAs and those beers after a month are nowhere near what they are when they're fresh."
If you'd like to experience quality craft beer for yourself during this round of lockdown Flora Brewing Hall delivers beer for free on orders over $40. "I sell for my customer's needs, so if they can't come here, they can have it at home."
When the restrictions are lifted, and Flora Hall Brewing reopens for indoor dining, go check it out at 37 Flora Street. The English Bitter will, of course, be on the menu, along with all the other great beers they have to offer and a fantastic and diverse food selection.
Find Flora Hall Brewing online at florahallbrewing.ca
PHOTOS: Mckenzie Donovan
Recommended Articles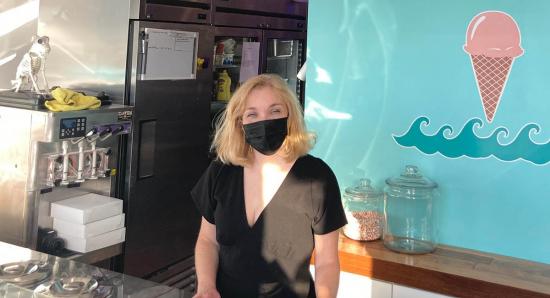 "
All the ice cream is made from scratch, and we also make all the stuff that goes in it like the brownies and cookies."
–
CLEA LIPSETT
Read full story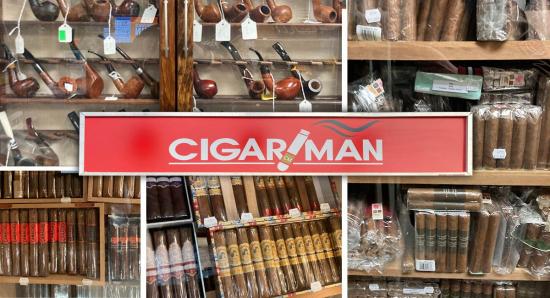 Owner Eli Ayoub proudly boasts having the best selection in all of Ontario saying, "I love to buy things and to try new things, so I can always give the customers what they like."
Read full story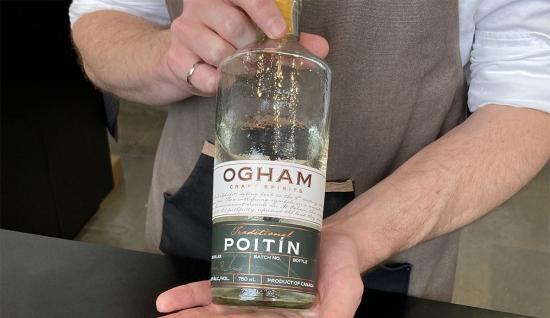 Ogham Craft Spirits is a great place to try a locally produced craft drink with some friends or take the guided distillery tour and tasting session.
Read full story
Comments (0)
*Please take note that upon submitting your comment the team at OLM will need to verify it before it shows up below.