Travel
From Palate to Ambiance: The Indulgent Romance of St. Lucia
From Palate to Ambiance: The Indulgent Romance of St. Lucia
By: Mona Staples
Images Courtesy of: Sandals Regency La Toc Golf Resort & Spa, Sandals Resorts.
An island that was colonized by both the Spanish and the French can't help but have a romantic legacy. Some claim that Napoleon's first wife -- and love of his life -- Josephine, (the name he reportedly uttered upon exhaling his last breath) was born on the island of St. Lucia, and not, as is commonly believed, on the island of Martinique. Historians do agree, however, that Josephine did, in fact, indulge her lily white French skin in the baths at the famed sulphur springs at The Soufriere Estate.
St. Lucia may be the most romantic of the Caribbean Islands. It is also the birthplace of two Nobel Prize winners, including Derek Alton Walcott, who received the honour for literature in 1992. Walcott's beautiful epic poem, Omeros, is primarily set in St. Lucia. The writing is ethereal and romantic – it does not so much speak to you as it does bathe the senses, not unlike a visit to sultry St. Lucia.
I began my whirlwind weekend to this romantic island at the Sandals Resort, where the itinerary for the weekend is dedicated to SandalsDiscovery Dining, touted as an "epicurean expedition" that will "bring new sights, sounds and tastes to each meal." Yum! I am about to embark on a romantic journey to the centre of my inner foodie.
Sandals Resorts International is the progeny of Jamaican-born Gordon "Butch" Stewart, who launched himself with the business acumen to sell air-conditioners to Jamaicans! And as the story goes, he eventually purchased his first hotel. Without any previous experience, "but knowing what he liked", he sought to create the ideal get-away wherein to sow, harvest and celebrate -- romantic love.
The couples-only-all-inclusive resorts with the motto 'all you need is love' flourished. Stewart pushed forward to eventually control a small empire, which now includes 25 Caribbean resorts. His employees like him and
see Stewart as a non-establishment fellow who did well in the colonized islands. Many describe Stewart as a generous man — without whom they would still be unemployed and impoverished.
Within a few hours of my arrival, St. Lucia and Sandals have come together to serve up a romantic dinner worthy of Harlequin Romance. I am seated at a candle-lit table, on a pier extending into the Caribbean Sea. The night has risen and the moon is full. Over my left shoulder, hovers a small mountain. The sea lies undisturbed around us, as the soft sounds of a cello and a guitar waft through the balmy air. I am completely charmed.
As luck would have it, Chef Walter Staib sits next to me. He is charming, chatty and convincing – everything one would expect from a lover of all-things-food! The author of the Emmy Award Winning series A Taste of History, Chef Walter is directing the development of Sandals Discovery Dining. As he regales us with a taste of history and Discovery Dining, our server arrives to take our order. I have the beef Carpaccio, which is both tender and tasty.
There are three Sandals Resorts on the island and guests are welcome to eat, lounge and play at all three locations, easily accessed by shuttle. Sandals Discovery Dining offers a range of cuisine to choose from: fresh seafood, regional Italian, Thai, Sushi, Southwestern, Mediterranean Rim, British Pub and French Haute Cuisine, including a French Patisserie and Creperie. Each restaurant also has its own signature cocktail! To ensure authenticity, Sandals has imported both the chefs and the restaurant décor. All is brought together to bring an up-market international dining experience to the all-inclusive.
Having succeeded with the all you need is love formula, Sandals Resorts now aims to be at the top of the food chain. They are raising the bar for resort food service, something that can be difficult to do in locales -- that may be exotic and romantic -- but where there is little in the way of produce to choose from. The islands are generally known for the finer things in life – coffee, tobacco, sugar, spices, rum -- but you're not likely to find a good field of asparagus anywhere.
Personally, if the food is local and can, at least marginally, meet the requirements of Canada's Food Guide, I am willing to metabolize it. I enjoy tucking into a good plate of beans 'n rice. That being said, I found that by the end of the all-inclusive week, in some resorts, I am looking for more variety. Perhaps it's having no opportunity to experience anything akin to hunger that causes one to eventually become a little bored with the cuisine? No doubt, SandalsDiscovery Dining serves to eliminate the boredom option.
Tonight we are enjoying a progressive dinner at Sandals Grande St. Lucian. The meal was initiated with Limoncello Martini's accompanied by appetizers pretty enough to be desserts and served in squat, stem-less glassware at Toscanini's Terrace. After finishing our first course at Gordon's on the Pier, we head to Bayside for our main -- a difficult choice between salmon fillet, capers, shallots, vegetables or braised lamb shank, pinot noir and root vegetable. I opt for the salmon, which is cooked and served up perfectly with a Beringer Merlot. It just doesn't get any better than this. Adjacent to us is a scene reminiscent of Hadrian's Villa – neo-classical statues stand elegantly poised alongside the pool's periphery.
I thank my mother for nurturing a good sweet tooth -- after Banoffee Pie at The Olde London Pub, we are led to a veritable orgy of chocolate! I have never seen so much chocolate in one place! The drizzling rain does not stop the guests from perusing and indulging. There are numerous tables and stations, along with circulating servers yielding up hand-crafted dark, milk and white chocolate, petits-fours and every possible chocolate flavoured bon-bon, chocolate fondue, cocoa drinks and even chocolate martinis.
Chocolate -- the most edible manifestation of romance -- of course, has a long history on the island, and we will be taking a very interesting guided tour through the beautiful Morne Coubaril Estate as part of this foodie adventure. There, I will discover that a cocoa bean is bitter, gelatinous and purple!
By bed time, I have decided that I am in an adult Disney Land of romance. This place inspires romance in every possible way. The resorts are teaming with love seats – every shape, size, and fantasy that one could imagine (in a public place that is). There are benches for two, chaise lounges for two, beach beds for two, dining nooks for two and swinging chairs for two.
Everywhere you look, there is a perfect little love nest, inviting couples to snug up, cuddle and gaze into each other's eyes or out over the Caribbean Sea. My personal favourite is a white curving staircase rising up to an
open-air cupola with an invitation to privately dine at a table for two -- Cinderella-style dining with a bird's eye view. Of course, there is almost no greater aphrodisiac than witty, engaged conversation over a good meal in a romantic setting. Where's Anthony Bourdain when you need him?
I am now sold – the campaign to get the guy, get married and honeymoon at St. Lucia is now on. Why not spend days lounging in love seats, evenings wining and dining and naughty nights at one of the world's leading all-inclusive resorts? And, I think I might like to walk the beach in a gossamer skirt, with two sets of foot prints in the sand trailing behind me. The remainder of the weekend is dedicated to organizing said honeymoon, which will include my top ten personal favourites:
Swimming in any of the exquisitely beautiful pools, which are open 24/7, is magical.
The rooms located at The Bluffs at La Toc Resort. Away from the main buildings – along with expansive views of sea, they offer a little more intimacy and more privacy – perfectly poised for a lovers' tryst.
Located right next to The Bluffs is Armando's Restaurant with its lofty, open-air terrace – a perfect spot to start the languid day with an exotic breakfast omelette while looking out to sea. Or supper with the setting sun – the oh-so-tasty ravioli was a good old fashioned heaping plate of rich and delicious pasta.
For sheer elegance and romance, I could eat at Gordon's Pier every single night, but then one would miss out on the many other dining experiences.
Dinner at Soy's Grill at Halcyon Resort – enjoy the antics of the Japanese grill - acrobatics with cooking utensils – a totally entertaining meal that breaks the ice while mingling with other guests.
The St. Lucian Day Buffet at Sandals Halcyon Beach Resort is local, lavish and a feast for the eyes, the ears and the palate. The brightly coloured exotic dishes include fresh roti, curried goat, conch soup, grilled lobster, cassava and a good plate of peas 'n rice, along with my personal favourites: coconut and ginger based desserts, and so much more. An open-air delight -- as the sea breeze tickles the skin and lively island musicians, rich with percussion entertain – it's a complete banquet of Caribbean Culture.
A visit to Castries, the capital, to shop for spices, chocolate and other local "importable" foods at the local market is a must.
Appleton Estate Rum Tasting (Sandals official rum) – a most entertaining hour of learning everything you ever needed to know about rum, while sipping on a range of the Jamaican nectar.
The excursion to Morne Coubaril Estate for a fascinating tour through the process of cocoa bean to chocolate. The trip there is a winding Odyssey through St. Lucia and a wonderful way to see other parts of the island. Of special note is the iconic postcard picture of The Pitons, the volcanic spires (World Heritage Site) that rise side by side on the southwestern coast of the island. And if it's your sort of thing, you can also take advantage of the roadside photo-op to have your picture taken with the boa constrictor!
Must check out all three resorts, and for posterity sake, take selfies of self and objet d'amour sitting in as many of the love nooks as is possible.
Recommended Articles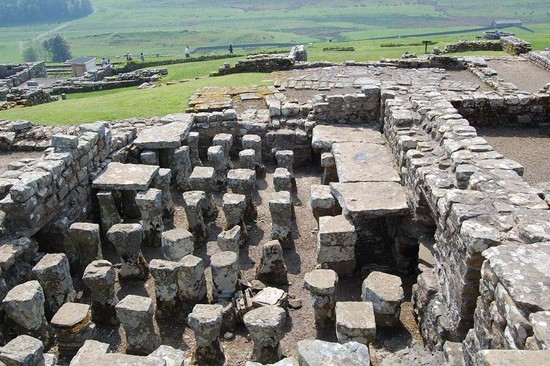 Above: Ruins of Hadrians Wall, England Great Britain and Ireland are popular destinations for travel...
Read full story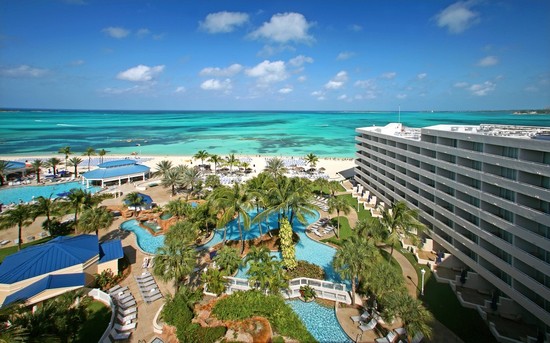 Dreaming about your feet sinking into warm sand, instead of numbing snow? Meliã Nassau Beach is the...
Read full story
When it comes to creating an extraordinary world of escape, there is nobody who does it better than...
Read full story
Comments (0)
*Please take note that upon submitting your comment the team at OLM will need to verify it before it shows up below.