Travel
Vancour Island's Yellow Point Lodge
Vancour Island's Yellow Point Lodge
By Katharine Fletcher
---
World War II POW Gerry Hill sustained his life during his internment by honing a cherished dream. He resolved to build a resort when he regained his freedom. There, he envisioned, visitors would relax and enjoy British Columbian nature at its best.
He realized his goal. While touring Vancouver Island's east coast, he discovered 180 acres, complete with a mile and a half of. Today, the magic he saw remains: fragrant wildflowers and grasses still blow in the breeze off the ocean. Cedar and arbutus woods frame the beach meadows, beckoning you to linger in their shade, to explore their mysteries. Yellow Point is a mere two-hour drive north of Victoria and overlooks the spectacular inner channel to the coastal mountains of BC.
Amid this glory, old Gerry built Yellow Point Lodge right on the granite rocks. Built from cedar, the lodge welcomed its first guests in 1936.

From the start, Gerry created a getaway from the stresses of life. A lingering place fit for honeymoons and anniversaries, for lovers and comfortable friends. Time has proven his astuteness, for Yellow Point Lodge snuggles into your soul and won't let you go.
So popular is it that many times of the year – including the summer solstice are booked by returning groups of friends who celebrate the seasons of their lives here.
In 1985, in Gerry's 90th year, the lodge burned to the ground. Amazingly, Friends of Yellow Point was struck and, like the proverbial Phoenix, a new, generously gabled cedar lodge rose from the ashes. Today, it is operated by Gerry's son Richard and daughter-in-law Sandi.
But what is it that makes people return, year after year? What magnetic power does the Point possess?
Perhaps it's the towering stone fireplace encircled by overstuffed sofas. Or the beach barbecues where seafood and corn on the cob are served on picnic tables, allowing strangers and good friends to mingle.
Possibly it's the rhythms of nature, the endless roll of the waves on the beach. In winter, orcas and sea lions swim in the bay. In summer, deep in the forest, you might catch a glimpse of a deer, hear the melodious call of the wren, or spy a hummingbird hovering in a shaft of sunlight. Whatever it is, the spell is cast.
If you are like us, you cherish balancing relaxation with physical activities. The lodge offers swimming, tennis or mountain hiking, sea kayaking or canoeing-each included in the price of your stay. Ask the lodge to make you a picnic lunch, then off you'll go, free and easy. We particularly enjoy such days, when we feel sure that just this once we can thwart Time. It is impossible to say how many hours we've spent, stretched flat on the rocks, gazing into the busy life-in-miniature captured in a tidal pool. It's a glimpse of childhood's carefree ways.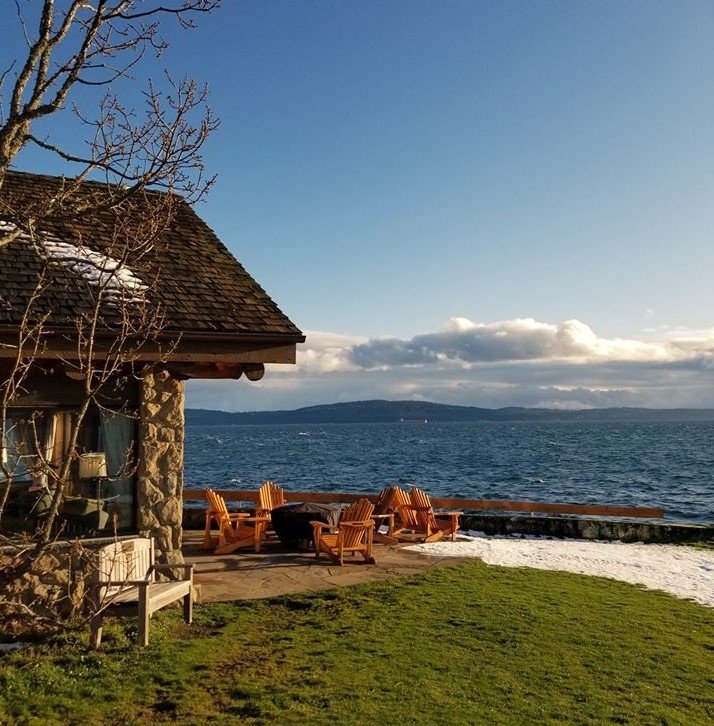 Guests are drawn by the few remaining, primitive cabins that Gerry built, cast like pebbles on the beach. Impossibly close to the ocean for today's environmental code, they hark back to less regulated times. These are our personal favourites. At night, you could swear you'll be transported away, like a Jane Urquhart hero, upon the ocean's waves, which wash close to the door. However, morning discovers you snug in your bed, stretching with the salty air and ready for beachcombing.
If you prefer the comforts of fully outfitted cottages (beach cabin guests share showers and toilets), there are cottages in the woods, meadows and others perched atop rocky cliffs with grand ocean views. As well, nine rooms in the lodge, offer something for most tastes.
But not for all. Yellow Point makes no pretense to be everyone's cup of tea. For us, it is the lodge's quietude and its lingering atmosphere of tranquility that urge us to return. And we enjoy mealtimes where guests sit together at tables set for eight or ten. But if you want the bright lights, a casino or extreme adventure vacations, save it for another time.
You can be sure Yellow Point Lodge will be there, firmly affixed on its rock, waiting for you.
Recommended Articles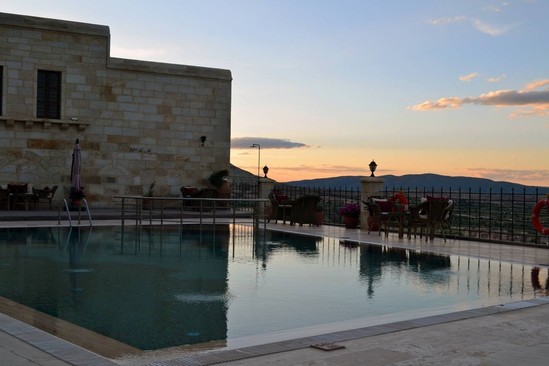 OLM Director of Operations had the chance to stay in a luxurious cave hotel in the Kapadokya region of Turkey.
Read full story
An invitation to Ontarians to escape from home and visits Indigenous experiences across the province
Read full story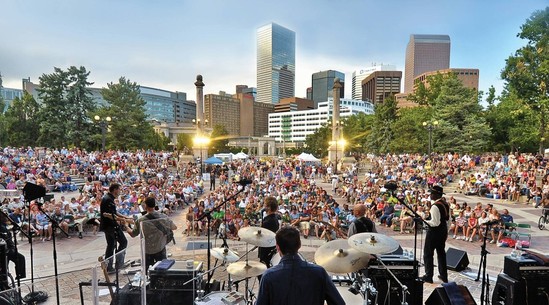 The state of Colorado is an obvious destination for skiing and sports enthusiasts but you might not...
Read full story
Comments (0)
*Please take note that upon submitting your comment the team at OLM will need to verify it before it shows up below.