Glow'rious Line-up for Glowfair 2018!
From June 14 to 16, Bank Street doesn't just shine, it glows!
While Glowfair has been bringing a blaze of neon colour to the Centretown stretch since 2014, this year the party gets an extra day of shimmer! Bonus!
Festival organizers officially dropped details on the "block party unlike anything you've ever experienced" yesterday at a vivid event inside the Alt Hotel which included the full line-up, hints at what's in store for the street and, perhaps the most welcome surprise, the announcement of on more night to live it up, dance it up and even skate it up on a new rainbow roller rink.
Bigger and better than ever? Oh yeah, Glowfair is backing it up!
"I have to say, while we often focus on the headliners, every act that we have is a wonderful, quality act," Bank Street BIA's Christine Leadman at yesterday's launch before listing off the stellar line-up.
With the festival casting a big spotlight on Indigenous arts and artists, the music nights officially kicks off this year with a welcome and prayer from an Algonquin Elder. Juno winners and nominees are set to headline the Morguard Mainstage but, first, pumping out the festival's vibe on night one are American electronic group Cash Cash. These internationally praised BFFs and brothers lay down infections dance-pop and remixes, creating a jumping atmosphere perfect for this kinda' street party. Their cut "Take Me Home" gathered over 50 million streams on Spotify and "Surrender" hit #1 on dance radio.
If Thursday was the appetizer, Glowfair is rolling out the main courses Friday night with multiple samplings beginning at 8:45 and going into the wee smalls.
The charismatic BRDGS begins the night riding the wave of an impressive debut single "In The Wild". Speaking of acclaim, Cree and Dene singer Iskwé just netted a Juno nom for Indigenous Music Album of the Year. She continues to build cross-cultural bridges with her music while exploring her own struggle to breakaway from modern archetypes. Headlining this night is Virginia born (but we're now claiming him as Canuck) Derik John Baker (AKA: Virgina to Vegas). He'll bring some of the Toronto club scene sound to Bank Street with some feel-good grooves!
Add a little glamour to your glow Sa-sa-sa-Saturday night when RALPH begins the main stage performances. If Sade and Stevie Nicks and Donna Summer had a love child, I've heard tell, it'd be RALPH! She's catchy, she's cool, sexy and smart, edgy and a whole lot of evocative. In the short time she's been on the scene she's picked up over 12 million streams on Spotify earning her a place on the site's Ones To Watch list. We agree!
Ottawa's own Alt/rock group Mosely is up next exploring a different avenue on their new album Echoes. They'll tell you that they "made the music we wanted to hear, the music we think needs to made." Hear for yourself at 8PM. Karl Wolf keeps it going until 10:45 and take a hypnotic journey with Ria Mae, a star that's still climbing since her first single "Bend" became a chart buster. Oh yeah, just another main stage performing coming off some Juno lovin' as her album My Love took a nomination in the Best Pop Album category.
Not enough? The second DJ Stage brings more vibes with Iggy, Montana, Mers and 4 Korners on Friday night with Miss Shelton, DJ K Prep, DJ Ilon, and Paris & Simo spinning Saturday. The popular Quiet Events Silent Disco is back for two nights of battles between more of the top DJs in the biz. Friday sees the triple threat of Ottawa's DJ Khaos vs Toronto's DJ Craig Brooklyn vs Florida's DJ Fitz1. Will the sunshine state groove supreme over the Great White North? Boogie nights continue Saturday when DJ K Prep mixes it up with DJ Ilon.
"It's going to be quite the three days," said an excited Leadman.
There's a lot more glowrious goings on at Glowfair 2018 outside of the music. Keep an eye on Ottawalife.com in coming weeks when we take you from the stage to the street!
Recommended Articles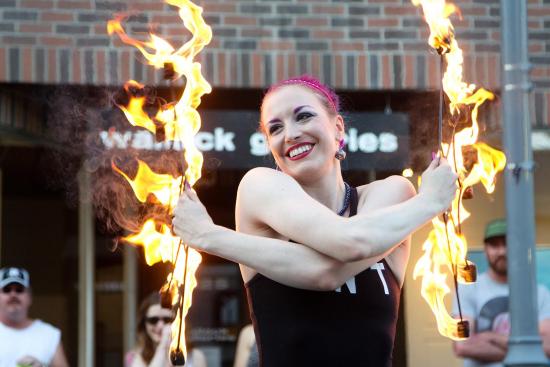 For the fourth year in a row, the annual Glowfair festival is set to light up Ottawa's Bank Street!
Read full story
All photos by Andre Gagne. Such a fun time at #Glowfair last night. It had been a while since I got...
Read full story
Glow Festival is back this Friday and Saturday taking over ten blocks on Bank Street and you can't miss Glow Yoga with Nigel Walker.
Read full story
Comments (0)
*Please take note that upon submitting your comment the team at OLM will need to verify it before it shows up below.