Sports
Goalie woes continue, prospects shine, and Karlsson makes news
Goalie woes continue, prospects shine, and Karlsson makes news
ABOVE: Joey Daccord injured himself in the third period of Wednesday's game against the Canucks. (PHOTO: SPORTSNET.CA)
---
The Ottawa Senators played two games last week, and both were spirited efforts against the Vancouver Canucks. Ottawa played well enough to win each game, but, unfortunately for them, both ended in an overtime loss.
Canucks goaltender Thatcher Demko stole the show in each contest, turning away 74 of the 78 shots faced. Had it not been for his performances, Ottawa would likely no longer be winless against Vancouver.
While Demko was standing on his head and propelling himself into the Vezina trophy conversation, the Senators' goaltending situation took a turn for the worse.
Joey Daccord injured himself on a non-contact play in the third period of Wednesday's game against the Canucks – just three days after stealing the hearts of Senators fans with his first NHL win.
Joey Daccord has left the game with a leg injury. Not good. Hope he's alright. pic.twitter.com/EPEh9grM6w

— Everyday Sens (@EverydaySens) March 18, 2021
Ottawa general manager Pierre Dorion revealed on Friday that Daccord would be out "long term" and is likely to miss the rest of the season.
With Matt Murray out week-to-week and Marcus Hogberg out until at least the end of the month, the Senators turned to Swedish prospect netminder Filip Gustavsson for his first NHL appearance to finish the third period on Wednesday.
The Senators already rank last in the NHL with a .880 save percentage, and now their three top goalie options are out.
Gustavsson played well when he entered in relief of Daccord, but he has a .892 career save percentage in the AHL, let alone the NHL.
The other option is another swede – 28-year-old Anton Forsberg, who Ottawa happened to pick up off waivers on Wednesday. Forsberg has consistently played well in the AHL but has yet to prove himself in the big leagues with a .901 save percentage in 48 NHL appearances.
He played for the Belleville Senators on Saturday, allowing one goal on 33 shots, and looks like to get the nod when Ottawa faces the Calgary Flames on Monday night.
That's the goaltending situation in Ottawa for the time being. Here are the rest of the things you should know to get all caught up with the Sens:
A couple of Baby Sens
Forsberg had a conditioning stint with Belleville over the weekend, so did Erik Brannstrom, who's fallen a little out of favour with the NHL team. Luckily, he didn't have to travel far, the B-Sens are playing in Ottawa at the Canadian Tire Centre this season.
In two games against the Toronto Marlies, one Friday, one Saturday, Brannstrom contributed three assists, including this sleek play to fellow prospect Alex Formenton:
???????????? pic.twitter.com/c9MaABrCDD

— Locked On Senators (@SensCentral) March 20, 2021
Formenton, a 2017 Senators second-round pick, has five goals in 13 games with Belleville this season. Former Senators head coach Guy Boucher famously said he had "McDavid-like speed." A comparison to the best player in the world may have been a stretch, but Formenton can undoubtedly fly on the ice.
The North Dakota Senators
The University of North Dakota Fighting Hawks men's hockey team was nicknamed the #NoDakSens by Ross Levitan and Brandon Piller of the Locked on Senators Podcast (a must-listen podcast for Senators fans) because Ottawa has four top prospects on the team.
Jacob Bernard-Docker – Defence – 26th overall pick in 2018
Shane Pinto – Centre – 32nd overall pick in 2019
Jake Sanderson – Defence – 5th overall pick in 2020
Tyler Kleven – Defence – 44th overall pick in 2020
The Fighting Hawks earned the first seed in the upcoming men's NCAA Frozen Four hockey tournament – hockey's equivalent to March Madness – after winning the National Collegiate Hockey Conference last week.
Pinto, who's in contention of winning the Hobey Baker Award as the top NCAA men's ice hockey player (you can vote for him here), and Sanderson led the way.
WHAT A SHOT.

Jasper Weatherby gets the goal here tipping a shot that comes from Shane Pinto. What a way to tie up this game. 1-1 now for North Dakota in the semifinals.

[Sorry for the bad quality here] pic.twitter.com/hi1ATd06Vj

— Pesky Sickos (@PeskySickos) March 16, 2021
A shift doesn't get much better than this. #JakeSanderson#NoDakSens@TSNJR@TSNSimmerhttps://t.co/kv7QRi8385

— TSN 1200 (@TSN1200) March 17, 2021
The Senators are already full of young talent on the roster, and there's more where that's coming from. Don't be shocked if Pinto, Bernard-Docker, or Sanderson make an appearance in black, red, or white before the season is over.
The men's Frozen Four hockey tournament begins April 8.
Erik Karlsson comments
Erik Karlsson made news when he was quoted saying he didn't wish to go through a rebuild with the struggling San Jose Sharks like he did for 10 years in Ottawa.
Senators fans initially met the comments with disdain. They wished to remind him that he made the playoffs in five of his nine seasons in the nation's capital – therefore, not a rebuild.
The truth was, there was a crucial "or" missing from the context.
"Obviously, I did not sign here to go through a rebuild or go through what I did for 10 years in Ottawa," said Karlsson, according to NHL.com.
Although his time in Ottawa shouldn't be labelled as a rebuild, you can't blame Karlsson for wanting more than what he had here given the star-studded status of the San Jose team he initially joined.
He joined the new Wally and Methot Show, a Senators-focused podcast co-hosted by Karlsson's former defence partner Marc Methot, to clear the air. Daniel Alfredsson, Drake Batherson, and Jason Spezza have also made guest appearances in different episodes.
"I thought that we were gonna be a contending team for the foreseeable future, and we're not unfortunately," said Karlsson of his comments about the Sharks.
"As for Ottawa, I loved my time there. We had some great teams, we went deep in the playoffs, and I played with some fantastic players so, I didn't mean anything bad towards it, I don't know why I brought that up… I probably shouldn't have."
Ottawa did make the playoffs in five of his nine seasons as a Senator, but it never felt as though they were a contender – except in 2017 when he looked like Bobby Orr 2.0 and led the Senators to within one goal of the Stanley Cup Final.
Had he not been on those teams, playoff berths and wins would have been much harder to come by.
In the end, though, part of the Sharks' shortcomings are due to his decline in play (he has 10 points in 25 games), and he's signed until 2026-27 at an annual salary of $11.5 million.
Games this week:
Monday, March 22 vs. Calgary (7 p.m.)
Wednesday, March 24 vs. Calgary (5 p.m.)
Thursday, March 25 vs. Toronto (7 p.m.)
Sunday, March 28 at Montreal (7 p.m)
Just past the halfway point, here's an outlook at the remaining games this season:
| | | |
| --- | --- | --- |
| Opponent | Games Remaining | Current Record |
| Toronto | 3 | 3-3 |
| Montreal | 5 | 3-2 |
| Winnipeg | 5 | 1-3-1 |
| Edmonton | 2 | 0-7 |
| Calgary | 4 | 3-2 |
| Vancouver | 4 | 0-3-2 |
Recommended Articles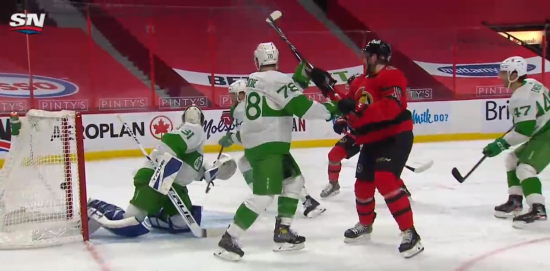 Joey Daccord dreamt of earning his first NHL win for a long time, it didn't come in a way he could've imagined.
Read full story
Last Thursday, Blackburn Hamlet's own Erik Gudbranson found twine with a wrist shot from the point – his first goal as a member of the hometown NHL team.
Read full story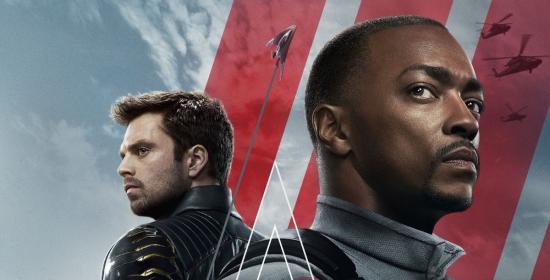 DIsney's new series The Falcon and the Winter Soldier tomorrow drops tomorrow.
Read full story
Comments (0)
*Please take note that upon submitting your comment the team at OLM will need to verify it before it shows up below.