Hervana: Unplugged in Ottawa
All photos by Andre Gagne.
In November of 1993, five months before taking his life, Kurt Cobain and his band Nirvana walked onto the Sony Music Studios stage in New York City for a concert unlike any they had performed before. The Seattle band had helped launch grunge, became the voice of a generation and, whether Cobain wanted it or not, they were well on their way to being one of rock music's most influential bands. Their live shows were loud thrashed out performances where feedback was just another band member, crowds were surfed and instruments were utterly obliterated. On this night in New York, however, there would be none of that as the band, surrounded by candles and flowers in a scene more reminiscent of a funeral, sat down to play an unplugged set of lesser known tunes and cover songs. Those hoping to hear the familiar opening chords to "Smells like Teen Spirit" would have to blast it back at home. The band's biggest hit wasn't even sound checked.
21 years later, on April 15, 2016, Skirt Cobain and her band Hervana walked onto the House of Targ stage carrying plastic flowers and fake tea candles to the sounds of pinball machines and the applause of a crowd who had waited until just a few ticks after midnight for this. The all-grrrl, if you couldn't catch that from the name, Nirvana cover band would be playing the set from Nivana's acoustic New York show in its entirety.
"The idea to do the Unplugged in New York album came from really loving the songs but not really being able to fit acoustic songs into our regular electric set," says Skirt (also known as Carly Beath). "We figured if we were going to do an acoustic set, we might as well take the chance to play the whole album."
Beath surveyed those who had packed in around the stage filling in whatever area didn't have a table or game machine. The crowd was made up of a mixture of students, gamers, and those still holding tightly to that revolutionary time in the early '90's where, with torn jeans and flannel shirts, the young collectively shouted "here we are now; entertain us" and Nirvana belted out the angst of a generation. To those of us that listened, it wasn't a movement. It wasn't a genre. It was just living.
"You can tell by the fake flowers that we don't have Nirvana's budget," Beath said with a bit of a chuckle. "These are Dollarama specials."
"Who cares!" somebody shouted near the back. Indeed! Stage accoutrements were incidental here. They crowd was ready for the music. Hervana would happily oblige. The band doesn't come off as a simple tribute or cover novelty act. When you hear them you feel more like they are celebrating that time and the music from a band that defined it.
They may very well be the first group that was formed primarily because of Twitter. Three years ago Beath, Erin Cousins (aka Miss Novoselic), Michelle Turingan (aka Pap Smear) and Adrian Pasen (aka Dave Grrrl) were playing in various bands around Toronto. Beath was doing a lot of solo electronic music and was itching to play guitar in a band again. How to not get lost in the sea of bands in the city battling to be heard? Inspiration comes from the strangest of places.
"Toronto needs an all-girl Nirvana cover band named Hervana," Tweeted @groshbarr. Beath read it, loved the name and promptly started to put the group together on the social media site.
"I dug around to make sure Hervana didn't already exist and then I started roping in various musician friends," Beath says. Misstallica, AC/DShe and Lez Zeppelin were all taken. Hervana was thankfully free.
The pun was really the genesis of the group but Beath admits that if they didn't love Nirvana they wouldn't have gotten into it just for the name. The idea for their stage names was also inspired by an outside suggestion.
"We were in a bar talking about the band and a stranger overheard and turned around and pointed at us and said, "Skirt Cobain!" From there, the rest of the names were previous obvious to us," recalls Beath.
For Cousins, learning about Nirvana was a gateway to many all-female bands that formed during the rise of grunge. The feminist hardcore punk movement was called riot grrrl and, like grunge, grew out of the Seattle/Olympia Washington area where a lot of young women started forming garage bands and zines to speak out against sexism and violence against women.
"That was no small influence on my character and my self-confidence as a girl and as a musician," says Cousins on discovering herself through the music, touching upon how Nirvana helped kick-start that for her. "Bikini Kill, Babes in Toyland and Hole, those bands might never have crossed my radar otherwise."
Though the band has had mainly positive feedback –which could be heard by the Targ crowd that evening - Cousins says they have dealt with their fair share of negativity about their emulation of Nirvana's songs.
"Trollers gonna' troll. We're not doing this for them, we're doing it for all the awesome people who come to our shows and dance and sing along."
That was just the crowd that came to Targ to hear Unplugged in New York. To their delight, those gathered sang back every word to tunes like "All Apologies", "Come as You Are" and "Something in the Way". Even when the final song on the album was played they shouted for an encore.
"You guys, there are no more," Beath laughed as the crowded screamed on.
[wzslider height="600" transition="'slide'"]
The show was part of House of Targ Year Two Anniversarythat saw a performance by Toronto Circus punk band Mineta on April 14 and will include a Burlesque show this evening all cumulating in a free-play pinball party with cake, prizes and more Sunday night. Ottawa Life will have more coverage of the festivities as well as an interview with Targ owner and yogi, Paul Granger, early next week.
Recommended Articles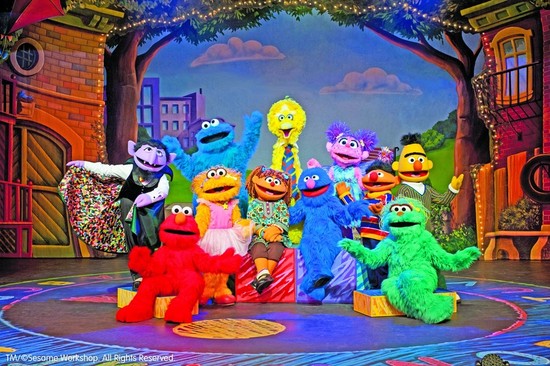 Big Bird, Grover, Cookie Monster and Elmo are all about to step off the screen and onto the stage! S...
Read full story
Like a marvelous antique chandelier fitted with new electric light, The Phantom of the Opera benefits well from a technology upgrade.
Read full story
Ladies and Gentleman, weighing in at a total of 2,100lbs, Arcade Fire!
Read full story
Comments (0)
*Please take note that upon submitting your comment the team at OLM will need to verify it before it shows up below.