Sports
Hockey's finally here . . . hear-hear!
Hockey's finally here . . . hear-hear!
This week the Ottawa Senators open camp.
Quickly putting together the math, it will be roughly nine-and-a-half months since the organization last stepped on to the ice as a unit.
There will be loads to evaluate and examine as the club prepares for the official start to the season.
Here's a few of the storylines in Ottawa (and across the league to a degree) to keep your eyes on.
THE SCHEDULE: In a word – fascinating.
Potentially gripping.
Does it get any better than opening the 56-game season against Toronto?
That's what we get starting on Jan. 15th as the Leafs travel to Ottawa for a back-to-back.
After the Toronto visit, it's a slate of games against Winnipeg, then Vancouver, then the Oilers, then the Habs (in early February).
Ottawa fans will have to wait patiently for the end of February before seeing the first of the Tkachuk versus Tkachuk battles. Over the course of 11 days though, Tkachuk will see Tkachuk five times. Count 'em.
As a fan of hockey-hate (well documented on this page), this schedule is almost as tasty as my partner's Christmas dinner.
Almost.
BATTLE AT CENTRE: The local apologists have already claimed the trade to get Derek Stepan from Arizona was a thoughtful dandy (for a, gulp. 2nd-round pick).
"With all due respect," as Pauly Walnuts is fond of saying, baloney.
The 30-year-old Stepan's numbers have dropped considerably since maintaining a spot as a mainstay with the NY Rangers many years ago.
All I see is a guy out of gas who – most importantly – takes a roster spot away from the already great numbers at centre ice.
Logan Brown, Josh Norris, Chris Tierney, Colin White, Filip Chlapik and Artem Anisimov must be doing backflips and handstands over this deal.
Ottawa also doesn't need to take on additional salary to qualify for the floor.
Head-scratcher to be sure.
OFF-SEASON ADD-ONS: There's plenty in the capital.
Stepan, Evgenii Dadonov, Braydon Coburn, Cedric Paquette, Alex Galchenyuk (another head-scratcher), Josh Brown, Erik Gudbranson, Matt Murray, Tim Stutzle, Austin Watson, Artyom Zub and Micheal Haley are among the new faces, looking for places.
The roster will be a war-zone. A mass of top prospects, not included in the above list, will be bringing the want to making the big club.
Should be another intriguing story-line.
ALL-CANADIAN DIVISION: Love it.
Can you truly look at any game and stifle a yawn?
The heat is on here.
Battle of Alberta.
Battle of Ontario.
Toronto-Montreal.
Etcetera. Etcetera.
MATT MURRAY: If anyone's feeling the pressure more than this Ottawa newcomer, I'd be hard-pressed to name him.
Ottawa's Achilles is its defensive corps. Murray will be counted on to steal points for the Senators.
As my pals in Pittsburgh told me during the off-season, Murray's game was not stellar last season. He's young enough, certainly, to rebound (so to speak).
Anything less and it's a poor omen for Ottawa.
MITT-DROPPING: . . . Keep your enemies closer.
Such is the case this season.
Battle lines will be drawn.
The enforcer will be back, to some degree.
Funny enough, it looks like Ottawa under head coach DJ Smith – a notorious enforcer during his time in the Ontario Hockey League – will be leading that charge, in spite of a destiny for last place in the division. Josh Brown, Micheal Haley, Erik Gudbranson, Brady Tkachuk and Austin Watson will make this a team that's not fun to play against.
I hate this stuff, said me at no point.
CUP FAVOURITES?: Defending champ Tampa suffered a dynamite blow with the loss of Nikita Kucherov for the season.
Which would seem to entail, someone else can capture the trophy.
The Leafs?
No playoff pedigree there.
Boston?
Too antiqued.
Vancouver?
Too young.
Washington?
Might be there.
Vegas?
Ditto.
But for our marbles, we roll with Colorado. Speed and finesse and grit and character will win the day.
Av's take it.
Recommended Articles
It's almost Christmas, and you know what that means… World Juniors!
Read full story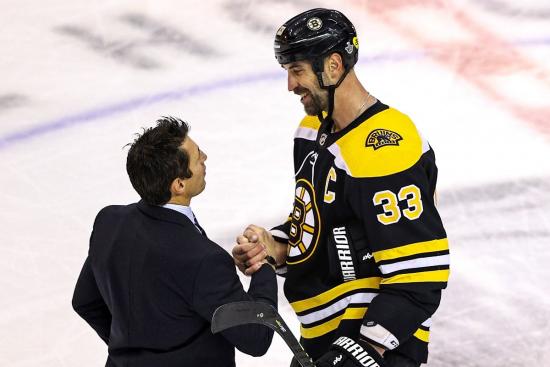 From A to Zdeno Chara — one of my all-time favourite people/players.
Read full story
In contrast to the ethics-challenged ROGC board members, The Barrow Gang Buskers formed a band to bring good vibes to Ottawa residents while raising money for charity.
Read full story
Comments (0)
*Please take note that upon submitting your comment the team at OLM will need to verify it before it shows up below.