Arts & Events
It's Festival City Time Again! Here Are Some Summer Concert Picks to Get You Started
It's Festival City Time Again! Here Are Some Summer Concert Picks to Get You Started
Ahh, the beginning of June….that snow mountain in the South Keys parking lot is nearly melted away, the pigeons are cooin' up a racket on my balcony and crews start unloading trucks to build the stages that transforms Ottawa into a summertime Festival City once again.
If the O-town festival lowdown was just about the Jazz and Blues fests alone, those in need of their outdoor music fix would have more than enough to choose from. But but we've got Hope, Escapade, Dragonboat, and now even a fest of cover bands, to name a few, and collectively they bring hundreds of shows to the Capital. Of course, that makes for a lotta' overlap, especially when you factor in all those non-festival shows at the NAC or Canadian Tire Centre.
Do you check our Chaka or Shania? Do you explore another culture at the Capital Ukrainian Festival or Greek or India or Italian or…? Do you jazz it up on the weekend or watch some dragonboat? Wait, there's a tribute to Prince coming?!
With three months of nearly nonstop festivals, this outdoor concert lovin' journalist totally suggest checking out as many as you can. And, hey, don't just dip your toes into the shallow end of the pool and catch the bands you know. Festivals are for adventure, Indy style only with less boulders, aliens and snakes! Ok, maybe not the best analogy, but dive into the deep-end of what the season has to offer anyway! It's far more rewarding!
Need some suggestions? Great timing! I have some suggestions in three…two…one…
The Pursuit of Happiness (Westfest / Saturday, June 9: 8:30PM)
If you caught my recent fanboy gush fest on TPOH, you'll know that this is a bucket list show for me. Honestly, it should be, for anybody who digs on amazing Canadian music pre-Nickelback. Moe Berg and the band hit the indie scene in the 80s ahead of a wave that saw Canadian rock getting more mainstream attention. I say they set that wave a'rollin'! That makes 'em trailblazers in my books. Reuniting in support of the 30th Anniversary of their first album, Love Junk, expect all you adults now to belt out "I'm An Adult Now" as well as other cuts like "She's So Young" and "Cigarette Dangles". Judging from recent shows inside Toronto's legendary Horseshoe Tavern, it's like TPOH never put on the breaks.
Cash Cash (Glowfair / Thursday, June 14: 10PM)
They had to add an extra day of glow to bring these Jersey boys to the festival mainstage. Cash Cash are internationally praised BFFs and brothers that lay down infectious dance-pop and remixes, creating a jumping atmosphere perfect for this kinda' street party. Their cut "Take Me Home" gathered over 50 million streams on Spotify and "Surrender" hit #1 on dance radio. Ahhh, who needs the online states…just get out and dance!
Moon Hooch (TD Ottawa Jazz Festival / Friday, June 22: 10:30PM)
If you saw them perform inside the festival late-night tent before you know what to expect…if not, well, buckle in as that tent is about to move a couple feet because Moon Hooch gonna' make it jump! In just a few short years, the explosive horn-and-percussion trio has taken their exhilarating blend of virtuosic jazz, groovy funk, and pulse-pounding electronic dance music from the New York City subway system to stages around the world. This is their third visit to the TD Jazz Festival. I'm hoping that giant pylon over sax contraption makes another cameo!
Broken Social Scene (Tim Hortons Ottawa Dragon Boat Festival / Friday, Friday, June 22nd, 9:30 PM)
Need a refresher or perhaps a primer on what Broken Social Scene bring out for a live show? Here's a 5 minute sampler:
Alesso (Escapade / Saturday, June 23)
Born Alessandro Lindblad, this Swedish DJ and producer has been spinning long enough to be called a progressive house legend. Ranked 36th on the DJ Mag Top 100, he's coming to O-town after having dropped beats at fests like Coachella, EDC, Ultra and Tomorrowland. His work with Tove Lo, Calvin Harris, David Guetta, Usher and Sebastian Ingrosso has only made him a bigger name in the dance music industry.
Chaka Khan (TD Ottawa Jazz Festival / Monday, June 25: 8:30PM)
She is The Queen of Funk! She is every woman! She has 22 albums, 10 GRAMMY awards, and 2 lifetime achievement awards! Her career spans 4, count 'em, four decades! Her music transcends genre as her chops move from R&B to pop to jazz to gospel and even a bit o' country with ease! Miles Davis said that she sings like his horn plays! She's worked with Prince, Stevie Wonder, and Ray Charles! She is legend! She is Chaka Khan!!!
Passenger (RBC Bluesfest / Thursday, July 5: 9:30 PM)
I know…I know…this Brit indie-folker stage clashes with Canuck legend Bryan Adams but, seriously, I totally suggest you pull yourself out of the "Summer of '69" and into the summer of 2018 when Passenger wanders onto the Black Sheep stage with a smile and guitar. Though "Let Her Go" remains his most popular tune, he's won a spot in my top artists of recent years with his tender lyrics that make you feel like you're actually a participant in the stories in his songs. His CityFolk performance from a few years ago that got an entire unyielding crowd singing "Scare Away The Dark" until the festival had no choice to extend his set by an extra few tunes remains one of my favourite Ottawa festival moments ever.
Foo Fighters (RBC Bluesfest / Thursday, July 10: 8PM)
Finally,the Foos! Dave Grohl and the boys have been a much requested show for RBC Bluesfest for years. Patience is rewarded in what may go down as one of the longest sets in festival history. The band has been booked to play an epic 3 hours of Seattle alt-rock awesome sauce! Recent sets have included hits like "Everlong" and "Monkey Wrench" as well as some covers of Alice Cooper and Queen. Expect the big show crowds at LeBreton for this one.
Sleeping Rough (Music & Beyond / Thursday, July 12: 7:30PM)
This much anticipated new opera by guitarist Roddy Ellias brings together top Ottawa singers like Kellylee Evans, Felicity Williams and Ian Tamblyn to give voice…to puppets? Yup, I said puppets. This unique production tells the story of Ted, a homeless man, and his rollercoaster journey from a dysfunctional childhood to life on the street. Elias creates a score for poet Sandra Nicholls libretto that crosses musical and expressive genres combining elements of classical, jazz and pop…plus puppets!
Cold War Kids (Hope Volleyball Summerfest / Saturday, July 14: 5:30PM)
When you cite Bob Dylan, Billie Holiday, the Velvet Underground and Jeff Buckley as your influences you're bound to have a pretty eclectic repertoire. That's Long Beach, California's Cold War Kids, folks! Once the darlings of blog land, the band quickly started amassing quite the following when founding members Nathan Willett, Matt Maust, Matt Aveiro, and Jonnie Russell began crafting their soulful, blues-inflected take on indie rock. Last year they dropped album number six, L.A. Divine, and the chart-topping single "Love Is Mystical". Hey guys, can you bring along some of that Cali sun for the servers and spikers at Hope?
Chamberfest 25th Anniversary Mashup (Chamberfest / Sunday, July 29 / 7PM)
Chamberfest turns 25 with a party that invites a slew of festival friends to share the stage. Celebrate a Chamberfest milestone with host Eric Friesen as he welcomes Buzz Brass, Quatuor Danel and the Gryphon Trio! This musical mashup will feature small ensembles in every form, from baroque to blue grass.
The Funk Frequency (Nostalgia Festival / Friday, August 24 / 6PM)
Nostalgia, Ottawa's new fest on the block, one devoted to over a dozen cover bands, comes out swinging funk with their opening act on night one. Yeah, we're never going to see Prince live again but Chris Rouse may be the closest thing to seeing Purple Revolution himself. I could go on but, really, check this out:
Recommended Articles
The United Way Community Builder of the Year Awards shines a well-deserved spotlight on some of those who leave such an important mark on this city. At last night's Gala ceremony inside the Shaw Centre, seven new recipients were honoured for continuously taking strides to build a stronger, healthier and safer Ottawa.
Read full story
Looking for something fun to do this weekend that works for the whole family? Up for supporting local children and helping students get the education they need to succeed? Broadview Avenue Public School's School Council is hosting a Family Dance Fundraiser this Thursday, May 31st.
Read full story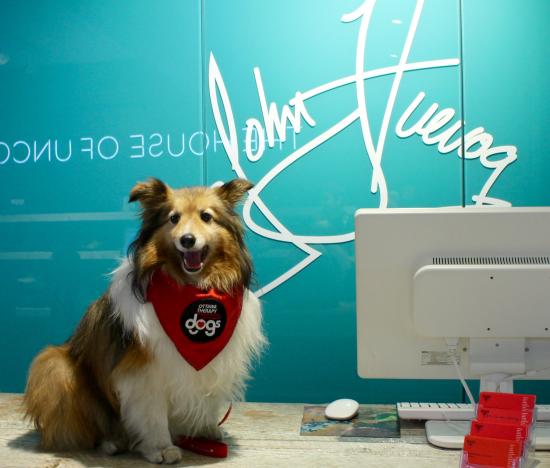 Ottawa's cutest volunteers are teaming up with a Canadian designer legend for a night as unique as every Fluevog shoe.
Read full story
Comments (0)
*Please take note that upon submitting your comment the team at OLM will need to verify it before it shows up below.