Top Stories
Jim Watson at 30—the ups and downs of public service and his LRT legacy
Jim Watson at 30—the ups and downs of public service and his LRT legacy
ABOVE: Former Ottawa Mayor Jacquelin (Jackie) Holzman, Jim Watson, and Brian McGarry after Waston's win in 1997. (PHOTO: OLM FILE PHOTO)
Jim Watson first ran for municipal office in 1991, becoming the councillor for the Capital Ward after successfully running on a platform of curbing city spending and freezing taxes. In 1997, at the age of 36, Watson went on to become the youngest mayor ever elected in the history of Ottawa. This week marks the 30th anniversary of his entrance into municipal politics.
His first term as mayor would be a significant endeavour for even the most experienced of municipal leaders, the 1998 Ice Storm and regional amalgamation were two of his biggest challenges. An everlasting symbol of this first term is the Aberdeen Pavilion. Thanks to his efforts it was saved from demolition and continues to sit grandly on the grounds of Lansdowne Park.
Watson performed admirably before he stepped aside in 2000 to allow for amalgamation. He went on to work as head of the Canadian Tourism Commission and in media before running for provincial office, in 2003, on the Liberal-Dalton McGuinty ticket.
In 2010, Watson left his position in the Liberal cabinet as Minister of Municipal Affairs and Housing and ran, once again, for mayor against sitting mayor Larry O'Brien who was plagued by scandal and bribery allegations. Watson campaigned on restoring integrity and bringing oversight and transparency to city hall. It worked. He won nearly half of the total vote.
After a relatively quiet first term, the 2014-2018 mayoral term was significant. In 2017, the city hosted year-long Canada 150 activities, including the massively successful La Machine street performance that drew 750,000 locals and tourists. Watson also expanded the urban cycling infrastructure by adding segregated lanes for bikes on O'Connor Street, re-developed the Ottawa Art Gallery and moved it to a new home, and turned Lansdowne Park into a suave entertainment and shopping district. Impressive accomplishments.
Watson lives and breathes his role as mayor. Re-elected in 2018 with 71 per cent of the vote, Watson has been, until recently, a very popular figure. The well-known saying that Watson would attend the opening of an envelope is not an insult, rather it is a testimony to his commitment to engagement with his ever-growing constituency.
The once Progressive Conservative, then Liberal—but always a red tory—has been omnipresent in the city for decades. Watson is Ottawa's longest-serving mayor with 13 years in office, 10 of them post amalgamation, and the only mayor to win re-election in the post-amalgamated city.
However, Jim Watson's legacy is being cemented right now in what could be his final year in office. His most recent term is his make-or-break moment with the populace. Watson has failed on issues that matter to the city's residents. He has been unable to clean up the Ottawa Police Service (OPS) and the Police Service's Board. This problem was exacerbated by Somali Canadian Abdirahman Abdi's death after a violent encounter with the OPS in 2016. Homelessness and drug use are plaguing the ByWard Market. The once tourist jewel of the city is in decline, becoming an area of vagrancy and crime.
Watson's most significant problem remains the one he staked much of his reputation on: the LRT. While there have been stringent critics since the system's launch in 2019, many back then were willing to cut the system some slack because most assumed that the teething issues of the massive new project could be worked through over time.
Today, the O-Train is viewed as an unmitigated disaster. Issues have persistently plagued the multi-billion-dollar Confederation Line. Most recently, a derailment caused by loose bolts kept the trains from running for nearly two months. Early critics have been vindicated by this week's disclosure of John Manconi's emails. The former head of transportation for the city was well aware and frustrated by the Confederation Line.
Just two weeks prior to the handover, Manconi emailed Peter Lauch, Rideau Transit Group CEO, stating that the trains required too much maintenance to be efficient and the city lacked enough trained technicians. Alstom, the company which manufactured and provided the trains for the system, had failed to keep proper documentation on the system's state, leaving the status of trains uncertain to officials.
City of Ottawa officials now look willfully ignorant. Following the Manconi emails and the squashing of a city-led judicial inquiry, Provincial Minister of Transport Caroline Mulroney has ordered a full judicial inquiry into the LRT fiasco.
The next municipal election is approaching. Diane Deans and Bob Chiarelli look to be likely candidates. As the incumbent in 2006, Chiarelli was flattened by Larry O'Brien and only garnered 15 per cent of the vote. If Watson can fix the problems around the O-Train before the fall of 2022, he could secure re-election, although the margin won't be as high in 2018.
But, if LRT issues linger, it is unlikely that Watson will run again. The mayor, whose job is his oxygen, has staked his legacy on the city's biggest project, which may turn out to be his biggest failure. All other accomplishments will go into the dustbin of history if the bolts, doors, derailments, and contract secrecy of the Confederation Line aren't fixed before the campaign begins.
If elections are how we keep score in politics then Jim Watson is Canadas' heavyweight champion in municipal politics. Thirty years of public service speaks volumes about a man who, despite his mistakes, cares deeply for Ottawa and has always tried to put the city first.
In 2010 Watson told Ottawa Life Magazine, "I have a philosophy of helping people. When I was mayor, I had a sign put above my office door that said 'How many people have we helped today?' and it was a gentle reminder that we are in the helping business".
It remains to be seen if Watson can help the LRT. If successful, he may well be able to win another term as mayor of Ottawa.
Recommended Articles

It seems that the favorite narrative these days for many of those who do not wish to adhere to social distancing dicta and size limits for gatherings . . . is that such public health measures are an attack upon their freedom.
Read full story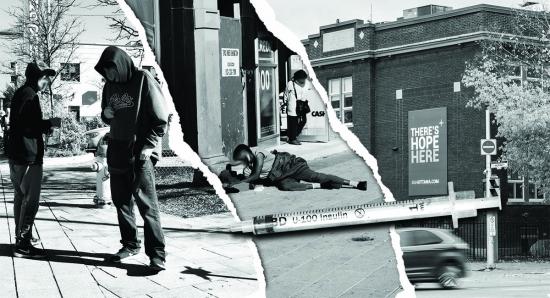 "The situation has become very disruptive to my business and I often worry about the safety of my staff and customers."
— Lowertown business owner
Read full story
After over 20-years writing about life in Ottawa, we think we have a pretty good idea of the best of what this city has to offer. Check, share and discuss #OLMBest every week!
Read full story
Comments (0)
*Please take note that upon submitting your comment the team at OLM will need to verify it before it shows up below.