Capital Comedy Review: Jon Dore, Bryan Hatt and more
Generally speaking, for a comic to not show up for a booked spot is not good form. Sometimes this happens. Like last Tuesday for the Launching Pad show. I heard pretty close to showtime that the host couldn't make it. I had just been speaking with local comic David Haddad about how he had done a good job hosting in the past when it became clear we needed a host, so I asked David and he agreed.
Moments later a few people approached about a different host and when I looked up, Ottawa comedy legend Jon Dore was standing in front of me, offering to host the Launching Pad show. I said "of course, that's amazing," then apologized to David who laughed it off, as we were all excited to see Jon host the show.
Jon, in case you don't know, is one of the funniest people to come out of Ottawa. He's had multiple appearances at major comedy festivals. He's featured on Conan, starred in his own television show - The Jon Dore Television Show and won several Canadian Comedy Awards. Jon is playing Yuk Yuk's Ottawa November seventh to the ninth...get your tickets soon, these shows will certainly sell out quickly. So it was a real thrill to watch Jon host an amateur show on a Tuesday night.
Jon was one of the first brilliant comics that I met in my comedy experience. I met him first at Absolute Comedy where he dropped in to perform when I was in the finals of their competition in my first year. Jon came and sat with the local amateurs in the green room, answered questions and gave advice and I thought that was the coolest.
One of the best things I've ever seen on stage came from Jon Dore a few years ago. He came up on stage with several one litre bottles of water and said that he was going to juggle them. He then proceeded to take all of the caps off assuring the crowd that he was an expert at this particular task. He then proceeded to juggle the one litre water bottles with caps off and of course the whole two first rows got soaked and it was marvellous. Seriously come and watch Jon Dore when he headlines in November.
So it was that Jon was hosting our Launching Pad show and basically put on a clinic for working on new material, which is exactly what that show is for. It was a great show with some very strong acts with one single exception. I don't write this to shame or disparage poor performances but there was one on this night. One gentleman went up and began performing and simply wouldn't stop. "Hot Mike" Tymofie had to get on the board Mike at one point and say "Ladies and gentleman, a big hand for ____" and he finally departed the stage. This was difficult to recover the show from. I followed him to try to open the crowd back up and did okay, and they were back on track by the time the feature act, Steve Love hit the stage. Steve was great and the one incident aside, the night was a great success. Really cool that Jon hosted that show for us.
On Wednesday night, Dan Allaire hosted the show with a good mix of brand new and talented established comics. Jon dropped in again for a spot. It was a very fun night, capped off nicely by feature act and finalist in our competition Adam Adjokatcher.
Which brings us to the pro shows on the weekend. Thursday to Saturday were hosted by Ottawa's own, and recently dethroned winner of the Mike MacDonald Summer Comedy Competition, Nick Burden. Nick is also previously a winner of the Absolute Comedy Prove You're a Comic comedy competition, and is the founder of the brand new Dirty Bird Comedy Festival for which he's producing several shows with top headliners all around town over the next month. He did a great job hosting and you should probably find one of his shows and check it out. Laughter is good for you, probably.
Cassie Cao was the feature act and she did a great job. Cassie has won a Canadian Comedy Award and appeared at Just for Laughs. Bryan Hatt was the headliner and not only is he one of the nicest people you could meet, but also one of the funniest. Bryan has his own Comedy Now special, he's performed at JFL42 and the Halifax Comedy Festival. I enjoy Bryan, he's very funny and this past weekend was no exception.
Bryan performed each night to huge applause and I hope he's coming back to the club soon, because he's one of the best, and you should find him in person or online and watch some of his hilarity and howl with laughter like I did all last weekend. Steve Hofstetter is at Yuk Yuk's all weekend and he is also well worth the price of admission. Check out our shows this weekend if you like to laugh and have fun.
Cheers.
Recommended Articles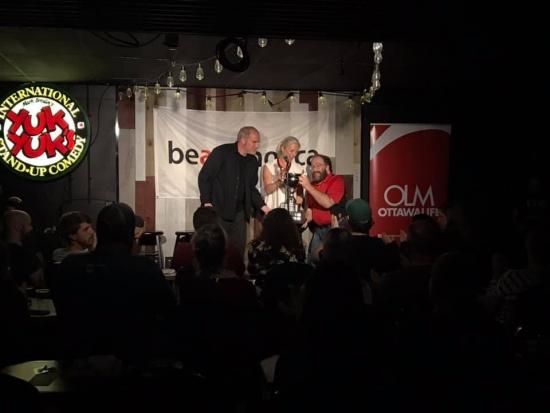 The 2019 Yuk Yuk's Mike MacDonald Summer Comedy Competition came to a close last week with a brilliant final.
Read full story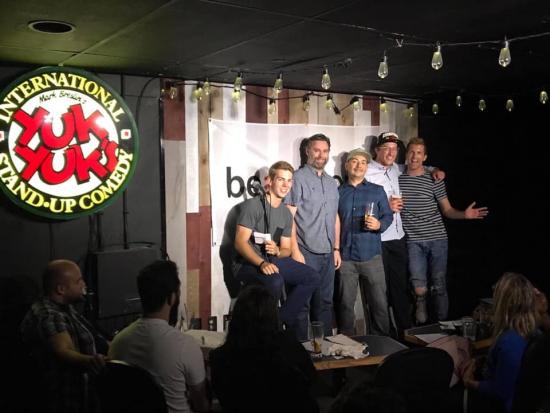 Tonight, Yuk Yuk's will crown the winner of the Mike MacDonald Summer Comedy Competition.
Read full story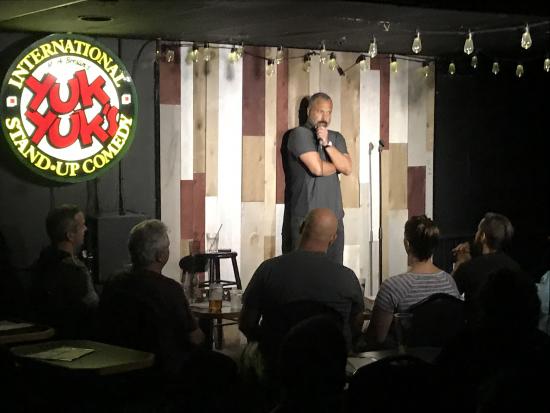 Ahmed Ahmed is a super talented comic with a very admirable acting resume.
Read full story
Comments (0)
*Please take note that upon submitting your comment the team at OLM will need to verify it before it shows up below.