Theatre
Kick Ass Kate: Don't Miss The Last Wife
Kick Ass Kate: Don't Miss The Last Wife
She was strong, courageous, smart and, unlike what some historians would have you believe, she was beautiful and fashionable to boot. An ambitious political dynamo, she managed to wield power with a good head on her shoulders, one which she managed to keep--- no small feat being married to King Henry VIII.
Catherine Parr, the sixth wife of Henry VIII is the subject of the latest GCTC play, The Last Wife. It is a fascinating take on the relationships Catherine, or Kate, had with those around her, including the King, her lover Thomas Seymour, brother of Jane Seymour, (Henry's 3rd and beloved wife), her stepdaughters Elizabeth and Mary and stepson Edward with glimpses into her relationship with the Court.
Playwright Kate Hennig has written a very clever and captivating piece of theatre. She brilliantly weaves the past and present by tackling themes of women, power, feminism and love all the while respecting the history of the story she is telling. It is set in today's clothing and uses today's English and yet there is still a palpable and inexplicable Tudor feel to the play. That could also be because it is also Tudor-era length. It's a long one running over 2.5 hours. While it could have benefited from a bit of a shave to make it perfect, nevertheless, it is phenomenal.
The dialogue is engaging and the plot is fantastic (of course, given it is based on a fascinating time in history) and the acting is absolutely superb. Oliver Becker is outstanding as Henry and Celine Stubel tackles the many facets of Kate brilliantly. Mahalia Golnosh Tahririha portrays a wonderfully innocent Elizabeth, a stark contrast to the hard-ass Queen she later became and Anie Richer's Mary was deliciously cynical. Sean Baek's Thomas is also fantastic in that he portrays a Thomas who seems genuine and yet who was also playing games behind the scenes. Last, but not least, Auden Larratt, who plays Edward, is a dashing young prince.
The Last Wife is a rich play with so many different aspects to think about and it stays with you long after the curtain falls. In a week that has had lots of political drama in the real world, escape to this one that will take you away from it all, and leave you feeling good.
It runs until November 20th at the GCTC.
Recommended Articles
The NAC has pulled off a theatrical perfect 10 in Drew Hayden Taylor's Sir John A: Acts of a Gentrified Ojibway Rebellion.
Read full story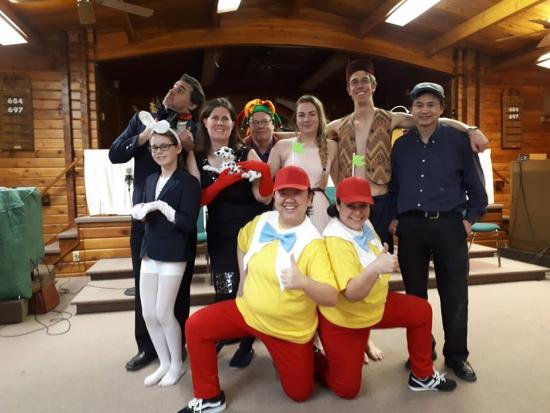 What happens when the fairy-tale gets fractured and characters like Aladdin, Elsa and Rapunzel don't find their happily ever after?
Read full story
Comments (0)
*Please take note that upon submitting your comment the team at OLM will need to verify it before it shows up below.