Let's Talk About Jazz with Peter Liu & the Pollcats
Peter Liu is passionate, sensible, detailed and capable of expressing the most profound emotions through music; but not any music, he is, himself, jazz. He can sing in a variety of jazz styles, grooves, and tempos, and to tell his stories with clarity and authenticity. He can connect emotionally with audiences and bring them to stages of happiness, nostalgia, and inspiration as well.
He loves to play for a special event, leading bands or singing in vocal ensembles, always accompanied by the Ottawa's finest musicians and artists. His charisma and his uniquely smooth lyrical voice have led him to become a promise of music in the National Capital and also across Canada.
Kind, simple, and loving the good times, that's Peter Liu. Inspired by jazz greats such as Chet Baker, Mel Torme, Jack Jones, and Kurt Elling, he has developed his own unique and captivating vocal style with which evokes the complexities of human beings, life, love, and much more.
Not only is it his sensitivity that allows him to connect with the most genuine of feelings, but his academic career has also given him sustenance to make sense of his lyrics, and his unique jazz. With doctoral studies in clinical psychology at the University of Vermont, and a vast musical background in clarinet, bassoon, and vocal performance, Peter Liu,Brooklynite, graduated from New York University. He later moved to Ottawa in 1998.
Once in Canada, Liu studied closely with Montréal based Sharada Banman for jazz vocal coaching, and with Ottawa's own Laurence Ewashko for classical voice training. He has also studied with jazz legends Sheila Jordan and Kitty Margolis. Not in vain, Liu was a featured masterclass student of New York Voices fame, in April 2012, as part of the "Manhattan on the Rideau" series at the NAC's Fourth Stage.
Peter has attended the Jazzworks Summer Jazz Workshop four times between 2008 and 2014, where he engaged in intensive combo work with top Canadian musicians, including Sharada Banman, bassist Kieran Overs, and guitarist Kevin Barrett. He has been part of the Ottawa International Jazz Festival, Merrickville's Jazz Festival as well as the Canadian Tulip Festival, the National Arts Centre, the National Gallery, and Rideau Hall.
Peter's work is well-known in Ottawa as he also played for Almonte's JazzNhouse concert series, the Ottawa Swing Dance Society, Asian Heritage Month, and at many area restaurants, pubs, and clubs supporting live jazz.
But he is not just talent; Liu also works for the sake of his guild. In 2014, he founded Jazz Lines Vocal Quartet, performing professional level vocal jazz in tight harmony, both a cappella and accompanied, and is a member of the Musicians' Association. Peter Liu is committed to the highest level of musical performance and reliable service. Along with Scott Poll, Lui co-host Swing Is In The Air on CKCU airing every 4-6 weeks in the afternoon and where present their favourite selections of vocal and instrumental jazz.
As if it were not enough, Peter Liu & the Pollcats perform the Golden Age of Jazz from the 1920's to the 1940's. They have become one of the most popular bands in the thriving local swing dance scene "channeling the thrilling energy and irresistible groove of the swing era, Peter Liu & the Pollcats perform fresh interpretations of classic swing, inspiring excitement, and joy in both listeners and dancers."
Peter Liu & the Pollcats not only regularly plays for the Ottawa Swing Dance Society, but they are also founders of the famous Ottawa SwingFest held at the Canadian War Museum. Their skills are a fantastic reason why they can perform as Sextet, Quintet or Septet.
This band just released its vintage swing themed CD "Count On Lindy." The 14 song album is a selection of their best swing dance tunes and also include their original song "Count On Lindy."
Ottawa Life talked to Peter Liu & the Pollcats about Jazz, their story, and their plans:
Ottawa Life Magazine: Could you tell us more about your story?
Peter Liu & the Pollcats: I've always loved to sing, but I've been a jazz vocalist and bandleader for about 10 years now. During the day I'm a clinical psychologist in private practice. Jazz is a great balance for me…it's so therapeutic! In my early years, I studied with jazz vocal coach Sharada Banman in Montréal, who I had met through the Jazzworks jazz camp. I also did classical training with Laurence Ewashko, to improve my vocal technique. Jazz singing started out as a hobby, and soon developed into something more…I became a bandleader and eventually music has become a second career.
How did you meet each other? Why did you create the band -Peter Liu & the Pollcats?
The Pollcats have been a mainly instrumental vintage swing band for over 25 years, led by Scott Poll who plays clarinet and sax, inspired by Benny Goodman and Artie Shaw. In October 2013, they hired me as special guest vocalist to sing for a swing dance, and it was an amazing experience. I loved playing for swing dancers! After that we were invited to play for the Ottawa Swing Dance Society and became one of their regular bands. We've since expanded to play a wide range or public and private events for swing dancers.
Who make up the band?
Peter Liu and the Pollcats actually varies a bit from performance to performance, based on band size and availability of musician. But this show is special in that we have all the musicians playing that participated in the CD recording. We have Scott Poll on clarinet and sax, Peter Turner on trombone, Yves Laroche on piano, Magnus Paulson on guitar, Alex Mastronardi on bass, and Steve Gallant on drums. These guys did fantastic work on the recording, and I'm thrilled that they will all be at the CD release party.
What is the "secret touch" or the "added value" of each member?
That's a good question…each individual adds so much, it's hard to quantify. Scott and Peter are brilliant soloists and the work particularly well together. On clarinet, Scott plays with great clarity and dexterity, and on sax he has a plays with a soulful gutsy sound. I love Peter's sense of playfulness and his skill at finding great lines, and his trombone almost has a vocal quality to it. Yves is a wonderful pianist who injects fun, creativity, and emotional sensitivity in his playing, and he is brilliant at his use of space. He also helped with the exciting arranging on the album, as well as co-writing "Count On Lindy" with me.
Magnus is very dynamic guitarist that provides a driving swing groove, and he crafts great solos with confidence. Alex is the glue that keeps it all together, with great time and feel, harmony, and warmth, and he did double duty by doing all the recording work. Drums are extremely important for swing dancers, and Steve provides tremendous rhythm, excitement, and beauty in his playing, all with focus and intensity.
You define yourself as a "vintage band," what is a vintage band for you all?
I mean the swing style from a very specific era, from the 1930s to the 1940s, otherwise known as the Swing Era. This period of time represents the height of popularity of jazz, when going out to hear and swing dance to live bands was the predominant form of entertainment. What is interesting about this time period is that swing jazz and dance co-evolved together, and both feature improvisation and personal styling. Whereas most modern forms of jazz have become, for the most part, listening experiences, vintage swing jazz is meant to be both listened and danced to.
What is "swing dancing"? Have been swing dancing welcomed by people?
Swing dancing traditionally is the umbrella term for dancing to swing music, and there are actually many substyles. The most popular of these is Lindy Hop, a partner dance that is very athletic, playful, and fun, and consists of generally a 6-count or 8-count moves in improvised sequence. It's been very welcomed by people. The music is very accessible and uplifting, and it is really easy to learn the basics…you can learn in one intro class all that you would need to dance all night. And you can learn more moves and styling variations, as you get better. The swing dance community has been flourishing, and I am really happy about it. I think that people are craving genuine connection with others, and fun and creative ways of expressing oneself….swing dance delivers that. I've taken classes and I can honestly say it's changed my life for the better.
You are the founders of the successful Ottawa SwingFest, how have such an experience been?
I wasn't sure how well it would go, but I had envisioned an event that would integrate teaching, dance performances, demos of different dance styles, and social dancing. I was so excited that the Canadian War Museum was willing to give it a try. The Swing Era coincides exactly with World War II, and we decided to make a fully immersive experience of traveling back in time to a swing dance in the 1930's and 1940's. The museum provided a slide show with photos, and most people came dressed in period attire…it was great fun. The event sold out online within days.
What can you tell us about the album and, especially, about "Count On Lindy"?
The album is titled "Count On Lindy" after an original song I co-wrote with Yves Laroche. The song was inspired by how I felt about swing dance. No matter how sad, lonely, or stressed you are, you can always count on Lindy Hop to make you feel better. It almost wrote itself! The album contains some of my favorite swing tunes, some more popular and some rare gems, as well as a couple of instrumentals. We took care to vary the tempos and to make the intros and endings fresh and interesting, and vocally, I tried to approach each song with emotional authenticity. But the most important thing for this album is for each song to be very danceable. Whether an experienced dancer, a jazz fan, or someone brand new to vintage swing, I want their body to move to our music.
The physical CD "Count On Lindy" is now available for $15 at Compact Music, Leading Note, and Singing Pebble Books. The CD can also be purchased directly from me during performances ($15), or arrangements can be made for mailing ($20) through my website. The digital album and tracks can be purchased at Bandcamp as well.
What are your planning for the future as a band?
I'd like for us to keep playing for swing dancers and anyone interested in vintage swing. There are so many great swing standards to explore and discover, and new ones to write. We've done a little bit of traveling so far, and I'd love to do more. I'm hoping that our CD captures the interest of jazz fans and swing dancers all over, leading to touring and playing at jazz festivals and special swing events. But all that I know is that playing vintage swing and Lindy Hopping feels great and makes me happy…I will enjoy the journey!
Recommended Articles
He celebrates love for his family in many of his songs because Eldredge strives to write honestly from his heart and hopes his tracks resonate with people who can relate to his words.
Read full story
Through his charisma and efforts, Hunter has left an impression on those who know him personally and through his work. He is a natural storyteller, eager to share insights and engage everyone in a room.
Read full story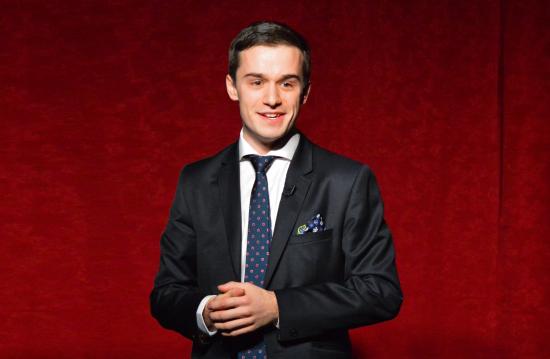 Keith Brown's Fringe show Hotter Than Potter dazzles and amazes with charm!
Read full story
Comments (0)
*Please take note that upon submitting your comment the team at OLM will need to verify it before it shows up below.