Sports
Meet 'The Bros': Jonathan Rose and Sherrod Baltimore Have Merged Fun and Success With the Ottawa Redblacks
Meet 'The Bros': Jonathan Rose and Sherrod Baltimore Have Merged Fun and Success With the Ottawa Redblacks
Photo credit: Scott Grant Photography
---
"We're just having fun and trying to be good men out here," said Sherrod Baltimore, an easygoing smile on his face as he stands on the field at TD Place.
That sentiment, more than most, accurately encapsulates what 'The Bros' are all about. Who are The Bros you may ask?
Jonathan Rose and Sherrod Baltimore are starting defensive backs for the Ottawa Redblacks as well as tight-knit friends.Beyond their strong on-field play, the pair boasts approachable and engaging personalities that have made them fan favourites with R Nation.
"Those guys play hard for us and they love playing and they have been really good for us," said Redblacks Head Coach Rick Campbell.
The two share a lot: a team, a position group, a living situation (they are roommates) and a nickname. They are known as The Bros. It is a play both on 'The Buds', a Redblacks star twosome since divided, and the combination of their two last names. Rose also likes to call them Brosé and Redblacks quarterback Dominique Davis has started calling them the "Bruhs", but Bros has stuck.
"Honestly it came naturally," said Baltimore. "It's genuine, there's no façade with this."
Their emergence as a duo came at the perfect time, when many of the recognizable faces in recent Redblacks history were on their way out via free agency.
Gone are many players that helped Ottawa dominate the East Division for the past four years. The list of those departed included Greg Ellingson. Along with fellow receiver Brad Sinopoli, they were known as 'The Buds' and they were incredibly popular during and following the Redblacks' 2016 Grey Cup championship run.
The Redblacks offense has always had players with citywide notoriety, from The Buds to Henry Burris to Trevor Harris to Jon Gott and beyond. With the offence reconfiguring this year, Rose saw an opportunity to bring attention to a top tier defence.
"Defensive side needed a culture. Offense had their go-to guys but the defence needed to figure out an identity," said Rose
After a loss in last season's Grey Cup and a trying offseason, the Ottawa fan base seemed to be looking for any sort of positivity heading into the 2019 season. Good thing The Bros are all about positivity.
"People like to interact. People enjoy our energy, our brotherhood. People see that two young men out here in this world looking for positivity. Trying to better people while bettering themselves, you can't really ask much more than that out of a professional athlete," said Rose.
Rose, an Alabama-native, joined the Redblacks in 2016. Since then he has picked up a Grey Cup ring and two East Division all-star nods. Baltimore came to Ottawa a year later from Washington D.C. by way of the University of Maine.
Rose and Baltimore became friends soon after Baltimore joined the team in 2017 and have been close ever since. Baltimore was that year's team rookie of the year but he was placed on the practice roster early on in the 2018 season. He had to fight to earn back a starting role. Baltimore was promoted to the starting roster late last season and did not look back.
He made big play after big play down the stretch, finishing 2018 with four interceptions in his last five games. Both him and Rose had an interception in each of the Redblacks' two playoff games as well.
During the 2018 regular season, Rose was tied for the CFL lead with five interceptions. Their run of takeaways over the past season says it all. They are both ball hawking defensive backs that should strike some sort of anxiety in opposing quarterbacks.
Rose supported Baltimore when he was on the practice roster and they motivated each other to be at the top of their position in the CFL. When they were both free agents this past offseason, the pair opted to re-sign together and now start on the same side of the Redblacks secondary.
"The two-for-one special, we're a package deal. You get one, you get the other," said Rose.
The popular pair is not without a little controversy however. Rose was ejected in last year's Eastern Final for pushing an official during a sideline shoving match with several Hamilton Ti-Cats. It was a controversial play that CFL fans are still talking about but Rose immediately apologized for his actions and was hit with the maximum fine last week.
On the field, Baltimore and Rose enjoy the stage they get to play on. They celebrate each other's plays, talk trash and generally capture the fun side of football.
Off the field, they are fun, amicable and looking to get involved in the Ottawa community. That includes taking the prospect of being role models in the city seriously.
"You never know who you are going to trigger to want to be better than they are right now," said Rose. "As an athletic figure, you have to get out there and do those small things. Somebody did it for me when I was young. I didn't really know what I wanted to do but I saw somebody doing it."
When Baltimore came to Ottawa he had his mind set on one thing and one thing only: making the team. Now that he is established with the Redblacks, he wants to make the most out of the community he is living in.
This year marked Baltimore's first winter spent in Canada and he soaked up all he could. From attending Ottawa 67's playoff games, to skating the Rideau Canal, to helping out at local football camps to being the guest of honor at an Ottawa sports banquet, Baltimore was fully open to new opportunities.
"Baltimore is a guy that is making the most out of this [playing] opportunity and he makes the most out of life in my opinion," said Campbell.
Rose and Baltimore will be crucial pieces this season for Ottawa. In fact, they have already made an impact. In last week's season-opening win over the Stampeders, Rose recovered a fumble and snagged the game-sealing interception.
Both Rose and Baltimore were in the area to form a tight double coverage of the Calgary receiver in the endzone before Rose caught the Bo Levi Mitchell-thrown ball. They also collectively broke up a pass earlier in the fourth quarter.
Jonathan Rose picks off Bo Levi Mitchell in the end zone to win it for the @REDBLACKS! #CFLKickoffpic.twitter.com/AlyCKcBeUj

— CFL on TSN (@CFLonTSN) June 16, 2019
Rose knew how well him and Baltimore communicated and thought it could be a central force for the defence as a whole. Now the tone is set that the unit is always talking no matter if things are going well or not on the field. And last season, things were usually going very well on the field.
The Redblacks defence allowed the third-least points against while forcing the third-most turnovers. Now in year two under defensive coordinator Noel Thorpe, Rose sees that aggressive mindset carrying over to 2019.
That is because Ottawa retained 10 of their 12 defensive free agents this offseason. The defence has another year to be more comfortable with each other and within their defensive system. Continuity is often a mark of success in the CFL and an indicator of continued strong performance.
"What I realized being my fourth year in this league, I look at the Calgary's and the Edmonton's and the BC's. Those guys that are always ranked at the top, what do they have? They have a stable defence," said Rose.
The Redblacks retooled their offence this season and how productive they can be remains to be seen. The defence will be relied on heavily to carry the load for Ottawa and a Rose/Baltimore-led secondary will have to play a huge role in that.
No matter how the 2019 season shakes out, you can bet on The Bros making the most out of their experience and having fun along the way. They love Ottawa and Ottawa loves them.
"We're fan favourites. We take pride in that," said Baltimore.
The fan favourites will take the field next this Thursday night when the Redblacks host the Roughriders in their home opener.
Recommended Articles
Dominique Davis led the Redblacks to victory in his first game as the bonafide number one quarterback.
Read full story
Despite coming so close to their second championship in three years, the team isn't exactly running it back.
Read full story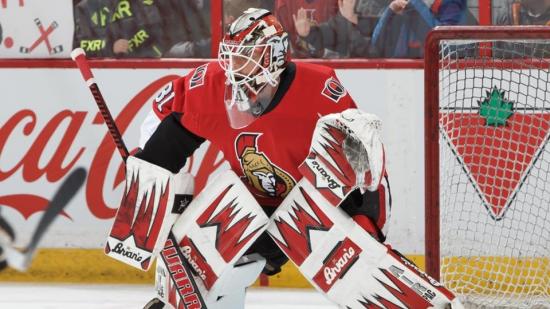 This Friday and Saturday the league hosts its annual pick 'em and (hopefully) please 'em festivities, aka the NHL entry draft.
Read full story
Comments (0)
*Please take note that upon submitting your comment the team at OLM will need to verify it before it shows up below.