Reviews
More power, less fuel with plug-in Volvo flagship
More power, less fuel with plug-in Volvo flagship
It has been a couple of years since I first drove Volvo's S90 flagship. And although not much has changed since the launch, there have been some review-worthy upgrades under the skin.
This full-size sedan benefits from a coupe silhouette – long bonnet, short rear deck, steeply-raked and lowered roofline – along with big wheel openings pushed to the corners. New is a 4.5-inch stretch in wheelbase, but you'd likely only notice it from the back seats.
The S90's upright grille wears a prominent ironmark logo, flanked by narrow-cut headlamps and distinctive "Thor's Hammer" running lights. Overall, it's a handsome ride, and looks like a lot of vehicle for a base price of $55,750.
Of course, that would only get you an "entry" T5 model, powered by a turbocharged four-cylinder engine (250 hp, 258 lb/ft of torque), with eight-speed Geartronic and all-wheel-drive. My druthers would be to drop another $3,550 for the T6 powertrain, a 2.0-litre petrol engine that's both turbocharged and supercharged, for a more convincing 316 hp and 295 lb. ft. torque.
That was my tester in 2016, and although the above numbers may not impress, experience proved otherwise. After prodding the pedal, I noticed barely a pause before the supercharger kicked in, whining delightfully until the turbo spooled up and joined the fray. With all elements running full bore, and the eight-speed firing off gear changes, that S90 approached sport sedan performance.
But not quite.
Which is why I had high hopes for the T8. It wasn't available at the time, but I expected the coupling of a plug-in hybrid system to this powertrain would deliver not only gains in fuel economy, but performance.
But let's start with price. The addition of all this complexity, as you'd expect, will create some sticker shock. The non-hybrid T6 tops out at $65,500 for its top-trim Inscription model; the T8 (also an Inscription) starts at $74,950.
What do you get for the extra $9,450? For starters, there's added muscle, boosted to 400 hp and 472 lb/ft of torque (combined gas/electric). And while the supercharger is no slouch in power delivery, an electric motor is nearly instantaneous. Battery, blower and turbo work alongside the four-pot gas engine to launch this hefty ride from zero to 100 km/h in just 4.9 seconds. That's 1.4 seconds quicker than the T6.
Unlike other S90s, the T8 doesn't get Volvo's standard AWD system. Front wheels are powered by the 2.0-litre engine, and the rear by a 10.4 kWh battery and 87-hp electric motor. Its battery pack is under the floor, aiding the S90's low centre of gravity without intruding on cargo capacity. But at 382 litres, the trunk isn't as commodious as you'd expect in such a large vehicle.
Fuel economy for the T6 is 10.6/7.6/9.3 L/100km (city/hwy/combined). That drops to a thrifty 8.9/7.1/8.1 for the T8. And this is achievable. By the end of the week, without a particularly light foot, I had averaged 8.5 L/100km.
That being said, buyers in this segment are looking for more than brisk acceleration – and likely aren't expecting a break at the pumps. Refinement is key when you're up against competitors like the BMW 7 Series, Audi A8, and Mercedes S-Class. All of which start at a considerably higher price point.
Although it wouldn't be fair to compare lower-tier Momentum models with these plush German sedans, the T8, which is only available in Inscription, offers fit, finish, materials, and tech that may turn a few buyers.
Common to all S90s are items like heated front seats, two-zone climate control, power front seats with driver memory, 9-inch Volvo Sensus infotainment touchscreen (with 330-watt 10-speaker audio and navigation), and keyless start via a knurled chrome knob just behind the shifter.
There's a similarly textured chrome roller to select drive modes, which are a little different in the hybrid. More on that later…
Every S90 gets leather seating, which is upgraded to Nappa skins in Inscription models. Ditto for the digital instrument cluster: 8-inch for Momentum, 12.3 inch for Inscription.
As you'd expect with Volvo's reputation for safety, there's a full suite of aids that include standard City Safety auto braking that can reduce (or avoid) impact with pedestrians, cyclists and large animals. Like moose and deer, which are common here and in Sweden.
Also included are lane departure warning, run-off road mitigation, adaptive cruise control, and "Pilot Assist" which relies on it.
This semi-autonomous drive system offers acceleration, braking, and steering assistance in both city traffic and highway driving – where road markings are clear. Just activate it, and then choose your speed and time gap. It's a big step towards fully autonomous driving, but because you're still responsible for any screw ups, not to mention the system deactivates once you remove your hand from the wheel, I'm not yet sold on its practicality.
Other standard stuff includes a panoramic moonroof with power sunshade, 180-degree front camera, heated side mirrors (with memory and integrated turn signals), and power trunklid with hands-free opening.
Inscription adds more goodies than I can list here, but in a nutshell you get four-zone climate with cooled glovebox, front seat cooling with power side supports and cushion extenders, power curtains on side and rear windows, "active bending" headlights with high-pressure washers, and an Orrefors crystal shifter knob.
I like the open-pore look of the Linear Walnut wood inlays. Unlike some manufacturers, who lacquer these to the point they resemble plastic, Volvo's look like the real deal.
But in this segment, you'll need even more to compete with those six-figure sedans, so Volvo pimped my ride to nearly $92K. Options included Park Assist Pilot, heated and cooled rear seats, heated steering wheel, 360-degree camera, front seat massagers that really work, and a Bowers & Wilkins premium audio system.
The latter isn't just about power (of which there is plenty), but the sound mapping and reproduction is superb. My home audio system doesn't come close, and I found myself switching back to music, rather than podcasts and talk radio.
Another upgrade was the air suspension ($2,350), which with the skinny tires on (optional) 20-inch, 10-spoke alloy wheels, cushioned the bumps to make this otherwise taut suspension a little more forgiving.
Indeed, smoothness is the rule in this Nordic cruiser, and no matter which drive mode you select, it is difficult to note the transitions in power between its symphony of drivetrain components.
I kept it in "hybrid mode" most of the week. This default seamlessly moves power between gas and electric, front to rear, providing a balance between performance and fuel economy.
"Pure" mode is optimized for battery-only, and will run on electrons up to 125 km/h – providing you don't hammer it. Air conditioning is dialed down, and so is the throttle, but you can apparently get up to 34 km of range.
I managed just over 20 clicks, but with a light foot and accessories turned off, you'd probably hit the mark. I love the idea of a plug-in hybrid – best of both worlds – but for a PHEV to be practical, manufacturers will have to do better on range.
Does this Volvo flagship have what it takes to compete with the best in its segment? Tough question, as buyer preference can be as much about hardware and engineering as brand cachet. And Volvo has some catching up to do on the latter.
That being said, if Volvo continues to upgrade its lineup – and perception – from sturdy/safe/practical to sleek and stylish – with a Scandinavian flair – they'll be seen in a deservedly new light by the luxury buyer.
---
SNAPSHOT: 2018 Volvo S90 T8
BODY STYLE: full-size sedan
ENGINE: 2.0-litre inline four cylinder with turbocharger, supercharger and hybrid system (400 hp, 472 lb/ft – net)
TRANSMISSION: 8-speed automatic, electronically-controlled AWD
FUEL ECONOMY: 8.9/7.1/8.1 L/100km (city/hwy/comb)
CARGO: 382 litres
PRICING: T5 AWD Momentum $55,750; T6 AWD Momentum $59,300; T6 AWD Inscription $65,500; T8 eAWD Inscription $74,950, as tested (with options) $91,850
WEBSITE: volvocars.com
Recommended Articles
The roster of A-list organizations, and their representatives, did not come up short on cutting-edge thought, weighing in on everything from urban planning and global citizenry, to connectivity and artificial intelligence.
Read full story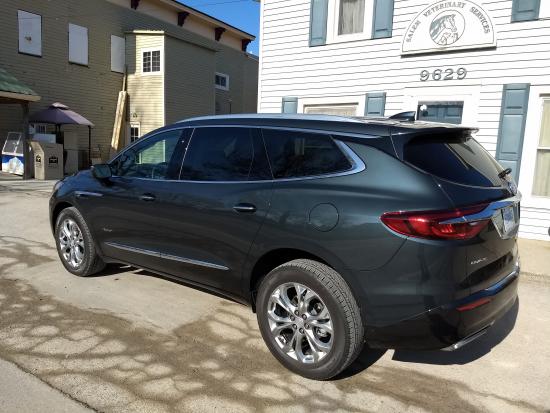 It's no wonder that small SUVs and crossovers are such big business these days. Their larger siblings, which once crammed so many suburban driveways, were more vehicle than most of us truly needed.
Read full story
Comments (0)
*Please take note that upon submitting your comment the team at OLM will need to verify it before it shows up below.