Sports
NHL post-season bringing the drama
NHL post-season bringing the drama
Photo courtesy NHLI via Getty Images
---
Here's one for the water cooler – what sort of grade would you give for this year's NHL playoffs?
If you're a fan of tight hockey and biting your nails, give it a solid A.
The numbers simply say as much. Here we sit near the end of Round 2 and already there have been 30 one-goal games.
Fans of staying up late would like this stat as well – through this past weekend we've seen 14 games go to overtime.
The drama rating is high.
But then again, numbers are numbers and generally don't tell the whole story. What happens on the ice to produce those numbers really and truly sticks out.
Frankly there have been very few games you felt compelled to change the channel on.
The first round alone created some marvelous drama, none more so than the stunning sweep by the Columbus Blue Jackets over the regular season record-setting Tampa Bay Lightning.
It was must-see TV.
Hockey fans not connected with Toronto also likely got a kick out of seeing the Maple Leafs drop Games 6 and 7 to Boston and, once again, take an early exit. (The games themselves in that series were skill showcases. It should also be mentioned that the Bruins were the favourites going in; so I'll mention it; so there).
In fact, it was a catastrophe of a first round for all Canadian hopes as favoured teams in Winnipeg and Calgary took the low road and polished up the golf clubs.
As far as drama, have you ever witnessed anything like that Game 7 between Vegas and San Jose where a mistaken call cost the Golden Knights four power play goals against during one five-minute third period major penalty?
Wild stuff.
"It's a f---king joke. It's embarrassing," Vegas forward Jonathan Marchessault said to The Athletic's Jesse Granger after the game. "That's what it is. It changed the entire outcome of the game, and the season."
The excitement over the second round certainly hasn't died down much (although I always contend that Round 2 of the post-season is the dullest).
Boston and Columbus has been as tight as that uncle of yours with short arms and deep pockets.
St. Louis/Dallas . . . well that one is headed to a Game 7.
San Jose and Erik Karlsson versus Nathan MacKinnon and Colorado has come as advertised: Run-and-gun frivolity with a nasty edge. Clearly one of this season's more entertaining showdowns.
Then there is Carolina. Don Cherry is not wrong when he describes the Carolina fan base as front-runners . . . they only buy tickets when the team is doing well.
This year it's a win-win.
The Canes out-wanted Washington in the opening round and outskated the NY Islanders in Round 2.
Carolina now has that luxury of waiting and resting to see who survives the Boston-Columbus war.
They say (whoever they are) that the Stanley Cup is the toughest trophy to win in the world of professional sport.
That might be true, but the chase for the crown is also the most entertaining to sit through.
NEWS, NOTES AND NOTIONS: Trivia time:Only one of the Top-6 regular season scorers is still playing hockey. Name him? (answer below) . . . It's hard not to be a fan of Logan Couture. He's a big-game player who shows up when it counts the most. Couture had winner written all over him from the time he showed up to Ottawa 67's camp as a 16-year-old back in 2005. Determination is the best way to describe the playoff goal-scoring leader and San Jose Shark . . . Here's a consistent crab that we get tired of in a hurry: "It's the Toronto media . . . it's all good with the Leafs." Really? I was in Toronto for the better part of 15 years. No one's harder on the local hockey club – sometimes overboard - than the Toronto media (Damien Cox, Bruce Arthur, Dave Feschuk, Stephen Brunt, etc.) . . . Boston's Brad Marchand is the only skater among the Top-6 scorers still playing.
Recommended Articles
With their first round pick and the seventh overall selection, the Redblacks selected Alex Fontana, an offensive lineman from the University of Kansas.
Read full story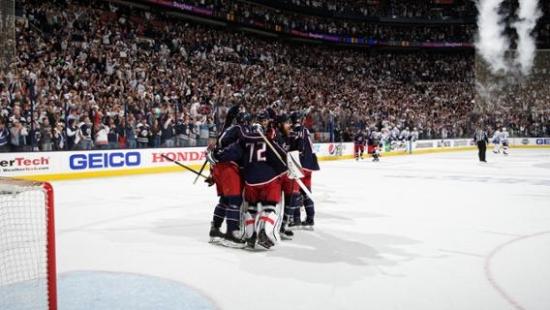 After the calamitous and catastrophic crushing of several NHL playoff favourites, as well as Canadian teams, in the opening round (which concludes this week) many are left wondering which 'side' to pick as a new team to root for.
Read full story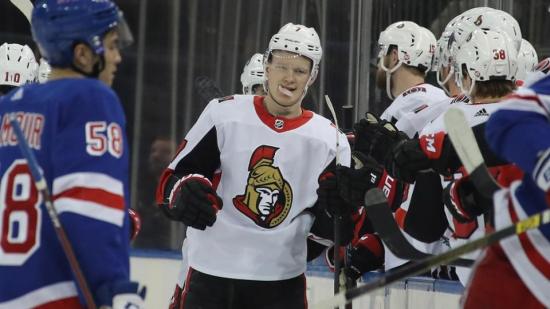 Without Anderson the Senators fall from contention would have been a lot worse.
Read full story
Comments (0)
*Please take note that upon submitting your comment the team at OLM will need to verify it before it shows up below.