Best Picks
OLM Holiday Gift Guide 2017: Gifts for the Adventurer
OLM Holiday Gift Guide 2017: Gifts for the Adventurer
Shopping for someone who's always on the go and eager to see the world? With the holidays fast approaching, OLM wants to make sure that you're prepared for the gift-giving season! Looking for the perfect gift for a loved one? We've got you covered with a roundup of some amazing products that they're bound to love!
goTenna Mesh
Using technology previously only available to the military, the goTenna Mesh lets you send SMS and GPS locations between phones using UFC radio technology. Perfect for the avid traveler, or in crowded events, goTenna lets you stay connected with your friends with family via an off-grid network that doesn't require service and won't charge you roaming fees.
The goTenna Mesh is available now at goTenna.com (with free ground shipping to Canada), in London Drugs stores, and will be coming to Amazon.ca soon and Sport Chek stores in February 2018. It's priced affordably, with a 2-pack for $249 CDN, 4-pack for $458 or 8-pack for $806.
NapAnywhere Travel Pillow
For those of us who dream longingly of flying in first class, getting sleep on a long flight might seen impossible. Thankfully, new products on the market are specially designed to make these flights for comfortable. More compact than traditional U-shaped travel pillows, the NapAnywhere Travel Pillow was designed for travelers looking for more support for their necks while on the go. Perfect for longhaul flights and road trips, with the NapAnywhere, get the sleep you need to arrive at your destination feeling refreshed and ready to go!
TravelPro Crew 11 Carry-On
Perfect for those bitten by the travel bug, take your luggage game to the next level with the TravelPro Crew 11 carry-on suitcase. Built to handle rough journeys across the world, this suitcase uses MagnaTrac™ technology for easy 360 maneuverability, and ballistic nylon and leather to handle all bumps and tosses from everyday travel.
Get a Souvenir that Doesn't Suck from Main & Local
Traveling abroad for the holidays? Keep your gifting game on point with Canadian-themed gifts from Main & Local. Known for their unique and hilarious souvenirs that everyone wants to get, Main & Local has a vast souvenir collection for four major cities in Canada (Ottawa, Montreal, Toronto, and Vancouver), a collection for Canada in general, as well as one for everyone's favourite public broadcaster, the CBC. Bring some Ottawa pride abroad with this gorgeous Ottawa Tulips mug, or immortalize your favourite Ottawa-born snack with an utterly adorable Beaver Tails pencil case.
Available online or at three locations across Ottawa: Iriving Rivers, The Gift Shop, and Milk Shop.
TOM TOM Spark 3
Tired of lugging around your phone with you on your workout? The TOM TOM Spark 3 fitness watch frees your hands of your phone and liberates you of wires with storage for up to 500 songs that you can stream to your wireless headphones. Perfect for avid joggers and fitness enthusiasts who love to explore new routes, the Spark 3's Route Exploration capability lets you freely venture through new places while out on a run, no matter where you are, and will always guide you home safely.
The Spark 3 comes packed with fitness insights, tips, and even personalized workouts that calculate your Fitness Age to help you improve.
MARVIS Travel set
Take the world with you and keep your teeth shining with MARVIS. Specially created with a natural ingredient and powdered alum, MARVIS toothpastes are designed to lift stains from coffee and wine without irritating the gums or damaging enamel. Perfect for Be sure to check out the limited edition gift set available at the Hudson's Bay Company.
SpiderHolster
You never know what you might see while travelling. Never miss an opportunity to capture the perfect moment with the Spiderholster Spiderlight Backpacker kit. The holster lets you keep your camera close at hand by attaching to your backpack or belt while also keeping your camera securely locked when you're not using it. In addition to that, a velcro and elastic strap wraps around your lens to keep it safe in place when you're on the move.
FIXD
Know someone who loves roadtripping, or do you spend a lot of time exploring the roads of Canada and beyond? Give the gift of a better understanding of vehicles with FIXD. Simply install the FIXD sensor on your car, download the FIXD app, and you'll be on your way to knowing what that Check Engine light means! The app even sends maintenance reports so you can see exactly what needs to be serviced and better care for your car.
Recommended Articles
Indulging your significant other on VDay doesn't have to break the bank. Add some heat despite the cold with these sexy gift ideas in chic winter shades, lush fabrics and yummy scents with affordable price tags.
Read full story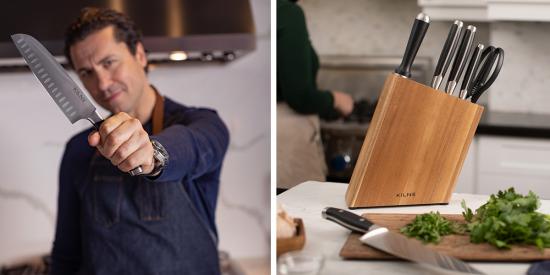 — GREAT MEALS START WITH THE RIGHT INGREDIENTS AND THE BEST TOOLS TO PREPARE THEM
Read full story
We created a roundup of gift ideas to help you find that perfect something for your four-legged friend!
Read full story
Comments (0)
*Please take note that upon submitting your comment the team at OLM will need to verify it before it shows up below.