Top 25
OLM'S Top 25 People in the Capital 2012
OLM'S Top 25 People in the Capital 2012
Ottawa Life Magazine's 2012 listing of who we think are the movers and shakers in the nation's capital. These people make Ottawa a great city to live in. Dr. Jeff Sherman, Deborah Wyatt and Jennifer Wyatt of TIPES (Thinking in Pictures Education Services) are truly heroic for the work they are doing with children who struggle with Autism. Comedy legend Mike MacDonald is in the fight of his life and has returned to his hometown of Ottawa. Veteran anchorman and political and foreign correspondent Tom Clark was an easy pick for this year's list. At a time when most political talk shows have become like afternoon soaps that are painfully farcical, with anchors talking gossip to the point where your brain starts to melt, Clark is a refreshing change. He asks the tough questions, but remains respectful and professional with guests. Others on our list of luminaries for this year include Carleton University President Roseann O'Reilly Runte, renowned Chef Jonathan Korecki, CFRA reporter Stephanie Kinsella, and internationally recognized Internet and E-commerce law maven Dr. Michael Geist. It is getting more difficult each year to select only 25, with so many talented people accomplishing so many great things but here are our picks.
by jessica huddleson, simon vodrey, harvey chartrand, dalal saikali, stephanie vizi, damira davletyarova
1. TIPES Team, Creating Futures, One Child at a Time


Working in therapy or social work, it's not uncommon to be warned about the perils of bringing your work home after hours of hearing personal stories and struggles. Those in the field are commonly advised to try not to take matters to heart.
Tell that to 28-year-old twin sisters Jennifer and Deborah Wyatt – senior therapists, co-founders and directors of Thinking in Pictures Education Services (TIPES), a comprehensive program for children with pervasive developmental disorders (PDD) like Autism. Leaving work at the office just is not an option. Overseeing their growing Kanata school, things have to get done. When the Wyatt sisters set out in 2007 to provide options for parents toiling to acquire adequate treatment for their children outside of regional service providers, the two were aware it wouldn't be an easy feat. But it would be worth every bit of effort.
"When you run a business like ours, you're never really done," says Deborah Wyatt. "If I can help a parent avoid financial trouble and try to thoroughly treat their child, I'm more worried about that than having two hours to watch television each night."
Five years later, the challenges of running an independent multi-faceted service for children on the PDD spectrum haven't ceased by any means – nor have the numbers of children in need – but the Wyatt sisters and their staff are powering full-force ahead to accommodate the hundreds of families who have sought their help. You name it, they have done it.
"The thing is, Jen and I can run into 900 different things each day – whether it's administrative, fundraising, a clogged toilet, a child who's had a bad day or a child who's done really well," says Deborah. "All of that inevitably happens, but when you're working with a child you have to stop everything else and just be patient."
At TIPES, a one-stop-shop non-profit organization for children with PDDs in the Ottawa area, the service caters to specific behavioural programs for each child who walks through their doors. In order to develop individual programs, the therapists use the revised Assessment of Basic Language and Learning Skills (ABLLS-R) system – which evaluates different behavioural categories across a broad set of skills that children should acquire at a young age. In a group setting, the therapists use Applied Behaviour Analysis (ABA) therapy through a team approach (educational consultants and therapists combined) and commonly find that many children on the severe end of the spectrum need Intensive Behaviour Intervention (IBI) – a thorough one-on-one analysis and rehabilitation effort that entails perseverance and a diligent investment in each child's case.
As dictated by the Ontario Ministry of Children and Youth Services, when a child is diagnosed as part of the PDD spectrum, the family is given the choice of the Direct Service Option (DSO), which denotes government-funded treatment from the regional service provider or the Direct Funding Option (DFO), a small subsidy given to the family to seek out the help of an independent service provider. Unfortunately, before being able to choose either option, families are placed on a waiting list that stretches anywhere from one to three years at most Ontario regional service providers.
For the families sitting in the DFO waiting line, in order to seek immediate therapy for their child during the young years when PDDs are most successfully treated, parents are forced to pay out of pocket for the independent service provider's treatments. When the child reaches the head of the DFO waiting line and is re-assessed, they may no longer qualify for funding based on the progress they've made while working with the independent service provider. If they still qualify, the DFO option provides about $39 an hour to parents, but for treatment – which most effectively is delivered at about 40 hours a week for children on the severe end of the Autism spectrum – the allotted DFO support simply isn't enough to foot the bill.
"Our primary goal since the day we started TIPES has been to provide more to parents, because we know how expensive treatment is," says Jennifer, reminiscing about her and Deborah's early days working at CHEO's parents resource centre and meeting families who had to re-mortgage houses, sell vehicles or move altogether. "To know that you're waiting in line to help your child has to be the most tormenting feeling in the world."
With staff ranging from speech pathologists to social integration experts and psychologists, TIPES attempts to cover all bases under one roof for each child, as anyone who works with children on the spectrum knows – each child's protocol is entirely different.
"We are simply trying to keep up with the number of children who are being diagnosed with some type of exceptionality," says Jennifer on the topic of the "supply and demand" challenges that their small organization of 20 staff members faces. "We never want to sacrifice the quality of our services for quantity of staff; we take our training very seriously by having our own curriculum, in-house guides, extra assignments for staff and more."
When the Wyatt sisters aren't providing therapy at their TIPES location, they can be found filling out funding applications, handling their web site, marketing and pursuing community fundraising initiatives on their own or in partnership with Minto, their corporate sponsor.
Since 2011, the Wyatt sisters have also been occupied as founders and principals of their newest entrepreneurial endeavour called Edelweiss – a private academy for children on the spectrum who are integrating into the education system. With small classes of only six or seven children, the kids are able to receive social integration support without the distractions of a public school setting – while following the curriculum suggested by the Ministry of Children and Youth Services. Edelweiss' numbers have doubled since it was founded.
"We were finding that some children would be fine academically, but needed recess support and help with integration as they got older," says Deborah. "At Edelweiss, we can teach the same things and work towards the same education system goals, but pay more attention to the children with exceptionalities."
It's no surprise that the late-twenties entrepreneurs and therapists laugh at the prospect of free time.
To the sisters, grueling schedules amount to gratifying results. When Mohan Aravanudhan enrolled his four-year-old son in TIPES, the child's non-communicativeness had been insufficiently diagnosed by a regional service provider and he had nearly "faded away" as part of a private school that was seemingly unwilling to assist with his exceptionalities in the classroom. After two years with TIPES, Mohan's son is communicative, happy and "blooming more day-by-day," according to his father.
Jeff Sherman, a 30-year veteran clinical psychologist who helped develop one of the first multi-faceted treatment programs for children with Autism and other PDDs, clicked with the Wyatt sisters after crossing paths with them in 2008 and has been providing services at TIPES ever since. He has seen and been a part of the battles fought to provide proper opportunities for families within this "relatively new" field – investigating treatment options and methodology since the ABA system's early development while he began his career in late-1960s Toronto, and his first implementation of the IBI program in the 1970s.
"In the early days of ABA, we realized it wasn't just for us to teach these kids –we had to teach their parents as well," says Sherman. "Not only did we find that the children needed to be worked with in small groups, but we found that the therapy would last longer if the parents were prepared as well."
One of the areas Jennifer Wyatt recognized to be crucial during her early years of study was exactly this – attention to the parents; the people who are putting so much at stake to help their child(ren). While both sisters went through the United States education system to receive proper education in ABA, Jennifer ended up changing her Masters focus to psychology as well as counseling – preparing herself to support parents who are not only grieving their child's diagnoses, but also the trying times that accompany them.
"You always have to worry about the family as a whole and demonstrate sympathy for what they're going through," says Jennifer. "I take time with them to ask how they're doing; if the parents aren't in the right frame of mind, they aren't able to do their part at home, which is equally important."
Although the staff at TIPES always have new work cut out for them as the numbers in Autism rise (currently, one in 88 children are diagnosed as autistic) – it's clear when speaking with the Wyatt sisters that they are more sure of their mission than ever. According to Dr. Sherman, whose four decades as a therapist have granted him a wealth of perspective on the profession – more than the ability to deal with the financial and systemic hardships, "success" in this field boils down to a certain spirit and compassion.
"It's not about just having the resources but knowing what to do with the resources," says Dr. Sherman. "It's about the things you can't teach; it's about seeing the glass as half full, working with people who have a love of children, who have empathy and who try to change what they can."
With sentiments like this, it's unmistakable that the Wyatt sisters are in the right line of work.
2. Georgiy Mamedov, Dean of the Diplomatic Corps in Ottawa Is Respected and Known for his Candor
Georgiy Mamedov has been Russia's Ambassador to Canada for almost a decade. During his tenure, he deftly managed Canada-Russia bilateral relations to the point that the two countries, once adversaries, are considered good friends. Among the diplomatic corps, Mamedov is an especially popular ambassador who is known as a listener and someone who gets things done. In recent months, he has defended Russia's political position on Syria, which is contrary to the Western position, but he has done so without making excuses for or defending the Syrian government. It is this type of leadership in explaining the Russian headspace that has led to Canadian civil servants and politicians singing his praises. Foreign Affairs officials in Ottawa say that because Mamedov is so candid about Russian positions that even when they disagree with him or the Russian government, they respect his transparency and at least know where they stand. An academic by training with a Ph.D. in history, Mamedov speaks fluent English and Swedish. He is recognized as one of Russia's foremost authorities on the United States and Canada. In the early 1990s, he served as Russia's chief interlocutor with the United States on such subjects as NATO, arms control and Kosovo.
Earlier in his career, he served in the Ministry of Foreign Affairs of the USSR. In 1991, Mamedov became Russia's Deputy Minister of Foreign Affairs in charge of the relationship with the countries of the Americas, and he occupied this position until 2003. Mamedov is recognized as the key Russian official who helped persuade Washington to proceed with NATO expansion slowly, and was one of the key officials who reassured the Americans when President Boris Yeltsin sent tanks to besiege the Russian parliament during the 1993 constitutional crisis. Mamedov helped broker a deal under which Ukraine gave up all the nuclear weapons it had inherited after the breakup of the Soviet Union.
Mamedov arrived in Canada prior to the U.S. invasion of Iraq and made immediate headlines when he declared in interviews that the United States was making a "tragic error." "If Washington decides to ignore the UN Security Council, to violate the UN Charter and invade Iraq, this will be a tragic error from the side of the U.S.A. Russia categorically rejects any ultimatums regarding Iraq. In Russia we consider that Iraq constitutes neither a threat to the U.S.A, nor to the international community, nor to its neighbors. Russia will not participate in a campaign of pressure or threats, directed at changing the regime in Iraq." When asked what Russia would do if there were a U.S. military operation, Mamedov replied: "We will not gloat over a tragic mistake by the United States." With the benefit of hindsight nine years later, Mamedov's comments seem prophetic. Mamedov noted that when he arrived, the big "local" issue was the problem with Russian diplomatic plates and parking tickets and bad driving behaviour. Since his arrival, the Russian Embassy has the best record of no traffic violations in the diplomatic corps. Mamedov was insistent that local police and road rules be respected. It is this kind of leadership that has been the hallmark of his service here, whether it is speaking up about the need for Canada and Russia to develop joint Arctic relations, the work to bring Canadian business to Russia or his many meetings with Canadian officials and Prime Minister Stephen Harper to build stronger ties between the two countries. When asked about the girl band Pussy Riot, he said that the two-year sentence the girls received was the same type of sentence that would have been given out by Sweden or Germany or France for similar offences. "We are a young country and we have worked hard to respect religious tolerance and freedom. What they did upset many Christians and Orthodox people. This is not about Vladimir Putin or government. It is about religious respect and not defiling a church." When asked about the case of the Canadian naval officer from Halifax who was arrested in 2011 for passing military secrets to the Russians, Mamedov said "We are innocent. This is not true. Canada is not and never is an enemy of Russia. We are friends. In the future, these truths will come out but we are innocent. The world is complicated and there are many challenges but I feel I am dealing with good people in Canada. You know, we are only 20 years old as a new country that grew out of a totalitarian regime. We are prepared to learn. We accept that we don't have all the answers. I have travelled all over the world and seen many things and had a very wonderful career. But I find in Canada an openness in the attitude of the people. I don't feel like a foreigner here. I don't get lectured here. Canadians listen and they are respectful and we try to talk things through."
3. Dr. Judy van Stralen, Finding New Ways to Help Hyperactive Children
Dr. Judy van Stralen, the Ottawa pediatrician who runs an innovative and groundbreaking consultancy-based practice in the southwest end of Ottawa, says, "ADHD greatly affects a person's day-to-day life and has a substantial impact on their day-to-day functioning." About 1.2 million Canadians, or roughly 5 per cent of the Canadian population, have been diagnosed with Attention Deficit Hyperactivity Disorder (ADHD). Heredity is one of the strongest determinants of whether or not someone will have ADHD. For instance, upwards of 60 per cent of those who have ADHD will pass the neurological condition on to their children. As a result of the strong role that heredity plays in determining the presence of ADHD, it should probably come as no surprise that ADHD remains the most common neurological condition among Canadian children, manifesting itself through a number of symptoms which include hyperactivity, inattention, constant distraction, increased frustration and, sometimes, higher-than-normal levels of aggression. Like many neurological conditions and mental health disorders, the symptoms and effects of ADHD fluctuate as one ages. If a child has ADHD that remains untreated, a combination of the symptoms mentioned above have been known, by adulthood, to prevent many ADHD sufferers from living a structured and full life. Inattentiveness and the inability to regulate emotions may mean that a disproportionate number of ADHD adults will face divorce, marginal employment or unemployment, legal challenges or higher rates of incarceration. There may be a greater likelihood of contracting sexually transmitted diseases or falling prey to substance abuse due to a propensity for risk and erratic behaviour. Dr. van Stralen specializes in treating children with ADHD. Unlike many pediatricians, she sees a problem with the status quo method of treatment for this neurological condition. Dr. van Stralen sums up the difficulty with the traditional long-held method of treatment by stating that "when it comes to pediatric, behavioural and mental health work, the status quo is quite heavy on diagnostics. And therefore, treatment becomes very focused on medication. However, medication is only a part of the picture when it comes to working with behavioural problems." Furthermore, she explains that: "Diagnosis is only a tool to identify the problem; as a pediatrician, you need to be able to get beyond mere diagnosis. There is much more that needs to be learned about a child and his or her case in order to be able to better treat their ADHD." In other words, Dr. van Stralen takes issue with the traditional approach to treating children with ADHD which is overly diagnostically-driven and which often relies solely on medication. She also thinks that the traditional model is ineffective because the patient is often referred to a series of specialists for a single visit, therefore resulting in a very superficial form of treatment lacking any real interaction between the patient, his or her parents and the medical practitioner. Or, as she puts it, each referred practitioner "works in a silo with little understanding and integration for a comprehensive approach." What this means is that, in her eyes: "The current system of treating ADHD and related behavioural disorders really works in a fragmented way." After treating ADHD children for more than a decade, Dr. van Stralen is confident that she has developed the tools and expertise necessary to reshape her existing pediatric practice in a manner which counters the current fragmented system and offers a more comprehensive, hands-on and patient-focused approach. Beginning this fall, she will revitalize her practice by establishing a more holistic approach for treating children with ADHD. Dr. van Stralen will develop a personalized three-month program in which she will work one-on-one with the child and the parents, relying on numerous medical appointments and sessions to provide strategies on topics such as parent-centered behavioural approaches, medication information and education about ADHD, coping with emotional irregularities and social skills training. And, for the duration of the child's treatment, she will be constantly accessible to the parents or patient for feedback and support. Her new and interactive approach to treating ADHD in children will culminate in the production of a detailed case-specific report that will "highlight recommendations that could be used by the parent for further advocating for their child" and for treating the neurological condition. When characterizing how her approach would work, Dr. van Stralen indicates that: "It is a very interactive approach with the goals of the patient and their family always kept in mind and driving the treatment." She expands upon this by insisting that "When doing this kind of work, you need to have a flexible approach to meet the family's and the patient's goals."
Dr. van Stralen is also deeply committed to "destigmatizing ADHD and other neurological conditions and behavioural disorders." She notes that: "It is unfortunate that, in this day and age, ADHD and other mental health conditions continue to carry a stigma." She works hard to vanquish that stigma through a number of avenues including her research, writing and the Ottawa ADHD Symposium which she founded six years ago in an effort to jumpstart the medical profession's research and treatment of ADHD. Dr. van Stralen also continues to provide annual public forums to "further educate the public about this mental health issue." These noteworthy achievements notwithstanding, Dr. Judy van Stralen sums up her proudest achievement as being "the instances when my work has allowed me to put a smile on the face of a child who was unhappy or when I have found out that a patient received her first invitation to a schoolmate's birthday party, therefore signaling that my patient was no longer being ostracized by her peers because she has ADHD."
4. Chef Jonathan Korecki, Putting Ottawa on the Food Map
Look into Chef Jonathan Korecki's eyes while he speaks, you might be blinded by his sheer passion for the culinary arts. In hearing Chef Korecki describe the ambitions and standards to which he holds himself, it's difficult, even for a foodie, to imagine the depths to which the simple act of feeding someone can be taken. Sidedoor Contemporary Kitchen & Bar's very own head Chef was a finalist on Season 2 of Top Chef Canada on The Food Network. His signature bright, hand-made bandanas and his impeccable flair to extract the very best out of every ingredient in his basket are inspiring. Chef Korecki's favourite aspect of that experience, beyond the excitement, is the cooking family that he now has all over the country. Having been raised in a farming family, Chef Korecki learned all about our food sourcing from the word go. From the age of 16, he worked his way through the kitchen roster. He then learned his technique at the Cordon Bleu Culinary Arts School and dove right into the fire pit, crafting his experience at Susur in Toronto. What comes next for this young talent? More exploration into the culinary world. "I just want to travel around Asia and taste everything I can." Providing exposure to constant learning, he believes, is a responsibility he has as Head Chef, which is why he also intends to have more guest chefs cook with his team in the future. He sees Ottawa's potential to be an obligatory stop on Canada's food circuit and will do his part to make that happen.
5. Carleton University Excels under the Stewardship of Dr. Roseann O'Reilly Runte
Dr. Roseann O'Reilly Runte is the President and Vice-Chancellor of Carleton University. She previously served as President of l'Université Sainte-Anne in Pointe-de-l'Église, Nova Scotia; Principal of Glendon College in Toronto; President of Victoria University in the University of Toronto; and President of Old Dominion University in Norfolk, Virginia. Dr. Runte is the author of many scholarly works in the fields of French, comparative literature, economic and cultural development, higher education and the importance of research. As well, she is a creative writer and has received a poetry prize from the Académie française in Paris. Dr. Runte has been awarded the Order of Canada and is a Fellow of the Royal Society of Canada. She took up her current duties at Carleton University on July 1, 2008. "Carleton has always enjoyed a great international reputation, but we're probably boasting about it a little more now than before," Dr. Runte says. "We have the only African Studies major in Canada. The Norman Patterson School of International Affairs is number two in the world in international schools. And we have big programs running out of universities in India and China." Dr. Runte discussed the goals that were achieved in the 2009 DEFINING DREAMS strategic plan for the university. "We have a huge interdisciplinary range of activities on the campus – and we focused on four areas: the environment, health, digital media and globalization. We have many new programs. In fact, in the last four years, there were more new academic programs created than in the last dozen years. The university has gone from one that had a low retention rate to one that is above average in retention. In fact, we've gone up 39 per cent since 1994." The spirit of innovation at Carleton has spurred entrepreneurship. In the last several years, over 200 businesses have been started in Ottawa with the involvement of Carleton University. "We are really entrepreneurial. We will set up businesses, but we are entrepreneurs with a heart. We want to do social entrepreneurship and social investment, not only providing donations for people who are homeless but actually helping them start businesses." A noble ambition. "With several new buildings just opened on campus, the university is prepared to serve its growing cohort of students with an innovative mix of courses offered by award-winning faculty from around the world."
6. Walter Robinson, A Flair for Charitable Work
Walter Robinson is Vice-President of Government Affairs at Rx&D, the trade association which represents the Canadian innovative (non-generic) pharmaceutical industry. Robinson has been involved in politics and lobbying for over 20 years. From 1997 to 2003, Robinson was the federal director of the Canadian Taxpayers Federation (CTF) — a leading lobby group which advocates lower taxes, fiscal responsibility and transparency in government. But it is Robinson's extensive history of charitable work that distinguishes him from many of Ottawa's other lobbyists and political insiders. Michael Allen, President and CEO of United Way Ottawa and the man who Walter Robinson considers his role model and mentor, notes that "Walter Robinson has been able to bring his flair and panache to Ottawa's charitable landscape." Robinson explains that, "I don't believe in giving back. I just believe in giving." To this end, he was the Chairman of the Board for the Ottawa Regional Cancer Foundation (ORCF) from 2006 to 2008 and continues to serve as a board member of the Youth Services Bureau of Ottawa Foundation, while also remaining active with the Ottawa Hospital Foundation. Of all Robinson's accomplishments, there is one of which he is most proud: his work as Chairman of the Board for the ORCF, working with hundreds of others to build the Maplesoft Centre, Eastern Canada's first survivorship centre for cancer treatment and support which opened its doors in November 2011.
7. Stacey Bafi-Yeboa, Designer, dancer, businesswoman
Bafi-Yeboa is the owner and designer of Kania, a women's street-style clothing line. Kania is an Ashanti word which means light. Bafi-Yeboa said she chose this name because she wants all women to feel radiant in her clothes. You can find the designer at her boutique at 145 York Street in the ByWard Market. Kania clothes are made of a custom blend of cotton-lycra, which is custom dyed in vibrant, monochromatic hues. This comfy stretch-fabric is turned into stand-out pieces in stylish silhouettes, such as the ever-popular jumper, wrap sweater and maxi-dress. Bafi-Yeboa's first love is dance, which she left in her twenties to pursue fashion, but she said it still dictates her designs. "I'm inspired by movement, being able to be free in my clothes...to make a line that women can always look good in." Bafi-Yeboa stands out among Ottawa's handful of budding designers, successful because she is business-savvy and professional. She struggles to be recognized for her work in Ottawa. "My dad would always tell me: 'You're never successful in your own city. You have to get out in order to be known.'" Bafi-Yeboa said she sometimes feels overshadowed by designers who come from outside Ottawa to show their work. "[People say] Oh yeah, Stacey's good, but this guy is from Toronto! I was invited to show at Toronto Fashion Week and Montreal Fashion Week." Bafi-Yeboa travels the craft-show circuit to sell Kania, at shows like the One of a Kind Show in Toronto. This is where she does most of her business. If you know the multi-talented thirty-something fashion designer, you know she likes to have a good time. Past runway shows at Ottawa Fashion Week have included Caribana-esque dancing models, headpieces and music. "When I do a production, I do a production...I want it to be Broadway-calibre, with style and performance quality. I cannot for the life of me just put girls in clothes and have them walk. It makes me crazy." Bafi-Yeboa's vivaciousness also shines at Flaunt, her biannual charity event. Bafi-Yeboa brings the fashion, fitness and beauty communities together to pamper guests in a club-like atmosphere. This year, Bafi-Yeboa has been working on rebranding Kania. She renovated her boutique, changed her promotional materials and, more importantly, added sequin dresses to her design repertoire. "It's now time to not just make clothes, but to create a brand. That entails labels, tags, boxes, images, music and a lifestyle." Bafi-Yeboa plans to show at Toronto Fashion Week, hinting at Fall/Winter 2013, and hopes to sell Kania internationally. She is a testament to the potential for Ottawa's fashion industry, insisting you have to "work it to be successful."
8. Gilbert Whiteduck, First Nations Firebrand
A quiet confidence emanates from Chief Gilbert Whiteduck's eyes and the way he carries himself. His gentleness is almost startling in contrast to his tough, passionate discourse during difficult meetings. Whiteduck, Chief of the Kitigan Zibi Anishinabeg First Nations Reserve near Maniwaki (Quebec), sometimes appears uncomfortable with the process that is occasionally necessary to move forward in his work: expensive flights and endless meetings that seem devoid of purpose. Progress, however, is echoed in the voices of those around him: "He is the most cooperative and caring Chief that I've ever seen," says one young student, "and I know that I can count on him after he's moved on." Perhaps without knowing it, Chief Whiteduck is a source of inspiration for many, in and out of the Aboriginal community. His successes provide hope for those who want to improve their lives and the lives of others. To remain grounded in the face of frustration, he digs deep into his convictions, secure in his identity. Belonging to a community that is independent and rooted in its beliefs gives one the confidence to live without ever feeling below anyone else. To today's youth, he suggests finding balance. "Be strong and proud of who you are while embracing the tools of modern life." With Chief Whiteduck, it comes down to values. Seldom do we see such a man with enough courage to take a sober look at himself and wonder: "What did I do for my community today? Whose life will be improved as a result of my work?"– a lesson that all community leaders would be best served by heeding.
9. Mike MacDonald, Ailing Comedian Raises Awareness of Importance of Testing for Hep C
For a 57-year-old Ottawa comic in need of a new liver, Mike MacDonald is in a good space these days. Comedians across Canada are holding fundraisers for Canada's legendary King of Stand-up Comedy, raising money to help MacDonald pay his medical bills as he battles the Hepatitis C virus that he contracted in 2011 while living in Los Angeles and that is destroying his liver. MacDonald has returned to Ottawa and is staying at his mother's house while he is undergoing treatment. The comedy community has come together to help him. A recent tribute at Montreal's Just for Laughs Comedy Festival was held as well as a national fundraiser at Yuk Yuk's comedy clubs across Canada. MacDonald is not yet on the waiting list for a liver transplant and so he is following a special diet and exercise program to get in better shape. "I'm feeling great right now," MacDonald stated. "I feel way better than I did a year ago.
I've been doing these intensive therapy sessions. It's brand-new technology. The main thing is I'm maintaining." MacDonald is not sitting by the side lines. He is using his experience to raise awareness about Hep C and emphasizing the importance of getting tested. He has even done a TV spot for the Canadian Liver Foundation.
10. Tom Clark, Covering the West Block in a Seriously Non-Partisan Way

Host of Global Television's The West Block with Tom Clark, is one of a handful of journalists able to broadcast a popular political news and public affairs program which captures viewers' attention and positive ratings, holds public figures to account and sheds light on complex issues that affect Canadians, while remaining even-handed and non-partisan in its coverage. With a family history that is closely tied to the craft of journalism as well as nearly 40 years of experience covering some of the most significant stories that have shaped our world, Clark likens being a good journalist to being a keen observer of others and a creative storyteller. He states that, "as a journalist, you get incredible access to history as it is unfolding," noting that "I have spent my professional life witnessing the achievements of others. I have been witness to some of the best and some of the worst of humanity." Covering the fall of the Berlin Wall from inside East Berlin and the protests in Tiananmen Square, reporting from the desert of the Persian Gulf during Operation Desert Storm, and covering every Canadian general election since 1974, Tom Clark has seen history in the making and has reported it back to Canadians. Yet he stresses that, as significant as these events and others may be, they would have no meaning without character. For, "in journalism, titles do not matter. It is character that matters." It is what is required to bring a story to life. He maintains that, "I like covering character best. It exists in all walks of life and in all corners of the globe." The key to being a good journalist, Clark notes, is curiosity. He argues that, "To be a journalist you have to be curious about everything. You can't be a cynic but you have to be skeptical. There's a huge difference between the two."
Dr. Michael Geist, Probing the Legal Ramifications of the Electronic Frontier
A law professor at the University of Ottawa, Dr. Michael Geist is Canada's foremost expert on Cyberlaw and holds the coveted Canada Research Chair in Internet and E-commerce Law. He is an internationally syndicated columnist on new technology legal issues with his regular column appearing in the Vancouver Sun, Toronto Star and Ottawa Citizen. He is also a frequent guest on the BBC. Dr. Geist is the editor of several monthly technology law publications, and the author of a popular blog on Internet and intellectual property law issues (www.michaelgeist.ca). Dr. Geist serves on the Privacy Commissioner of Canada's Expert Advisory Board, the Electronic Frontier Foundation Advisory Board, and on the Information Program Sub-Board of the Open Society Institute. He was also a board member of the Canadian Internet Registration Authority, which manages the dot.ca domain, for six years. Dr. Geist has received numerous awards for his work, including the Electronic Frontier Foundation's Pioneer Award and Canarie's IWAY Public Leadership Award for his contribution to the development of the Internet in Canada. In 2010, he was listed globally as one of the top 50 influential people in regards to intellectual property by Managing Intellectual Property magazine.
Thomas Mulcair, The Rising Opposition Leader Who Is Eclipsing the Liberals
On March 24, Quebec lawyer Thomas Mulcair was elected Leader of the New Democratic Party (NDP), thereby becoming the Leader of the Official Opposition in Canada's 41st Parliament. Prior to his election to the House of Commons in 2007, Mulcair served as a Liberal member of the National Assembly of Quebec. In the spring of 2007, Mulcair announced he would make the transition to national politics and would do so with the NDP rather than the Liberals. As Leader of the Official Opposition, Mulcair has had to lead a federal official opposition party which consists of many political neophytes, while holding the government's feet to the fire. It would be difficult to argue that Mulcair has not lived up to this task. For now, the NDP has done a decent job consolidating the anti-Conservative vote coast-to-coast. Mulcair argues that natural-resource exports are pushing up the value of the loonie and hurting manufacturing exports. This notion has a long-standing name, Dutch disease, a concept that explains the apparent relationship between the increase in exploitation of natural resources and a decline in the manufacturing sector. Mulcair's Dutch disease explanation hurt the NDP's fortunes badly out west and turned Alberta and Saskatchewan against him.
Stephanie Kinsella, Scoop du jour
In grade three, Stephanie Kinsella carried a cassette recorder, pen and a pad of paper to her school's career day. Today, Kinsella, 31, has come full circle and is the City Hall reporter at CFRA News Talk Radio. She spends her days at City Hall, attending meetings, interviewing politicians and scouring her BlackBerry for the latest local breaking news. Kinsella works on multiple stories at a time and reports her observations every hour on the radio. "I'm pretty much of a fixture at City Hall," she says. It's a role she has happily filled for four years. Kinsella began her career at CFRA in 2008, the same year as Ottawa's infamous transit strike. She said this story took over her life. She broke the news when the strike was finally over. This is the journalistic scoop she is proudest of. Kinsella said the life of a journalist is 24/7. Far from City Hall, Kinsella found herself sitting under a palm tree in Jamaica with a laptop, scrolling through Ottawa's local news on a recent vacation. "I just want to know. I want to keep up-to-date so that when I come back and I'm covering it again, I don't want to be behind the curve."
Calinda Brown, Champion of Affordable Housing
Calinda Brown is president of the Centretown Citizens Ottawa Corporation (CCOC), a private non-profit housing corporation and an innovative community leader. CCOC owns and operates over 50 properties in the City of Ottawa, providing 1,500+ units of affordable housing. "CCOC makes it possible for low-income earners, as well as people facing challenges such as health, abuse or addiction problems, to have their basic right to secure housing met. CCOC caters to a range of circumstances, providing affordable homes for singles, seniors, families and friends. "We're more than a landlord. CCOC is a caring community of individuals – staff, volunteers and tenants – who participate actively in Centretown issues like Rescue Bronson and the Centretown Community Design Plan and speak up to promote good local transit, safe and accessible sidewalks, local food and affordable recreation." Brown is a legislative assistant in the office of Jean Crowder, NDP MP for Nanaimo-Cowichan.
Chris Philips, Big Rig Brewery Owner and Senators Defenceman
As one of the longest-running players for the Ottawa Senators, 34-year old defenceman Chris Phillips definitely deserves a place in our annual Top 25 list. Born in Calgary and raised in Fort McMurray, Alberta, Phillips now lives in Ottawa with his wife, Erin, and their three children: Ben, Zoe and Naomi. He began his career in 1993 with the Fort McMurray Oil Barons and, in 1997, after a few stints in the Western Hockey League, joined the Ottawa Senators. He recently celebrated his 1,000th game with the Sens. Phillips' dedication to our city makes us proud. Let's put it this way: if some of us are proud to call Daniel Alfredsson the mayor of Ottawa, Chris Phillips is our very own deputy mayor. A testament to his love for the city is his founding role in the creation of Big Rig, Iris Avenue's Ottawa-themed brewery. The Phillips' contribution to Ottawa doesn't stop there. The family is involved with local charities such as the Snowsuit Fund Golf Classic, Hockey Fights Cancer and the Ottawa Dragon Boat Foundation.
Hélène Campbell, Medical Marvel
Canadian heartstrings got a monumental tug last January when a young Ottawa woman's message went viral worldwide, thanks to Justin Bieber and The Ellen DeGeneres Show. Hélène Campbell, age 20 at the time, badly needed a lung transplant. In Ontario, where 1,500 people await an organ transplant, one person dies every three days as time runs out. The fact that only 21 per cent of Ontarians were registered donors in January 2012 did not faze young Hélène. On January 16, she launched a plea for friends to tweet Canadian pop sensation Justin Bieber to shed light on the issue. Bieber responded and the story exploded all over the media. Talk show host Ellen DeGeneres, who surprised Campbell by Skyping with her on live television, has promised to have her on the show for a dance. Despite the pain, the potential outcome of her state and having the family separated while she waited for a transplant in Toronto, Hélène did not stand idly by. Her activism to raise awareness about organ donation, which will have no effect on her own situation whatsoever, resulted in a skyrocketing increase in organ donor registrations. This story is one of great courage, unwavering faith and indubitable personal strength. Visit www.beadonor.ca
Imam Samy Metwally, Progressive Ottawa imam, urges Muslims to be good citizens
Samy Metwally, who is celebrating his first year as imam of the Ottawa Mosque, the city's main house of worship and home to the largest Muslim community, said while many Muslims are making positive contributions to society, they need to do more. The city's leading imam is urging Ottawa Muslims to appreciate the freedom of religion and worship they enjoy in Canada, and strive to be good citizens. Metwally also exhorts Muslims to become actively involved in the life of the larger Canadian society. ""I have a mission of building bridges, helping the Muslim community to know the moderate approach of Islam and coexist with the wider community like we have here in Canada," he says. "I am totally against isolating ourselves from the communities in which we live, and I urge Muslims to participate actively in society." Metwally has also unequivocally condemned so-called "honour killings", saying the practice speaks to a perverse sense of honour that is alien to Islam, and has no place in any society. Metwally is an Egyptian Islamic scholar with a degree in Christian-Muslim relations. He graduated from Egypt's renowned Al-Azhar University in 1998 and then worked as a religious translator.
His Excellency Archbishop Pedro Lopez Quintana, Apostolic Nuncio to Canada since December 2009, is an ambassador who speaks to the Canadian government on behalf of the Holy See directly representing Pope Benedict XVI, the Bishop of Rome, and liaising with the Roman Catholic episcopate in this country. Born in Barbastro, Spain, in 1953 and ordained to the priesthood in 1980, Archbishop Quintana entered the diplomatic service of the Holy See in 1984. In 1998, he was appointed to the position of the Assessor for General Affairs for the Secretariat of State of the Holy See and in January 2003 was ordained Bishop. Over the years, he has served in the Apostolic Nunciatures of the Philippines and Madagascar and as the Titular Archbishop of Acropolis as well as the Apostolic Nuncio to India and Nepal. The multilingual and affable Archbishop Quintana has lived in numerous countries during his continuing tenure with the Holy See. He notes that: "Many parts of my heart have been left in different countries." Archbishop Quintana's father was a military man and his family moved frequently as he was growing up. He was able to learn how to adapt to his surroundings.
Khadija Haffajee, Driving Muslim Women's Agenda
Khadija Haffajee is a retired teacher, an activist and a leader in Ottawa's Muslim community. She left her home country of South Africa for Ottawa almost 40 years ago. Since then, she has become a figurehead for Canadian Muslim women at home and abroad. Haffajee is the first female elected to sit on the board of the Islamic Society of North America – the largest Muslim organization on the continent. Haffajee has given public presentations on religion, women's issues, multiculturalism and children's rights. She has lectured in Malawi, Zimbabwe and Jordan. Haffajee's activism took her to Pakistan, where she worked with refugees. As a member of an international Muslim women's NGO, Haffajee attended the United Nations Conference on Women in Beijing in 1995. Haffajee deeply believes that in order to see a change in the world and to break limiting stereotypes, Muslim women must take matters into their own hands. And that is precisely what she did when she moved to Ottawa.
Stuart Kinmond Follows His Dream
After 25 years in the architectural business, Stuart Kinmond was successful but not fulfilled. Upon returning from the funeral of a friend who had died suddenly, Kinmond decided that he too could go just as quickly. The following Monday morning, at 50 years of age, he announced to his office that in the tug-of-war between his career and his heart, the heart won. He was going to fill his time with what felt right: "doing art". Kinmond's most recent show, Golden Gate Variations, held in San Francisco, is the result of his many visits to the Bay Area and his foray into the world of digital art. Although painting still nags at him, he plans to just follow his nose to whatever is next. Despite the difficulties that are usually present in any artist's life, Kinmond firmly believes that he made the right choice all those years ago. When asked what advice he would give? Just find a way to do what you truly love.
Bob Monette, East End Councillor, Sees Beyond the Needs of his Ward
Bob Monette has served as city councillor in the Orléans ward since 2006. In 2008, Monette pushed to reduce the number of discarded needles and crack pipes in the downtown area, far from his ward. "If I'm downtown, or my children are downtown, I want them to feel as safe as possible." Monette said needle drop-off boxes across the city have helped to solve the problem. Monette, 60, said he loves meeting with people and making things happen. If he gets an idea in his head, he doesn't take "no" for an answer. After nine months in office, Monette was re-elected with a 70 per cent majority in a by-election. He decided during that term he would work to install an auxiliary police force. The police chief at the time, Vince Bevan, rejected the idea. Bevan retired in 2006, and Monette joined the Ottawa Police Services Board. The new chief, Vernon White, loved the idea and the auxiliary force is still going strong today. Monette plans to increase employment opportunities in Orléans. He said he would like to see his constituents find work in their own backyards. "Let's make Orléans the destination of choice, not only for festivals and living, but for working."
Jennifer MacKinnon, A Success Story You Can Believe in
There is no magic bullet solution to attain success but for one Ottawa woman, courage and positivity hold the answer. Meet Jennifer MacKinnon – mother, survivor of the big technology bust and successful entrepreneur. MacKinnon is a quintessential networker and in her journey has met many wonderful women in the city that others don't hear about. So she launched oWow (Ottawa Women of Wonder), a column where she highlights the accomplishments of these women and, most importantly, gives other women attainable success stories they can believe in. And she balances her life brilliantly to boot. When asked how she does it, her answer is to be the architect of one's own life. "If, for example, working part-time makes you happy, find a way to make it work!."
Robyn Bresnahan, Ottawa Ga,l is Top of the Pops
Carleton Grad Robyn Bresnahan is the popular (and new) host of Ottawa's number one morning radio program, Ottawa Morning. When she was in her final year at Carleton University's School of Journalism in 2001, Robyn joined CBC Radio in Ottawa as a reporter and Ottawa Morning Associate Producer. After a year in London, England, she moved back to her hometown of Calgary to work on the CBC afternoon show The Homestretch. She regularly filed national news stories for CBC Radio One, and produced documentaries for The Current, Definitely Not the Opera and The Sunday Edition with Michael Enright. For the past six years, Robyn had been working for the BBC World Service in London as a host and Senior Broadcast Journalist. She began with World Today, and over the years has hosted every day-time show on the World Service, including the Sony Radio Academy Award-winning Newshour. Her work has taken her to the heart of some of the biggest stories in the world, which she reported for radio, television and online. In 2010, Robyn was nominated for a prestigious Peabody Award for the work she did in the aftermath of the BP oil spill in the Gulf of Mexico. Since taking the helm at Ottawa Morning, she has retained the show's number one spot with her quirky and interesting interviews, fun personality and obvious passion for everything Ottawa
Jim Watson, Steady Wins the Race
Ottawa Mayor Jim Watson is having a good run. The city is being managed efficiently for a change. Budgets are in order. Bike lanes are on track. The Light Rail Transit project is underway. City infrastructure is being repaired after years of neglect. There is a general consensus that the city is running like a well-oiled machine. Watson makes being Mayor look easy, which it most certainly is not. Watson is thoughtful, respectful and always willing to listen. However, he has his own priorities which he is quietly and effectively implementing. On most issues Watson would be graded at B+ to A- rating. The surprising exception is his record as Mayor on disability issues which gets a failing mark. The barriers to persons with disabilities in the capital is a national and moral embarrassment. Watson should do something about this situation.
Peter Chase, Proud Manager of Hot Ottawa Brewpub
Fortunately for thirsty Ottawans who want more than average store-bought suds, Mill Street Brewpub opened its doors last winter in the historic space beneath the Portage Bridge. Eight months after opening, Helen Griffiths, Director of Operations for Fab Concepts, which operates Mill Street Breweries in Toronto, still appears excited by the project. The old Thompson-Perkins & Bronson Pulp Mill needed extensive work to match Fab Concepts' already high standards, along with municipal and provincial regulations. The end result is a stylish yet casual space, which can only be described as stunning. The menu is varied, the beer is fresh and delicious. Eleven wedding receptions have already taken place in the beautiful Brewmasters Room. Peter Chase is the brewpub's proud General Manager. His team, which varies roughly between 100 and 130 employees, describes him as efficient and dedicated. Chase intends to continue the Mill Street tradition of charity: the establishment donated $10,000 to the Children's Hospital of Eastern Ontario (CHEO) in July through its fundraising initiative during Bluesfest. Cheers to the philanthropic foodie's dream!
Recommended Articles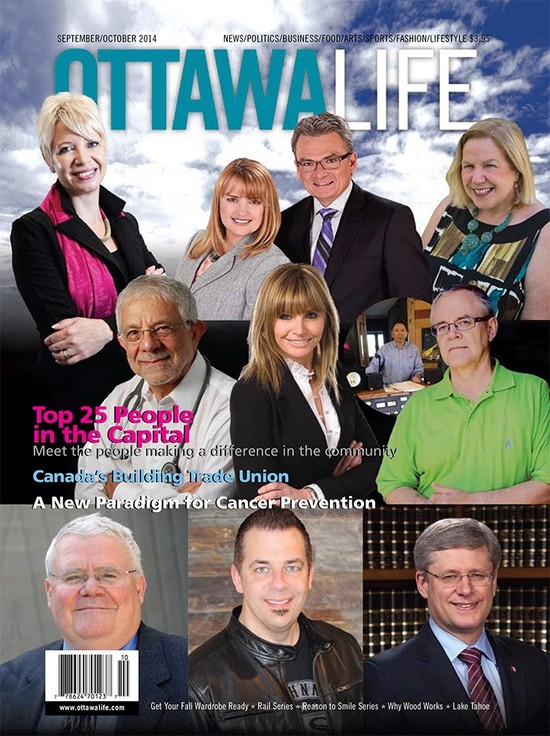 by Marie Waine, Janice Dickson & Caleigh DiNicolantonio. Our list of the TOP 25 people in the Ca...
Read full story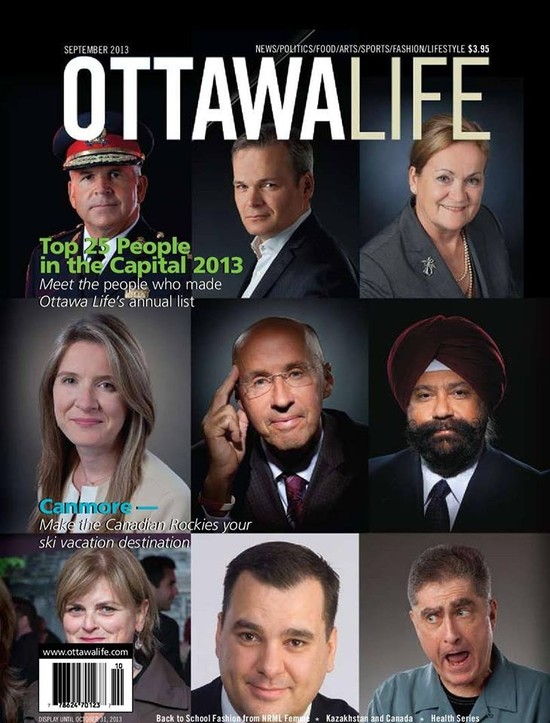 This year, it's all about leadership. Kevin Page brought new credibility to the independence of Pa...
Read full story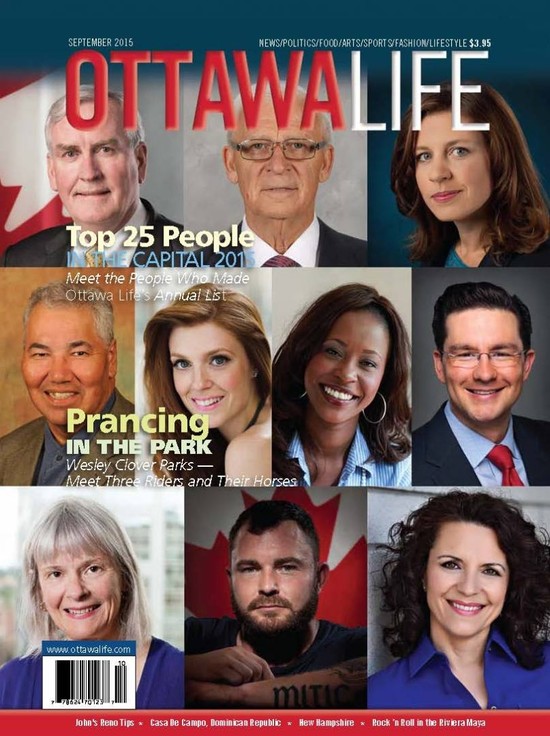 The Top Among Us This year marks the 15th anniversary of Ottawa Life Magazine's TOP 25 People in t...
Read full story
Comments (0)
*Please take note that upon submitting your comment the team at OLM will need to verify it before it shows up below.