Ottawa's Top 10 Concerts of 2017
Photos by Andre Gagne
---
Local or international, Ottawa got its fill of amazing shows this year. Even with the never-ending rain of festival season this year, Ottawa hosted so many more bands in venues new and old between events like JunoFest, Megaphono, Bluesfest, JazzFest, Canada Scene, CityFolk, Dragonboat etc. that it started to get hard to decide on a show. Some festivals even offered exclusive moments like the multi-band sets and jams of the Junos and JazzFest, a last chance to see artists like Tom Petty and Charles Bradley and some bands' only Canadian date of the season. While it certainly won't be appearing on any "Best of" lists, the Migos fiasco was definitely the most memorable moment of festival season, and will likely be in the back of everyone's mind next summer. Looking at our favourite shows from 2017, we're looking at the artists who brought the best spectacle, energy and shocking antics to their performance.
10. Mydy Rabycad - RBC Bluesfest
Despite having only the words electro-swing to go by before seeing this show, Prague's Mydy Rabycad more than blew me away when I caught them at the Blacksheep Inn Stage at Bluesfest this year. Dancing around in unique costumes, the band bounced between jazzy jams and full-fledged electronic pop. Encouraging the crowd to dance with them throughout the visceral set, this obscure band was definitely one of the festival's hidden highlights.
9. Tei Shi - Mavericks
While so many budding indie artists either hit Ottawa when they're small or huge, Tei Shi offered Ottawa one of the best R&B shows of the year as she came through Mavericks. Supported by the (at the time) off-the-radar greatness of Dizzy, the night was full of not only great performances but great musicianship. Valerie commanded from atop the stage bringing a sense of cool and electricity to her live show. Bolstered by the great keyboard work and stellar horn-work, the set felt intimate but endlessly entertaining.
8. Caravan Palace - TD JazzFest
If JazzFest was willing to move up their premium seating, the show had to be pretty special. Coming all the way from Paris, the electro-swing royalty proved why they were the founders of a genre. Riling up the crowd and jamming out on their music repeatedly, Caravan Palace had the audience crater out the already muddied Confederation Park ground. Blasting through their hits like "Lone Digger" and "Suzy" while getting really mysterious on new material, the show was a constant and rare blast. It was even enough to get the stagnant seated crowd between the band and the standing room on their feet for a few tracks, which brought a few smiles to the band after half a set of pleading. One of the best shows of the fest, the unavoidable disconnect due to the layout (as justified as it is for the rest if the fest) did leave both the band and dancing crowd from a perfect night.
7. Feist - TD JazzFest
Not even torrential downpours was going to ruin to ruin Feist's return to Ottawa. Just as suave but unhinged as she had been around her fireworks-filled Metals era show on Parliament Hill, Feist was screaming on stage barely three songs into the set. Calling out the looming lightning clouds as an omen, Leslie's neon fan bloomed behind her like the feathers on a peacock. Rushing through her new tracks from Pleasure, she quickly started playing through some of her greatest hits with a renewed fury. As the rain and lightning went explosive overhead there was always a steady group of devoted fans at the front. Staying on stage through all the chaos, Feist was seemingly in tune with the world and unafraid of nature itself as she delivered one of her best shows in years.
6. New Swears & Partner - Barrymore's
Considering shows at Barrymore's are a rarity in themselves these days, getting such a blistering pairing of Canadian bands made for the night. Partner hit the stage seemingly supercharged, with their members bouncing up and down Barrymores. As their lead guitarist Josée took to the monitors center stage, solo after blistering solo rained down as she pleased the crowd. New Swears brought the party to an entirely new level, throwing party favours throughout the crowd. Performing their signature human pyramids and even throwing Megaphono's banner off the stage, they made sure it was a constant surprise. Thanks to what ended up being two headliners worth of a show, this was the perfect show to introduce many of Ottawa's youth to Barrymore's.
5. Weaves - House of Targ
Junofest was undoubtedly a treat for Canadian indie fans in Ottawa. While so much of the winter is a dry-spell for shows, you suddenly had dozens of bands to sort through within two days. Pumped up by an amazing opening set from Partner, the night was a full-fledged riot before Weaves even hit the stage. Stepping on with their goofy, off-kilter energy and enough chutzpah to last the city a year, the band was immediately stirring as Jasmyn Burke lurched around the stage making faces. Jumping up and down and even stabbing into the front row with their guitar necks, Weaves had the crowd in such a frenzied state that everyone was in the palm of their hand. When Burke grabbed Targ's background mannequin and started dragging it around however, that's when things really got crazy. Not only cradling it like a band member, Burke flailed it into the sealing and floor before dragging it with her cable and stand for the rest of the set. Inviting fans on stage before closing their set on a rendition of our national anthem, they made their own fun, and fans clearly felt it.
4. Charles Bradley - TD JazzFest
After Charles Bradley cancelled his previous Ottawa show (with Weaves ironically enough) due to issues with his cancer, it was unclear if we'd ever get a chance to see this great of the funk world live again. Hitting the stage like a force of nature, Bradley was spinning and posing in his red suit like the seventies had never ended. Throwing his mic stand all around and carrying it over his head like Atlas, Bradley gave a top-tier performance through songs like "Changes" and "Ain't It A Sin." Considering the tour de force show Bradley put on with his band, it was all the sadder and more shocking when we lost him barely a few months later.
3. Muse - RBC Bluesfest
Given it had been over a decade since Muse had been to Ottawa, fans were expecting something big from their Bluesfest show this summer. With crowds huddled around the stage all afternoon, there was an electricity to them hitting the stage against their massive LCD columns, even playing a new song like "Dig Down." Playing a blistering set full of tracks from just about every album they'd written, you would hear "Plug In Baby" and "Stockholm Syndrome" next to "Madness" and hits like "Starlight." A crowd-pleaser through and through, Matt Bellamy's trips to solo and sing in the crowd were joyous, and his eccentric playing and destruction towards his guitar had the set constantly surprising fans. Returning for the massive energy of "Uprising" the crowd turned into a full riot of fist-pumps and chants like nothing else that summer, and the band's breakneck finale on "Knights of Cydonia" made sure fans could be quelled if they didn't return for another decade.
2. LCD Soundsystem - RBC Bluesfest
Coming to Ottawa for the first time in their careers, a reformed LCD Soundsystem meant business when they took to the Ottawa stage for a crowd of fans who'd come from all over Canada and even nearby states to see them. Pulling out early tracks like "Yr City's A Sucker" and "Daft Punk Is Playing At My House" from the get go, Ottawa got a retrospective on the band. Undeterred as the rain started to short out their signature analogue synths and even got Nancy Whang electrocuted, the band persevered, giving an epic and emotional air to their performance. As the wind carried the rain into a mist above them, tracks like "Get Innocuous!" and "Yeah" gained magical visuals, and singer James Murphy's occasional steps out into direct rain didn't hurt either. Bringing the house down with the epic rock of "Movement" and new tracks like "Call The Police," they seemed to take the foul weather as a challenge, with guitarist Al Doyle even jumping higher and higher into the air as the former track roared to life. The sombre feeling in the air even elevated the melancholy of "American Dream" to make it more impactful than it's ever sounded on record. Closing the set on the larger than life antics of "Dance Yrself Clean" and "All My Friends," the commitment of excitement between the band and the crowd made for an undeniably memorable night
1. Father John Misty - CityFolk
No artist shocked me in concert quite as much as Josh Tillman (aka Father John Misty) did this summer. Supporting his new lyric-heavy album Pure Comedy, one may have expected Tillman's sets to be something resembling elevated stand-up routines, but his belting as he closed out the title-track made it clear that wasn't to be. Moving about the stage like a man possessed, Tillman would fall to his knees just to make sure his notes came through with the right sense of spectacle. Flailing his arms around and leading the crowd through some of the most bizarre riffs ever to be sung by hundreds of people in unison, his quirky writing had clearly connected with the crowd. After making jokes with the crowd, Tillman quickly got dark and eerie on "When The God Of Love Returns There'll Be Hell To Pay" with his band falling onto the stage quickly as he laid on his back and screamed to god. The burst of lights through "True Affection" found Tillman dancing like a madman, garnering piercing cheers from the crowd before he closed the set on "I Love You, Honeybear." Tillman even came back on stage after realizing he'd finished his set ahead of time, delivering a beautifully intimate rendition of "I Went To The Store One Day" to leave the crowd satisfied with his dynamic spectacle.
Recommended Articles
Check out all of the awesome events going on around Ottawa this Easter Weekend. We've got everything...
Read full story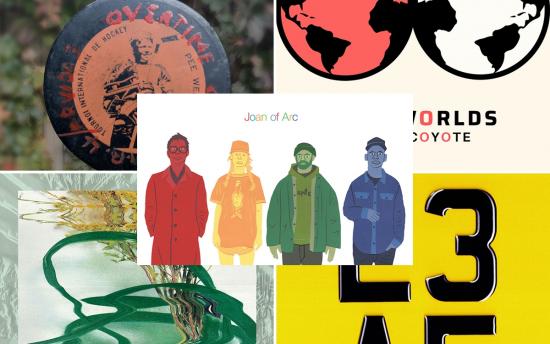 Five new albums including Two Worlds from Ottawa's Cody Coyote
Read full story
A packed night to be sure, Tuesday was a well-rounded affair for Bluesfest. Between rap, alt-rock and country from three class acts in their field, it felt like constant headliners the whole night regardless of their placement on the bill.
Read full story
Comments (0)
*Please take note that upon submitting your comment the team at OLM will need to verify it before it shows up below.