Indigenous Festival Welcomes Summer's Return
Ottawa Life's Festival City Series is back! We'll provide a unique look at some of your favourite events.
We'll go beyond the music with artist interviews, volunteer profiles, concert reviews and spotlights on
the tastes, sights and sounds of the festival season.

Your city! Your festivals and events!
Like a good sunscreen, Ottawa Life has you covered.
---

Photos by Andre Gagne and Emily Jefferies
The 2017 Summer Solstice fest was this past week with every day programmed to share and celebrate a variety of Indigenous cultural experiences.
I was lucky enough to witness Saturday's Powwow ceremony and international competition at Vincent Massey Park. The three-day competition was hosted by emcee William Constant, who led the crowd through each moment with summary and humour.
As noon rolled around, drum host Black Bear from Manawan, Quebec, began a herding beat to gather the crowd. The drums could be heard from three kilometers outside the park. Sitting right beside the drummers, I felt the entire ground shake with their fifteen person synchronized energy. At the start of each powwow, there is a grand entry, where all dancers and veterans enter the circle together to be honoured. All First Nations, Métis and Inuit participants wore their detailed regalia with pride in the twenty-nine degree heat.
What became so impactful was how therapeutic the ceremony became. Everyone came together to re-connect with the earth and each other, which was so necessary given the current state of global events. Emcee William reminded everyone to "take pictures with your eyes, hearts and minds", which was a powerful reminder to pull away from the addicting digital world and be present.
All guests were welcome to join the dancers before the competitions began. A handful of First Nations children flew through the space sporting every move they knew with complete intensity. Women and men moving to their own internal beats, while some pushed strollers.
Then on Sunday I had the opportunity to talk briefly with Odawa playwright and director Alanis King via email.
Ottawa Life: What does being Indigenous mean to you?
Alanis King:That is a very tough question. What does being Irish mean, or any race is how I'll answer. It means I'm from the land-base. It means I have a close connection to it. So I feel home here, and on Manitoulin, and the highways through it all. Maybe that's what being Indigenous means.
Can you share a bit about your time growing up on Wikwemikong Unceded Reserve in Manitoulin, and then transitioning to Theatre school?
I left Wiky when I was five, and then returned and married from 1986 to 2000. Been in Ottawa since 2011. Basically we created the Theatre that we then acted in, and toured around to many communities and urban institutions. We always played the colleges.
What is unique to Wikwemikong, and to the peoples of Odawa?
That we never ceded the land. It was done to us without our consent. They first gathered us all up on Manitoulin (although we were nomadic throughout the seasons), so the island is known as Odawa Miniss - Island of the Odawa.
Storytelling has always been a huge part of the First Nations culture. But how did Theatre come into your life?
Same way. Storytelling through family and friends, a storyteller is actually someone that is accepted in my community. You become known for contributing that. So listening to stories, history and situations, all my life led me here. Maybe because it's so beautiful there, gorgeous sunrises and sunsets, you forget that creating can be effortless.
Recommended Articles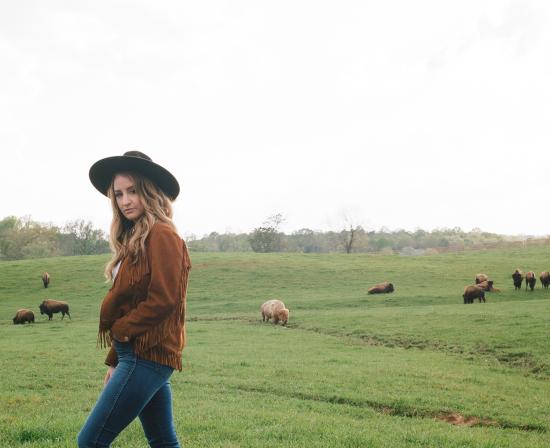 Margo Price doesn't stand by the self-aggrandizing route that country (or even blues for that matter) has taken these days.
Read full story
All photos by Andre Gagne. Though the rains came to wash out the final day of Westfest, 2,000 people...
Read full story
Comments (0)
*Please take note that upon submitting your comment the team at OLM will need to verify it before it shows up below.