Politics
Permanent, affordable housing is needed to protect Ottawa's homeless
Permanent, affordable housing is needed to protect Ottawa's homeless
Above: Peter Tilley, CEO of the Ottawa Mission
---
Towards the end of 2019, the Ottawa Mission was having difficulties sheltering all the homeless people under its roof, despite having recently expanded their housing department.
Now, both the number of meals being served per day and the number of people staying overnight have "gone down dramatically" according to Peter Tilley, CEO of the Ottawa Mission. But this is not cause for celebration. Tilley said his peers running shelters in Montreal have seen a similar downward trend, and this is because the homeless are staying away due to fears of getting sick.
The COVID-19 pandemic, which has infected more than 2300 people in Ottawa, has turned the Ottawa Mission's operations – and the lives of those who utilize its services – upside down. Despite encouraging physical distancing and the wearing of personal protection equipment, the Mission's social programs addressing mental health, addiction and trauma, and its education and job creation programs, have been forced to close. Tilley said these "wrap-around supports" are crucial for addressing the complex factors that cause someone to become and remain homeless.
For Tilley, the most difficult aspect of the pandemic has been witnessing a jump in relapse rates among clients of the Mission, many of whom had found jobs and housing. The pandemic has led to a rise in depression, anxiety and loneliness – all factors that make staying clean a challenge.
"This is hard enough for those of us living with fear and anxiety, let alone people dealing with trauma and mental health issues accompanying their addictions," Tilley said.
Even before COVID-19 hit, the city of Ottawa was making slow progress on eliminating chronic homelessness and returning emergency shelters to stays of less than 30-days by 2024, two key commitments of its 10-Year Housing and Homelessness Plan, created in 2014. The plan expanded on the successes of the $16 million Housing and Homelessness Investment Plan by enhancing the focus on "prevention and support through system integration."
In Ottawa's 2018 progress report on the 10-Year Plan, Mayor Jim Watson claimed there had been successes in increasing the supply of affordable housing, ensuring people got the supports needed to stay housed, and "working to end" chronic homelessness.
But the report also found that between 2017 and 2018, chronic homelessness amongst single men rose by 10.8 per cent and among families by 13.7 per cent, while declining by 3.1 per cent among women. In that same period, the total number of people using an overnight emergency shelter in Ottawa increased, as did the waitlist for affordable housing.
In 2019, Ottawa City Council responded to these alarming figures by committing to a $15 million investment in capital funding for new affordable housing, and by declaring a housing and homelessness emergency on January 29. Things seemed to be once again moving in the right direction, until a new state of emergency was declared for COVID-19 on March 25, overshadowing the previous emergency declaration and further complicating the city's efforts to end homelessness.
Ottawa City Council has provided $8.4 million in funding to support emergency shelters and COVID-19 Isolation Centers for individuals and families experiencing homelessness, and an additional $3 million for non-profit community organizations. These measures included securing 113 hotel rooms to help homeless families and individuals physically distance until permanent housing is secured.
Kaite Burkholder-Harris, Executive Director of the Alliance to End Homelessness Ottawa, said the city has taken a "supportive and proactive" role when it came to preventing outbreaks among the homeless population and providing them with temporary shelter. However, she said people need to be given the option to stay home in order to prevent further spread of COVID-19, and the homeless population is at a higher risk of health complications from the disease.
The 'Hotels 2 Homes' campaign calls on the Federal government to help the city of Ottawa purchase vacant hotels and turn them into affordable housing units. Burkholder-Harris said this strategy would be more helpful than "pouring money into temporary solutions," and quicker than building affordable housing from scratch. The city of Ottawa seems to agree, as it recently closed its month-long request for offers to purchase hotels and motels, and $3 million has been set aside for that purpose.
A new plan to lift people out of homelessness also recently emerged. A $1 billion plan with the goal of "ending people sleeping on the streets and reducing overall homelessness by 25 per cent by 2030" received the unanimous endorsement from Ottawa city council's committee that oversees social services on June 18.
The plan, which so far calls for $600 million to develop between 3,000 and 5,700 new housing units over the next 10 years, will be presented to the City council for voting on July 15, 2020.
Burkholder-Harris said this plan keeps the general philosophy of the original 10-year Housing and Homelessness plan, but is more "concrete" in terms of stating what will be required to end homelessness.
She said the plan gives Ottawa opportunities to more directly regulate its local housing market through mechanisms like inclusionary zoning, which requires a share of all new homes constructed to be affordable to people with low incomes.
Burkholder-Harris hopes the plan will lead to enhanced coordination between the various agencies in Ottawa that deal with homelessness, and better data collection on the size and scope of the problem. "The more we can coordinate our agencies in a cohesive way, the faster we can help people through the system," she said.
Beginning in August, the Alliance to End Homelessness Ottawa and the city will launch a week-long "Housing Blitz" campaign to rapidly house vulnerable people in vacant units and connect them with social supports. Burkholder-Harris said initiatives such as this are an important way to raise awareness of the plight of people who don't have the option to "stay at home."
Erin Dej, Assistant Professor of the Department of Criminology at Wilfred Laurier University, said she is concerned that if the Canada Emergency Response Benefit ends and the ban on residential evictions is lifted, there will be a sharp rise in homelessness across the country. That's why now is the time to aggressively push for affordable housing, as "once these housing units are built, they are permanent," according to Dej.
Despite the disruptions caused by COVID-19, Dej is optimistic it will end up being a "catalyst for change," as the general public and all levels of government realize just how necessary housing is for maintaining public health.
Dej also said that compared to other cities in Canada, Ottawa and the various agencies dealing with homelessness have coordinated in an "admirable" way. And as long as the current momentum on is kept up, Dej remains confident funding can be secured and properly allocated to provide "long term, sustainable and permanent solutions" to the problem of homelessness.
"There exists a strong, vocal group of people in this city, including those with lived experience of being without housing, who aren't afraid to put themselves on the line and fight," Dej said. "Ottawa has what it takes to be a leader in preventing and ultimately ending homelessness."
---
Text and photo by Matthew Horwood
Recommended Articles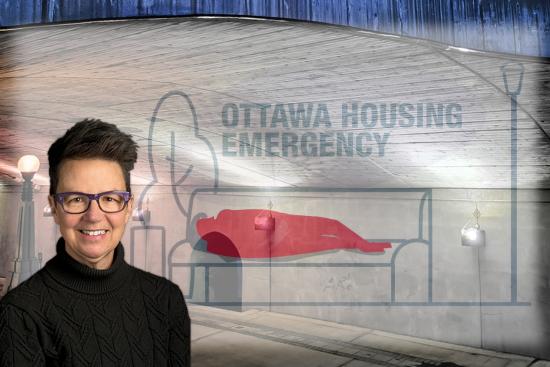 The Ottawa Mission is gathering fellow community organizations to show their support for Councillor Catherine McKenney's motion to declare an emergency concerning homelessness
Read full story
The Government of Canada and WE Charity mutually agreed to terminate their agreement that WE would administer the $912 million Canada Student Service Grant
Read full story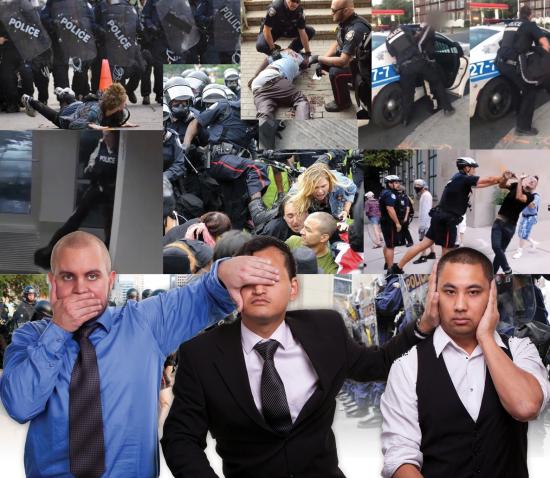 Misconduct by officers in the Ottawa Police Service have cost taxpayers millions of dollars in settlement fees over the past several years. . .
Read full story
Comments (0)
*Please take note that upon submitting your comment the team at OLM will need to verify it before it shows up below.