Rex, Pugs and Rock & Roll
Photos supplied by Rock and Rescue.
Local musician Andrea Valois has two passions, music and dogs, and when you put them together the result is a rock concert that is truly bad to the bone.  Modeled after a similar event in Los Angeles, Rock and Rescue Ottawa was put together to raise funds for local dog rescues while simultaneously raising awareness of pet adoption and sterilization.
"Animal Rescue from a grassroots perspective has existed for a very long time. Sadly, there is never enough time or resources to save all the animals at risk. The need is so very great," says Valois, President and Co-founder of Ottawa Dog Rescue.
According to a report released by the Canadian Federation of Humane Societies, there are at least 2 million homeless dogs in Canada with 600,000 euthanized every year, though Valois says the number could be much higher. She hopes to help rectify this problem with a little bit of rock and roll.
The May 28 concert takes place at the Heart and Crown on Preston and will feature performances by Autumns Cannon, Water's Edge, Jackson Miles and Barstool Prophets frontman Graham Greer. For the concert's fourth year, Valois plans to put a rockin' spin on how the message is relayed.
"The real message is that we as humans need to take responsibility for the companion animal crisis we have created," she explains. "Taking responsibility can only be achieved by informing the general public of the impact our actions have had and to take the steps to correct it. By coupling a social message with a fun night full of music and other entertainment, we reach people who perhaps may not know there are Rescues out there and why there is a need."
Though Valois says that finding sponsors has been difficult in the past, the nine member R&R team hasn't had a problem finding musicians to perform. The Water's Edge has been back to play at Rock and Rescue four years in a row. This shouldn't come as a surprise, however, given that their frontman, Ian Cameron, is also a veterinarian who has been involved with the Westboro Animal Hospital since he was seven. It's been a family affair. His father is also a vet and his mother worked as his assistant.
"Both of my parents have lived their lives dedicated to the profession and were often involved in rescue work," says Cameron. "I used to bring strays home for care all the time. The apple did not fall far from the tree."
Cameron, who has three rescue dogs himself, says he has found his two careers balance each other exceptionally well. To him, the daily work stresses at the clinic are eased by playing music. Some of his songs are even about rescue work. Even though he has assisted as a volunteer and the clinic offers major donations to the Ottawa Humane Society, he felt that he could be doing more to assist rescue efforts in the city.
"I believe in a pay-it-forward concept with rescue. The more vets that see the benefits in helping with rescue work, the more that will want to be involved," he says. "Some of the most rewarding experiences of my life have occurred with the hardest of rescues."
The sale of bred animals from pet stores has been a long time concern for Cameron as it relates to community health. He says that many dogs are inbred by puppy mills and often carry serious diseases that can be transmitted to other animals or even people. Also concerning are the number of companion animals neglected by those that take them in. According to the American Humane Association, 7 to 20 percent of pets brought into a new home are not there as early as six months after acquisition. Companion animal overpopulation continues to be a problem globally. Marty Sobb, guitar and keyboards for Ottawa's Autumns Cannon, learned this first hand on two separate vacations.
While traveling around the Turks and Caicos Islands on a scooter, Sobb and his girlfriend found a dog in the middle of the road. As he recalls it, the animal was no bigger than a squirrel. The two took the dog home and name her Gracie. Their other dog, also a rescue, was found living under a car at a gas station in the Bahamas.
"It's important to help out because there is a massive need to get unwanted or stray pets the medical help they need and also to find homes for those who are without," says Sobb. "The amount of strays out there is alarming. If everyone got their pets fixed, it would help the problem immensely."
"I think the entire endeavour needs to be relayed more broadly," adds Graham Greer. "There's a definite disconnect between pet owners and lovers and pet rescuers that can only be bridged with greater overall awareness of the problems rescuers face."
Greer speaks lovingly of his "two beautiful mutts" Molly and Piper, adding that an event like Rock & Rescue can only act as a lightning rod. Those who are already passionate about the cause may discover some new music and those who just want to rock will learn about the cause.
Last year Rock & Rescue raised $20,000 in one night, their most successful event to date. Along with the concert, attendees can participate in an online auction with over 110 items currently up for bid including the chance to engage in a Top Gun style dog fight –no pun intended– at 10,000 feet in two jets. How close will you be? "We're talking Snowbird close," boasts the auction posting. Proceeds from both the show and auctions will go to Ottawa Dog Rescue, Freedom Dog Rescue and the Canadian Dachshund Rescue Ontario.
"If you like going out and having a great time and supporting local artists, this is a perfect event for you," says Valois. "The bonus?  The event has a social message and a positive impact on the community at large. The rescue side of me is truly humbled by the support and the musician side of me just wants to rock out and be heard."
Tickets for Rock and Rescue 2016 are still available and can be purchased on the event website.
Recommended Articles
Detlef Gotzens' multi-medium artwork is stark and peerless, the product of a long and varied career in the arts.
Read full story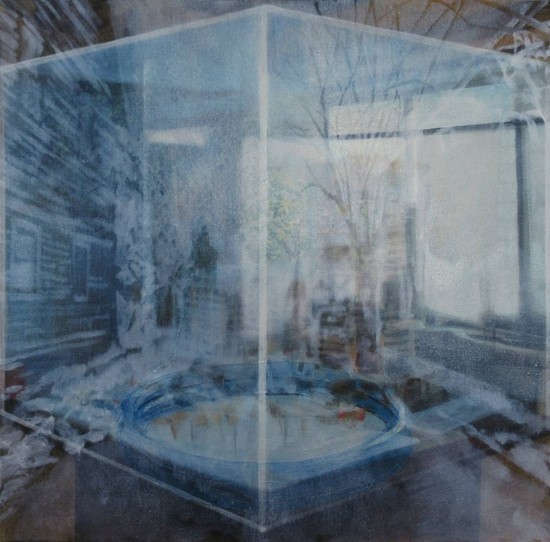 Artist: David Kaarsemaker Looking for new artwork to freshen up your home? The Ottawa Art Gallery??...
Read full story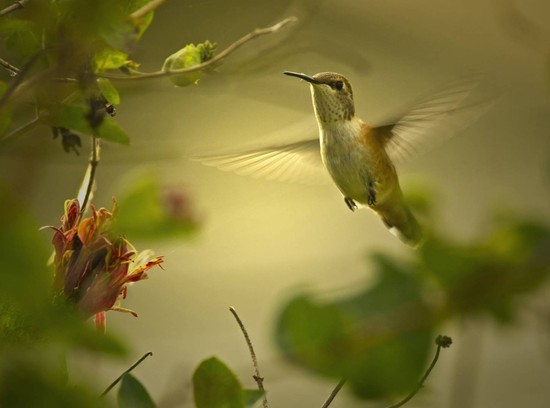 A Rufous Hummingbird feeds on honeysuckle at sunset in Ladner, British Columbia. Photo by: Rob McLe...
Read full story
Comments (0)
*Please take note that upon submitting your comment the team at OLM will need to verify it before it shows up below.