Rock and Soul!
Photos by Andre Gagne
---
It was a dark and stormy night and the sodden sidewalks of Rideau Street were as empty as my wallet. Life, however, stirred behind the doors in the corners of the world where people wanted their Monday music ear-shatteringly loud. The potholes filled and the puddles grew but inside Mavericks the condensation was on the crowd and it took a battle to break it out. The people were slowly being worked into a pulsating passion, willed into beautiful pandemonium, fed on sweet soul food cooked up by Lisa Kekaula and her BellRays. Somewhere a foot began to tap to the beat. The audience sensed an approaching thunder. There was now blood in the water, Kekaula's blood, and she was squeezing every drop she had in a performance that demanded that somebody, anybody, everybody dance! Something had to give. Something had to break.
But first…
"…the Supersuckers sing about three things: drugs, drinking and women," came a voice from behind me. I paused from unpacking my camera to think that these were the pillars to many a sacred rock song. I looked up but whoever had said the words was gone, leaving his sentence to just linger in the air, an advisory premonition for the uneducated like me.
And then…
"You remember the all ages shows they have here," said somebody in the group by the bar. "Well, this isn't one of those shows."
They laugh. They know. I don't. I glance over at a drum kit proudly displaying an upraised middle finger pointed directly at the bands audience. Hmmmm. I quickly bring up Wikipedia. With names like Eddie Spaghetti, and "Metal" Marty Chandler and songs like "The Evil Powers of Rock 'N' Roll", "Someday I Will Kill You" and "I Want the Drugs"…yeah, probably best to keep the tweens at home for this one.
Outside of the merch table and the bar there wasn't a lick of furniture in the place. I had a reflective moment to ask myself if this was because it was broken in a previous dust up or expected to be broken in one tonight. I mean, the place was called Mavericks.
The Supersuckers have hot-branded themselves The Greatest Rock and Roll Band in the World but, I admit, as sizzling as that might sound I was going in February cold. The band's late 90s heyday passed me by quicker than a trucker on the Turnpike. Well, that's what happens when you discover hipster girls and jazz in your 20s.
They'd been around…correction, been "evil since 1988" when they formed in Tuscson, Arizona, went on to release 10 albums, turn country, find marginal success, develop a cult following due to outrageous live shows and then merged it all into a hybrid sound that's best described as cowpunk power rock.
The band took the stage and I realized the scraggly man who'd been walking the room was neither a vagrant who snuck in the back nor the bands roadie. He was the guitarist! With the first crackle of feedback, it was time for some clearly much needed Supersucker schooling.
"Yeeargghhaahhh," shouted a fan accentuating his adoration with a slurred mixture of profanity and something that sounded like Swahili.
That dude was dressed in a studded punker jacket, torn shirt and a black leather cowboy hat. The bad boys from Tucson where clad very much the same plus a couple of chains, scuffed cowboy boots and a whole lot more facial hair. Cowpunk rock on!
"The Supersuckers are going to rock the houuuuuseee," screamed Spaghetti tossing up devil horns. Those not double fisting beers returned the gesture and "Metal" Marty stepped to the edge of the stage to fulfill what the bands frontman had just promised.
The fans lapped up every guitar solo like a pack of starving wolves and the band injected their energy into a set that included cuts like "Get the Hell", "Mighty Joe Young" and "Bruises to Prove It". You may not have been able to make out quite what they were saying but damned if they didn't mean every rocking word. Spaghetti and Metal could give a master class in rocker poses with each solo showing off some kind of trick contortionist acrobatics. If this all dries up, Marty might just have a second life in Cirque du Soleil.
The band slathered it on like BBQ sauce. I wasn't ready. I should have been holding on to something more than a camera and a prayer to survive. This was a rock and roll rodeo and we were all in the saddle as though perched atop a vile bucking bronco with a rage complex each time it heard a D chord. The lack of any kind of moshing told me either the beer was laced with Quaaludes, this wasn't that kind of audience or the crowd were saving their reserves for tonight's Sens game.
"Are you familiar with the evil powers of rock and roll?" bellowed Spaghetti and his crowd answered back like they were more than familiar with...hell, we were blood relatives sharing a bungalow.
Cowpunk rock? Oh yeah! The tunes were indeed genre-bending, not quite punk, not all rock and sprinkling a little country grit to stick in your teeth. I mean, there's power rock and there's Supersucker balls to the wall we're going to ram straight through your insides like a diesel locomotive stitch ya' together and back on over you again kinda' power rock.
It's not every band that asks you to flip them off for a selfie! If you were looking for ballads you came to the wrong party.
With the last jab of squelching guitar played, ears ringer, arms aching from the first pumps and some hands now permanently fixed into those devil horns, you gotta' wonder just how you follow that. Well, first you got to take an abrupt 360 into Soul City!
When the first thing they bring on stage during the band changeup is a new drum kit and a pile of towels you best believe you should expect to be promptly drenched. A fan told me the BellRays were like MC5 with a female singer. I got ready to kick out the jams.
But it started off slow.
The four from California were clearly ready to groove with Kekaula gyrating till smoke filled her shoes. They were on fire, the stage was ready to combust but the crowd showed signs of fatigue, drained from the first half of the double header. There was a smattering of applause, a couple hoots and a hound dog holler from the back. This did not sit well with the band's charismatic lead singer.
Before the show I had been told of how Kekaula once kicked a fan that was sitting on her stage in the ass and then ordered all the men to the back of the room so the women could be at the forefront of the what became a riotous sticky sweaty show. This woman means business and when her brow furrowed on her lackluster crowd, eyes narrowing to slits, perspiration beads dripping, you knew you were in for a full frontal assault of high octane rock and soul.
"This is a rock show. You should be screaming! You've got to make noise because each and every one of you got the power," Kakaula said, taking the show into a crowd of shocked onlookers who suddenly found themselves infected by her message. Feet were going to move. You didn't control them anymore. She did and her determined voice informed you it was best to let her do as she pleased.
"We're going to give you everything we got and we expect the same from you!"
Once they had them, The BellRays held on pit-bull strong and didn't let go.If you thought of nipping out early or even needed to get to the bathroom you best employ the Jaws of Life to detach.
Now with everybody's undivided attention, what followed was a furious frenzy of funk, garage rock and a whole lotta' love as the band just barnstormed through an hour long set that took the audience higher with every tune. Songs like "On Top" (oh, she was), "Power to Burn" (they had it now), "Everybody Get Up" (she didn't have to ask twice) filled the dance floor with a weekend kind of vibration that obliterated any sort of Monday blues anybody had dared cart into the joint.
"All you have to do is believe," belted out Kekaula through pipes that one has to imagine never need warming up. They are always firmly situated on a setting that is chilli pepper hot.
"This is what you need."
It was.
"You just have to hand yourself over to the magic that is happening right here!"
And we did!
Recommended Articles
Feature image by Paolo Ceritano. Standing on the edge of the end of a year, when singer-songwriter R...
Read full story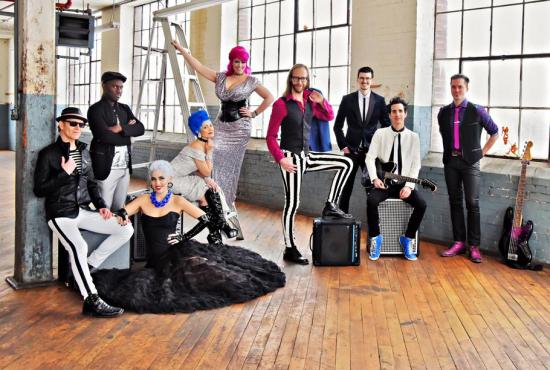 Are you bored of life? It's time to be no longer: The PepTides!
Read full story
All photos by Andre Gagne Vintage band t-shirt, tight jeans, newsboy cap and adrenaline, yup I was r...
Read full story
Comments (0)
*Please take note that upon submitting your comment the team at OLM will need to verify it before it shows up below.