Arts & Events
Starmen, Rebels and Heroes Pay Tribute to David Bowie
Starmen, Rebels and Heroes Pay Tribute to David Bowie
All photos by Andre Gagne.
It was January 10, 2016 and local musician Jon Hynes was in his kitchen when he heard the news on the CBC. It couldn't be right, could it? He stood there in shock at what he was listening to. "No one saw that coming. You always expect someone like that to live forever."
At that moment singer Jeremy Fisher was lying in bed listening to the same broadcast. Dead? Could that man really be gone? The news would find Fisher contemplating his own mortality. "It made me think how he seemed so vital. I'm on the precipice of 40 and 69 seems way too young."
David Robert Jones to some, David Bowie to the world, the galaxy and the stars beyond, had died two days after his 69TH birthday and the release of his final, glorious gift to us all, the album Blackstar. The gender bending rock star ch-ch-ch-changed into multiple alter egos like a fine suit -be he Ziggy or be he King of the Goblins- and was never afraid to push his music into any direction he wanted to, the critics be damned.  He was a rebel, Aladdin Sane, all face paint and glamorous costumes, pumping out hits like "Starman", "Let's Dance", and "Heroes" that would influence so many. Cancer may have taken him but the legacy isn't going anywhere.
"Any time a great musician that has influenced me passes away, it affects me, for sure," says Hynes. "I started thinking about how I listened to Aladdin Sane obsessively when I bought that record on a whim during my university days.  It was honest and fearless rock and roll.  I loved it!"
Back in 2011, Hynes came up with the idea to tribute the classic albums he loved by performing them live with others. The resulting series was named I Can't Believe It's Not and everything from Fleetwood Mac's Rumours to Green Day's Dookie has been played with a mandate to be as sonically and structurally accurate as possible to the original. But, thought Hynes, how do you choose one album from somebody so iconic as David Bowie. Do you do 1971's Hunky Dory or '72's The Rise and Fall of Ziggy Stardust and the Spiders from Mars? If you pick just one then there are so many songs that would be missed. No, for this show, Hynes was going to have to break the format, bend the rules a bit, and have an all-out tribute. New rules? No problem! This was to be a Bowie show, after all,  and who better to mix things up for then a man who seemed to bathe in change.
"There was definitely too much golden material to choose from.  His catalogue is massive and his notable works are spread out all over the place," explains Hynes. "We want this I Can't Believe It's Not to really hit hard and remind people that not only was Bowie a great singer with a truck load of amazing songs, but he broke boundaries while doing so.  He was a massive force.  It was impossible to select only one album to play."
Hynes began making some phone calls. It wasn't hard to put together a band for this performance. Culled from members of FET.NAT, Boyhoodand the Hilotrons, the event would feature guest vocalists like the Acorn's Rolf Klausener and cover all sides of Bowie's storied career. Though the two night event (April 22-23) was held inside St. Alban's Anglican Church, don't think that it would be a solemn affair. The crowd would not morn silently. This was a celebration where dancing on the pews wasn't discouraged, copious drinks were consumed, shout at the top of your lungs singing was a way to make new friends and face painting wasn't just for the people on stage. Oh yes, there were costumes.
"I wanted to wear white pleated pants, so I went for the early '80's Let's Dance era," says Fisher of his Bowie inspired wardrobe. "Somehow I got roped into singing a couple earlier tunes as well so I'll probably be looking for a spandex bodysuit. What do you want from me, I'm a c-list Canadian musician largely known for my hairstyle?"
The flamboyant New Swears, the Ottawa soul-boogie-funked-up-punky-funboy-power-pop party band, pushed the crowd's energy to the limits, brought them back, and took them there again. Before the show they vowed to drink 15-20 beers and blast "those mothers right out of the park". They didn't disappoint.
"Bowie taught us the secret art of persuading people into magical mazes of adventure," the band told Ottawa Life before taking the stage in full body paint, wigs and blazing outfits.
"This is a Friday night in Ottawa!" shouted Hynes over a roaring crowd that was packed all the way to the back. It was a show where they knew every word, often overpowering the singers on tunes like "Rebel Rebel", "Fame" and "Changes".  The church relics were even bopping to the beats. Even if you weren't a Bowie fan, you couldn't help but be floored by the adoration these people on and off stage gave to the man.
[wzslider height="600" transition="'slide'"]
Everybody was a sweaty mess by the end of the evening. Nobody wanted to leave. Hynes admitted to the crowd that they had not prepared an encore after the initial set so they would take requests. A nine year old kid wanted to hear "Starman" again. Alas, Hynes believed Fisher, who had sang it early, had gone back home to his newborn. To the surprise of everyone there, Fisher emerged from the crowd to play the tune again.
"He abandoned his child for that," laughed Hynes!
"Bowie wrote some of the weirdest songs but also some of the catchiest," says Fisher. "In many cases those two extremes intertwined perfectly and I think that might be his legacy; to demonstrate that there are no rules even in popular music."
No word on what's coming up next for the I Can't Believe It's Not series but, after a moment of silence for the passing of Prince was held Friday night, one has to wonder if Hynes will be getting a crew together soon for another big tribute. Ready your purple outfits, just in case.
Recommended Articles
Casper Skulls certainly don't shy away from the dark tones their name may suggest, but the debut album from this Toronto rock outfit shows a much deeper understanding of music.
Read full story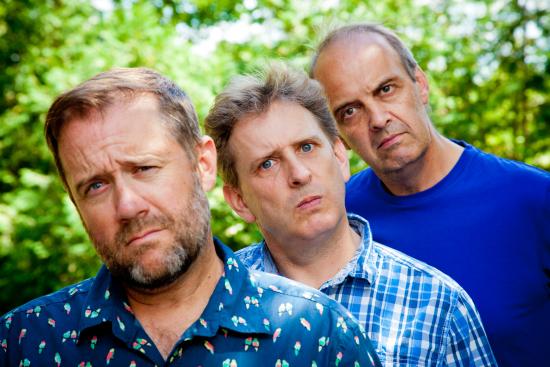 Decades into their career, The Arrogant Worms haven't lost their sense of humour. Despite what their misleading album and tour names might tell you the band isn't quitting soon, in fact they're quite happy where they are.
Read full story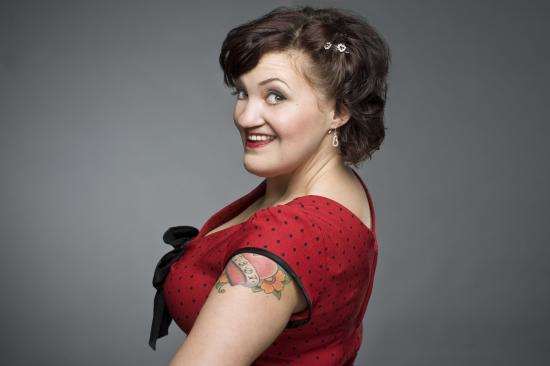 "Innocence wrapped in barbed wire. Can I use that?" writes comedian Nikki Payne, referencing my description of her stage persona and unique style. I assure the Nova Scotia comic that two Timbits per fifty t-shirts sold seems like the appropriate form of currency for such an exchange. She agrees and a deal is made.
Read full story
Comments (0)
*Please take note that upon submitting your comment the team at OLM will need to verify it before it shows up below.