Best Picks
Stay Healthy with your Pup with the FitBark 2
Stay Healthy with your Pup with the FitBark 2
Dogs have been proven to benefit our lives in more ways than one. They help reduce stress and anxiety, provide important companionship, and make us more mindful of our health and theirs. Studies have found that dog owners get on average 30 minutes more exercise per week than those without a dog. Just like humans, dogs need daily exercise to burn off excess energy and improve mental health. With new pet technology becoming available, monitoring your dog's health has become a lot easier with products like the FitBark 2. Ottawa Life's resident pet product reviewer, Bayne, has been sporting the new FitBark 2 for the past month now, testing out its features and spreading the word about canine health to his friends at the dog park.
Extremely simple and cute in design, the FitBark 2 itself isn't overly-complicated like some human fitness trackers. It doesn't have a display screen, but instead will notify only you of charging and pairing status via a tiny LED light that is only visible without the cover on. Instead, a vast amount of information is displayed for you on the FitBark app. This fitness tracker works with dogs of any size and is super small and lightweight (it only weighs 10 grams and measures 1.6 x 1.1 x 0.5 inches) so you can attach it to the collar of a Mastiff or a Chihuahua without causing them any discomfort. The FitBark 2 connects securely to your dog's collar via zip-ties and holds on tight no matter where your dog goes. It is constructed using a high-impact polycarbonate housing and is has a waterproof rating of IP67, which means it can survive up to one meter underwater for up to 30 minutes. While it can survive day-to-day doggy adventures, it is not bite proof so supervise your dog's play with other dogs carefully.
This tracker monitors your pet's daily activities, such as sleep, calories burned, playtime and steps to help you see what is the normal for your pup and quickly spot when something is amiss. A research-grade 3D accelerometer tracks your pet's steps and speed to judge whether they are walking, running or playing. You can even compare your pet's score to the daily average of other dogs in their age and breed categories. It also helps humans with their fitness goals by connecting with human fitness trackers, like FitBit, Apple Watch or Google Fit devices, and lists progress of both pup and owner on an easy-to-read chart. The FitBark 2 connects to your phone via Bluetooth connection, but also needs Wifi to connect and can store data for a guaranteed 100 days in case you go on vacation and want to see what your dog was up to while you were away.
What We Liked

The FitBark 2 is extremely cute on a dog's collar and is an unobtrusive way to monitor their health without causing any sort of discomfort. In fact, Bayne didn't even notice that anything was attached to his collar, and this dog usually notices everything! We also love how it has a Bluetooth sync range of nine meters (it's very rare that Bayne sits still). The human/dog comparison tracker is also a nice touch, and got things competitive between Bayne and I, which resulted in both of us being healthier and spending more time together.
Finally, we absolutely LOVED how the FitBark 2 can be customized with interchangeable covers. You (or your pup) might be feeling Free Spirit Green one day but can switch to Romantic Snuggler Pink with a quick snap. Made from soft, rugged material, the covers protect the fitness tracker from sticks and daily dog adventures. The original FitBark 2 box comes with Partner In Crime Black cover, but should you want to give your pup some colour, there are 12 different colours you can pick from. Bayne is seen here modelling the Bossy Diva Fuschia cover.
What We Didn't Like
The FitBark app can be a little confusing at first, but tutorial messages will guide you through to process to make the charts. We made the mistake of closing all these messages when we first opened the app due to over-excitement of getting things started. From our experience, it also took a lot of experimental tapping on the screen to find more in-depth charts, weekly and monthly logs, and even the human/canine comparison chart. Even after a month, we're still not sure what some of the numbers mean, so we highly recommend you don't do what we did and read all of the pop-up messages, so you have a better understanding of the app and its numbers. On Android, the app still needs a little polishing (we're not sure if this is an issue on Apple devices). When you upload data for the first time in a few days, information doesn't show immediately on the app, and only appears when you close and restart it. But rest assured, the data is there!
FitBark has also released interesting data collected from dogs around the world, such as which breeds are most active and when, what causes a dog to be restless, and which country has the most active dogs. We recommend you check out the data section on their website to learn more about different breeds and life stages. Canadians can currently purchase the FitBark 2 on the FitBark website. Also available for purchase on the site are FitBark covers, extra zip-ties, and the WiFi Base Station.
Recommended Articles
Our pets are naturally drawn to fresh, moving water, and often enough don't get enough water each day. Give your pet the very best with the Drinkwell Avalon Pet Fountain from PetSafe. This gorgeous ceramic fountain provides your pet with up to 2L of fresh water, filtered through two filters, including a foam filter to remove debris and hair, and an active carbon filter to get rid of any smells and chlorine. The fountain is super easy to assemble and disassemble and the ceramic components have the added bonus of being top-rack dishwasher safe.
Read full story
Is your dog always keen on keeping up with the latest canine fashion trends? Ever wish you could easily update your pup's collar within seconds? Then you'll want to keep your eyes on Street Mutt!
Read full story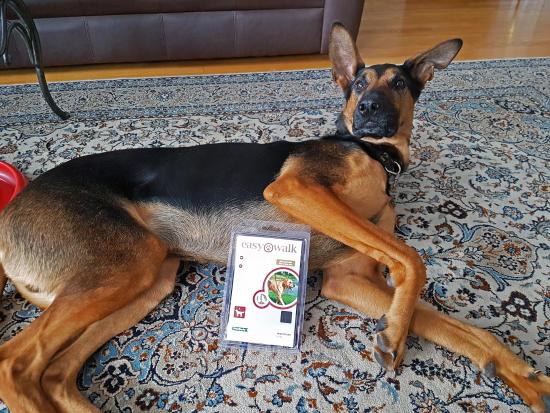 Walking your dog should be a calm and non-painful experience for both the dog and their human, but sometimes, dogs get a little too excited. We've found a solution for an easily excited pooch who was constantly pulling on his leash.
Read full story
Comments (0)
*Please take note that upon submitting your comment the team at OLM will need to verify it before it shows up below.